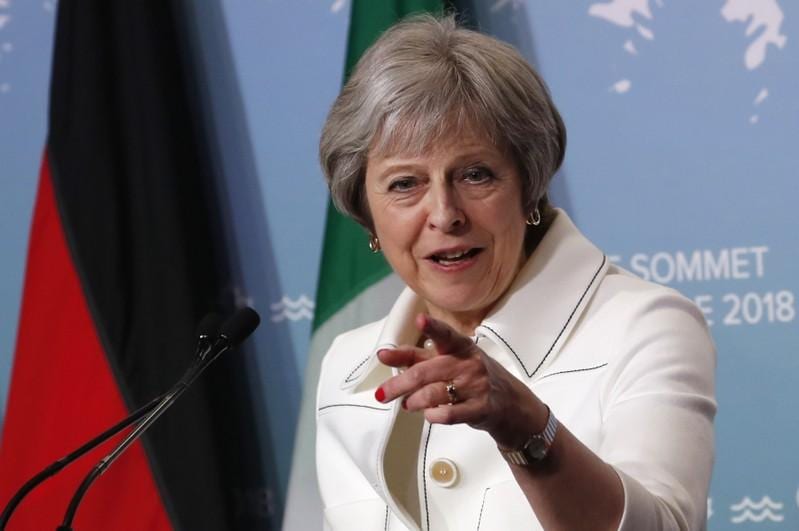 By Elizabeth Piper
LONDON (Reuters) - British Prime Minister Theresa May urged her Conservative Party on Monday to show unity and vote against changes to her Brexit blueprint, warning lawmakers they would undermine her negotiation with the European Union.
Lawmakers will vote on Tuesday and Wednesday this week on amendments to the EU withdrawal bill, legislation to sever ties with the bloc by essentially copying and pasting the bloc's laws so that Britain's legal system can function after March.
Underlining the fear that Conservative rebels could vote against the government, May addressed lawmakers in her party at a meeting of its 1922 Committee to try to rally the troops before facing the first day of difficult votes.
Her government is most vulnerable over an amendment, introduced by the upper house of parliament, to change the so-called "meaningful vote" on any final Brexit deal by handing the lower house more power to set the "direction" of the government if it rejects the agreement. It will be debated on Tuesday.
She will also be tested on Wednesday by rebels in her own party over her commitment to leave the EU's single market and customs union, which will transform Britain's future trading relationship for many years to come.
"We must think about the message parliament will send to the European Union this week," she said to the 1922 Committee, according to her office.
"I am trying to negotiate the best deal for Britain. I am confident I can get a deal that allows us to strike our own trade deals while having a border with the EU which is as frictionless as possible. But if the Lords amendments are allowed to stand, that negotiating position will be undermined."
It was a message reinforced by her spokesman, who described the bill as "a vital piece of legislation for ensuring our statute book is ready for Brexit day and for delivering the smoothest possible exit from the European Union".
DIVISIONS
The House of Lords defeated the government 15 times in earlier votes, offering parliament the chance to put pressure on May and her government to change tack on Brexit.
If she is defeated in the House of Commons, it will be yet another blow to a prime minister whose authority has been challenged several times since she lost the Conservative Party's majority in an ill-judged election last year. She now relies on the support of a small Northern Irish party.
Party officials have been frantically lobbying lawmakers to try to persuade those who have threatened to vote against the government to stay in line, using arguments ranging from the threat being turfed out by a government led by opposition Labour leader Jeremy Corbyn to losing any leverage in Brexit talks.
Ministers and other lawmakers have been told to make sure they will be in parliament for the votes.
But May is not only struggling to unite parliament over her plans. Her party and her top team of ministers also are deeply divided over how to leave the EU, particularly over the future customs arrangements which have pitted those wanting closer ties with the EU against others who demand a clean break.
With only 10 months left before Britain is due to leave, her government is under pressure from EU negotiators, businesses wanting clarity, and from many in the country to start taking decisions on its preferred future trading ties.
May's decision to leave the customs union, which sets tariffs for goods imported into the EU, has also been criticised for raising the prospect of a "hard" border on the island of Ireland, which some fear could reignite sectarian violence.
The government will try to overturn the 14 main amendments, after accepting one which May's spokesman said "essentially states government policy in relation to the fact that we could have future engagement with some EU agencies".
Ministers may also swallow a defeat on the customs union because of the vague wording which only requires ministers to report what efforts they had made to secure a customs union by the end of October.
The spokesman said: "In relation to the ... 14 amendments, we will be looking to either overturn those or to amend them."
(Reporting by Elizabeth Piper; Editing by Hugh Lawson and Alison Williams)
This story has not been edited by Firstpost staff and is generated by auto-feed.
Firstpost is now on WhatsApp. For the latest analysis, commentary and news updates, sign up for our WhatsApp services. Just go to Firstpost.com/Whatsapp and hit the Subscribe button.
Updated Date: Jun 12, 2018 00:07:32 IST