Britain's 'furnace Friday' tests temperature records
By James Davey and David Milliken LONDON (Reuters) - Britons sweltered on what was dubbed 'furnace Friday', though temperatures appeared not to have set new records after overnight storms, according to figures from government weather forecasters at the Met Office. On Thursday, temperatures reached 35.3 degrees Celsius at Faversham in Kent, southeast England, officially making it the hottest day of the year so far. 'Today's provisional top temperature looks set to be 34.7C, recorded at Tibenham Airfield in Norfolk,' the Met Office said late on Friday, as rain started to fall in London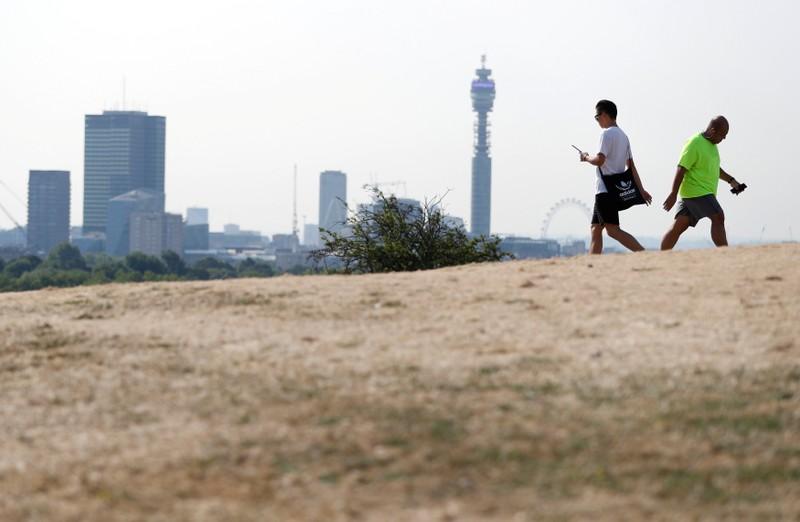 By James Davey and David Milliken
LONDON (Reuters) - Britons sweltered on what was dubbed "furnace Friday", though temperatures appeared not to have set new records after overnight storms, according to figures from government weather forecasters at the Met Office.
On Thursday, temperatures reached 35.3 degrees Celsius at Faversham in Kent, southeast England, officially making it the hottest day of the year so far.
"Today's provisional top temperature looks set to be 34.7C, recorded at Tibenham Airfield in Norfolk," the Met Office said late on Friday, as rain started to fall in London.
The all-time British record is 38.5C set in August 2003 near Faversham, while the highest July temperature was 36.7C in 2015 at London's Heathrow airport.
Britain's prolonged heatwave has turned green grass brown, triggered an impending hose pipe ban in the northwest of England, and prompted a warning from the government for people to keep out of the sun.
Farmers have also warned of possible food shortages and hospitals have been stretched by an increase in patients with heat-related ailments.
The National Farmers Union said it would hold a summit with government officials and other farming bodies on Aug. 1 to discuss how to mitigate the effect of the unusually hot, dry weather, which is forecast to continue.
"Some areas are expected to see thunderstorms and rain over the next couple of days but that won't mitigate the many issues farmers are experiencing," NFU President Minette Batters said.
On Friday, the heat was seriously disrupting travel across Britain.
EuroTunnel Le Shuttle, which transports cars via a rail tunnel underneath the Channel, warned passengers heading for France from its Folkestone terminal to expect delays of more than two hours due to problems with air conditioning in carriages. The company also cancelled thousands of day trip tickets to ease congestion.
Rail services across Britain were also disrupted by lightning strikes.
The Met Office said the heat and humidity will spark more cloud and thunderstorms later on Friday - which could spoil Britons' view of the longest lunar eclipse of the 21st Century.
(Editing by Stephen Addison)
This story has not been edited by Firstpost staff and is generated by auto-feed.
Find latest and upcoming tech gadgets online on Tech2 Gadgets. Get technology news, gadgets reviews & ratings. Popular gadgets including laptop, tablet and mobile specifications, features, prices, comparison.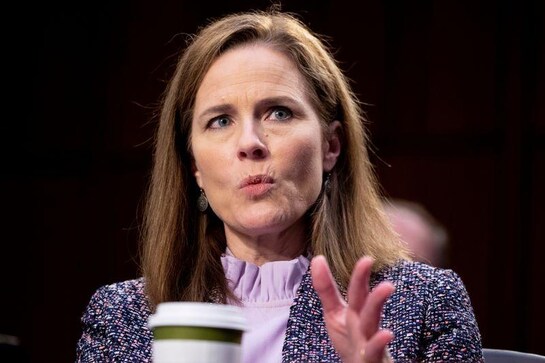 World
By Andrew Chung, Patricia Zengerle and Lawrence Hurley WASHINGTON (Reuters) - The Republican-led U.S.
World
By Robin Emmott BRUSSELS (Reuters) - The European Union and Britain imposed sanctions on top Russian officials close to President Vladimir Putin on Thursday in an unexpectedly robust and swift response to the August poisoning of Kremlin critic Alexei Navalny.
World
WASHINGTON (Reuters) - Environmental groups and Democrats on Thursday criticized President Donald Trump's Supreme Court nominee Amy Coney Barrett for dodging questions during her Senate confirmation hearing about climate change, while Republicans rallied to her defense. Barrett, a conservative federal appeals court judge, declined during questioning by members of the U.S. Senate Judiciary Committee on Wednesday to give her views on climate change and whether human activities were contributing to it.