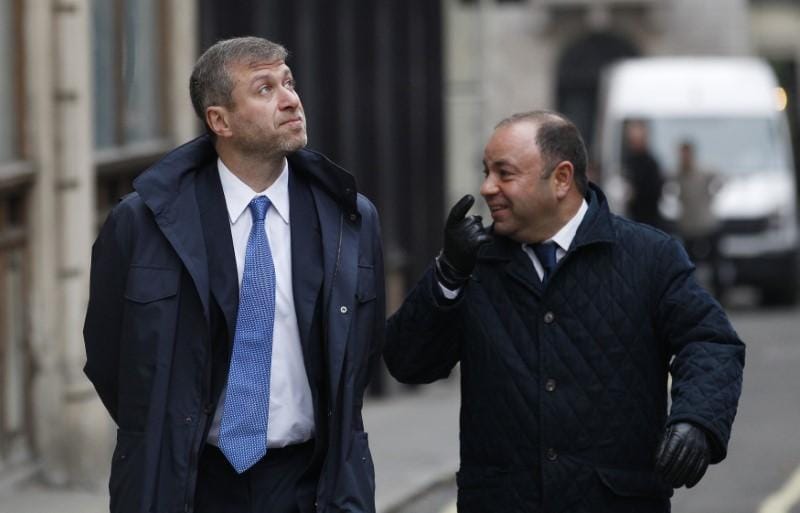 By Polina Devitt
MOSCOW/LONDON (Reuters) - British authorities, whose relations with Moscow have been strained, are yet to renew Russian billionaire Roman Abramovich's visa after it expired last month, two sources familiar with the matter told Reuters.
Abramovich, best known in Britain as the owner of Premier League soccer club Chelsea, is in the process of renewing his visa as part of a standard procedure, one of the sources said.
It is taking longer than usual but there is no indication that the visa will not be renewed as there is no refusal or negative feedback, he added.
Millhouse, the company that manages Abramovich's assets, declined to comment. Britain's Home Office could not be reached for comment.
Abramovich, who is also a co-owner of London-listed steel producer Evraz, did not attend Saturday's FA Cup final in London, the showpiece end to the English soccer season when Chelsea beat Manchester United.
He was also absent from a hearing at the London High Court this week at which Russian tycoon Oleg Deripaska was challenging the sale of a stake in mining giant Norilsk Nickel by Abramovich to Russian billionaire Vladimir Potanin.
David Davidovich, a top manager at Millhouse, told the London court that the Chelsea owner was in Switzerland, a transcript of the hearing showed.
Abramovich is Russia's 11th richest man with wealth of $10.8 billion, according to estimates by Forbes magazine. He made his fortune in the oil industry in the 1990s in Russia and bought Chelsea in 2003, since when he has helped to transform the club into one of the most successful in the Premier League.
Wealthy Russians have long favoured London as a place in which to live or do business. However, relations between Britain and Russia hit a low after London accused Moscow of poisoning former double-agent Sergei Skripal in Britain in March. Russia has denied any involvement in the poisoning and retaliated in kind.
The accusation, which prompted countries around the world to expel scores of Russian diplomats, was followed by several statements from the British side, suggesting that the regime for Russian tycoons in London could be toughened.
Britain said in March it would look retrospectively at visas issued to wealthy foreign investors, including Russians, and consider whether action needed to be taken. About 700 Russians came to Britain between 2008 and 2015 with a so-called "Tier 1 visa".
British foreign minister Boris Johnson also said in March that corrupt Russians who owe their wealth to their ties with President Vladimir Putin could be targeted by British police in retaliation for the Skripal attack.
(Reporting by Polina Devitt in Moscow and Elizabeth Piper in London; Editing by Keith Weir and Dale Hudson)
This story has not been edited by Firstpost staff and is generated by auto-feed.
Updated Date: May 21, 2018 00:06:10 IST