Britain tells Iran it will not let matter of detained aid worker rest
LONDON (Reuters) - British Foreign Secretary Jeremy Hunt said on Thursday he had had a frank discussion with his Iranian counterpart about detained British-Iranian aid worker Nazanin Zaghari-Ratcliffe and that he would not let the matter rest. 'Iran is detaining innocent people as an instrument of diplomatic leverage and we can't accept that,' Hunt told Sky news from New York where he is attending the United Nations General Assembly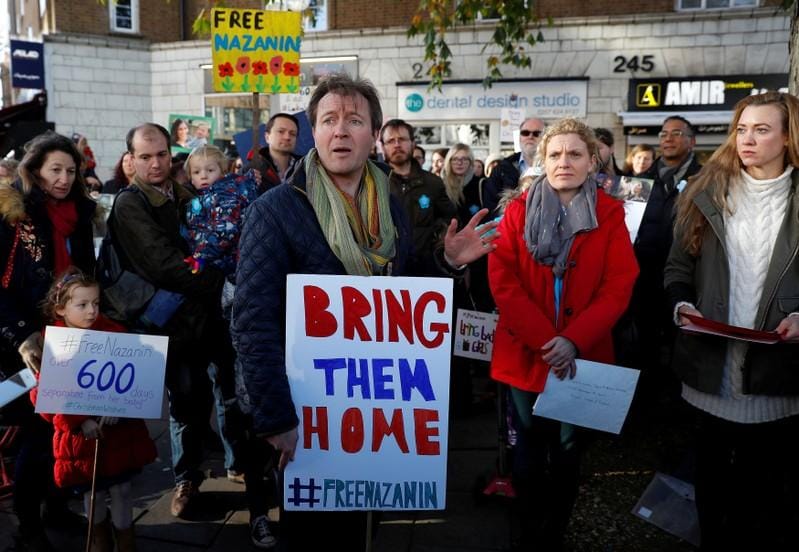 LONDON (Reuters) - British Foreign Secretary Jeremy Hunt said on Thursday he had had a frank discussion with his Iranian counterpart about detained British-Iranian aid worker Nazanin Zaghari-Ratcliffe and that he would not let the matter rest.
"Iran is detaining innocent people as an instrument of diplomatic leverage and we can't accept that," Hunt told Sky news from New York where he is attending the United Nations General Assembly.
"I had a very, very frank discussion with the Iranian foreign minister ... and I made it very clear that our policy to Iran is not settled and there will be consequences if they continue to think that this is a tool of diplomacy," he added.
Zaghari-Ratcliffe, a project manager with the Thomson Reuters Foundation, was arrested in April 2016 at a Tehran airport as she headed back to Britain with her daughter after a family visit.
She was sentenced to five years in jail after being convicted of plotting to overthrow Iran's clerical establishment, a charge denied by her family and the Foundation, a charity organisation that operates independently of Thomson Reuters and Reuters News.
"Iran needs to understand that we will not let it rest," Hunt said.
Zaghari-Ratcliffe's husband Richard Ratcliffe told Sky News he was "so pleased" by Hunt's comments that his wife is innocent. "It's a really important recognition," he said.
Earlier this week, British Prime Minister Theresa May also lobbied for the release of Zaghari-Ratcliffe during a meeting in New York with Iranian President Hassan Rouhani, May's office said.
Replying a question about dual nationals in Iranian jails, including Nazanin, Rouhani was quoted as saying by Fars news agency in a news conference in New York on Wednesday:
"From a humanitarian perspective, we should all try to help people in jail. The Iranian government is doing what it can, trying to facilitate visits and access to information. But the trial and verdict are in the hands of the judiciary. It's the same in all countries."
Britain has advised British-Iranian dual nationals against all but essential travel to Iran, tightening its existing travel advice and warning it has only limited powers to support them if detained.
(Reporting by Stephen Addison; Editing by Robin Pomeroy)
This story has not been edited by Firstpost staff and is generated by auto-feed.
Business
By Stephen Nellis (Reuters) -Apple Inc on Monday said it will offer the ability to store state-issued identification cards digitally on iPhones and that it is working with the U.S. Transportation Security Administration to accept the digital IDs at airports, one of several updates to the software that runs on its devices. It also showed updates to its FaceTime video chat app, adding the ability to schedule calls with multiple attendees and making the software compatible with Android and Windows devices.
Business
LONDON (Reuters) - The bosses of all airlines flying passenger services between Britain and the United States called on Monday for the countries' governments to relax COVID-19 restrictions to reopen travel routes between the two countries. After more than a year of restrictions, the CEOs of American Airlines, IAG unit British Airways, Delta Air Lines, United Airlines and JetBlue Airways Corp said high vaccination rates in both countries meant travel could restart safely. The push for reopening trans-Atlantic routes on Monday comes ahead of meetings between U.S.
Business
BRUSSELS (Reuters) - The European Union's patience towards Britain over Brexit arrangements in Northern Ireland is wearing thin and the bloc will consider its options should Britain continue its "confrontational path", an EU official said on Monday.