Bring on the horse meat: There's more to Japanese cuisine than sushi and ramen
Basashi or raw horse meat sushi is a local speciality in Kumamoto, on the island of Kyushu - the southernmost of Japan's four big islands.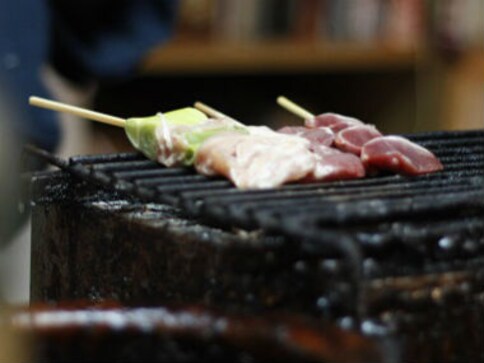 If destinations are trendy, then Japan is currently having a moment with Indian travellers. It seems like it's the destination that everyone is flocking to - from chefs to that family in your building that you just met on their way back from two weeks abroad.
And there's a lot that the country has going for it - it manages to be both on the cutting edge of modernity whilst still fiercely holding on to its traditions. It has a wealth of wonders - natural, man-made and anything else that may hold your fancy; it has got history and culture (did you know it's currently the time of the year when sumo wrestling tournaments are on); and it is easy to zip across in the Shinkansen (that's a bullet train for the uninitiated). Oh, and did I mention - it's a food lover's paradise. Yes, there's the sushi and ramen, but that's stating the obvious. What you'll find in Japan includes yakitori, okonomiyaki, tempura and so much more!
I was looking forward to sampling all of this and more, but my first meal in Japan was an underwhelming one. I picked up an egg sandwich and some canned cold coffee from a train station 7-Eleven kiosk while waiting for the Shinkansen from Tokyo to Kyoto. The fortification would serve me well on the three plus hour bullet train ride, after an eight-hour-flight from Mumbai and a one-hour-train ride into Tokyo's city centre.
From there though, things began to look up, and over two weeks I managed to sample nigiri at a 24 hour Tokyo sushi restaurant, have an omakase platter of yakitori after the language barrier between me and chef couldn't be broken down by smiles and gestures, and eat multiple hearty bowls of ramen - each fatty, unctuous and full of flavour.
A couple of things to note: for all the country's advances, a lot of the smaller eateries do not accept credit cards; come armed with cash, and lots of it. Secondly, the Japanese have perfected the art of the highball whisky with soda and you'd be advised to order it at most restaurants and bars you visit. For those looking for local Japanese drinks , there's sake (a brewed alcohol made from rice), which goes down extremely smoothly and ranges from dry to sweet; there's shochu (a distilled spirit made from barley, rice or sweet potato); and finally there's umeshu (a sweet plum liquor usually made by steeping the fruits in alcohol).
In Kyoto, at a smoke-filled sake bar in the residential part of town (in Japan, you can smoke in restaurants but not out on the street), I had my aforementioned omakase chicken yakitori platter - grilled meat on skewers. After trying to navigate the menu, I left the choice up to the chef and got five skewers - one each of gizzard, heart, ground up meatball, juicy leg grilled with leeks, and liver. For a first proper meal in Japan, it was a revelation. Each skewer had its own flavour and texture, even after being doused in the umami-rich yakitori sauce.
When in Osaka, you have to try okonomiyaki, the savoury Japanese pancake that that is grilled. Recommended by two people, I tried my first one at Okonomiyaki Kiji, in the basement of the Sky Umeda building. The fully stuffed pancake comes with a variety of options - though I chose to go fully loaded, with octopus, pork and squid. Served on the grill and allowed to crisp as you make your way towards the middle , the pancake is a filling meal. Armed with just a mini spatula (called a hagashi) and chopsticks, you cut away the crisp edges and allow the centre to cook for longer. The Tokyo version, known as monjayaki is a runnier version of the dish - imagine an omelette filled with seafood and vegetables. After you finish your meal, you can make your way to the observation deck on the top of the building for a 360 degree view of the city.
At my final stop, Tokyo, I made the trek to the city's famed Tsujuki fish market for an omakase nigiri meal. The 10 pieces of glistening fish ranged from chu toro (the fatty, flavourful part of the tuna belly) to the ligher Amberjack whitefish. Then after it was almost over, a curious menu item caught my eye - basashi or raw horse meat sushi. After a meal where the subtle flavours of fish had danced across my palette, I wasn't sure if I wanted to end with the stronger (I'd assume) taste of horse meat- but I was in Tokyo, and I wanted to eat like a local (I later learned that horsemeat is a local speciality in Kumamoto, on the island of Kyushu - the southernmost of Japan's four big islands). So throwing caution to the wind, I ordered a single piece of basashi. It was passed to me over the sushi counter - somewhere between brown and maroon. I gestured to the chef - should I dip it in soy? He signalled, yes, and so I gingerly lifted the nigiri with my chopsticks and plunged it into the soy sauce before eating the bite-sized piece whole. There was the distinct feeling of eating an animal I shouldn't be - but beyond that, the cold meat was a mix of partially soft and partially chewy with a gamier texture than any of the fish that had come before it. Paired with a glass of cold Asahi beer, it was a meal that underscored the freshness of seafood that is available in Japan and the technique needed to bring out its natural flavours.
In Tokyo, you'll also find ramen, and lots of it. For a light citrusy take on the hearty bowl, make your way to Afuri for the yuzu shoyu ramen. You order via a machine, which spits out a receipt that you then hand over to the servers behind the bar. From there, your ramen is assembled, ladled out of vats, combined with noodles, pork, soft boiled egg and veggies before being topped with a glistening sheet of seaweed. The tartness of the yuzu balances out the natural fatty oils for a light, clean eating experience.
Japan and its cuisine contain a multitude of options - everything from fish, to meat to vegetables can be eaten raw, or grilled, or batter fried - depending on your mood. And while our perception of Japanese food is expanding, it will still take some time to encompass everything that can be found when visiting the country. A lot of it has to do with the local product - being an island, Japan is blessed with a large coastline and a variety of seafood - and then there's the fastidious nature of the people - to repeat and better till perfect - but what I came back with was a satisfied belly and a desire to learn more about the different aspects of Japanese food.
World
Wages have hardly budged since the late 1990s due to years of deflation and stop-start growth
World
South Korea and Japan have deep economic and cultural ties and are both key U.S. allies that together host about 80,000 U.S. troops. But their relations have often fluctuated mainly due to issues stemming from Japan's 1910-45 colonial rule of the Korean Peninsula.
World
The summit between South Korea's Yoon Suk Yeol and Japan's Fumio Kishida highlighted how the two U.S. allies have been brought closer by North Korea's frequent missile launches and growing concern over China's more muscular role on the international stage.