Brics Summit in Goa: Modi's challenge is to convince Xi, Putin on Pakistan-backed terror
Prime Minister Narendra Modi, who is not a part of the Delhi establishment, also likes the idea of spreading events outside the capital city.
Prime Minister Narendra Modi is all set to host ten world leaders, including Vladimir Putin and Xi Jinping in the seaside resort of Goa, India's showcase tourist destination. Why Goa some may ask, considering that this is perhaps the first time that India is hosting such a major event outside Lutyens Delhi. Away from the capital, leaders can be more at ease and speak freely to each other in the relaxed holiday surrounding of sea and sand.
Modi would want his high-powered guests to be in the right mood as India needs to put its best foot forward. The Brics summit and the outreach to Bimstec nations are being held in the backdrop of rising tension between India and Pakistan. Ever since the Uri attack, Delhi has been trying to diplomatically isolate Pakistan, especially in the region. China, Pakistan's all-weather friend and Russia which has held military exercises with Pakistan for the first time, will both be told of India's concern on terrorism emanating from the bordering country by Prime Minister Modi during his interaction. Whether he can convince either President Xi or Putin remains to be seen. But terrorism will certainly be on top of the agenda during the summit and the declaration at the end will devote much space to the fight against terror.
The Goa meet is taking place at a time when Russia-US ties are at an all-time low over Syria, and US charges of Russia interfering in its presidential race. Xi and Putin are also coming closer, which worries the US and its allies. India's warming ties with the US and China's suspicion that the US wants to balance China's growing military might in the Asia-Pacific region by bringing India into its fold is another element of the complicated relations between the three important Brics partners.
India pulled out of Saarc and scuttled this year's Islamabad summit after Uri. It also ensured that Afghanistan, Bangladesh, Bhutan and Sri Lanka also pull out. Delhi now wants to energise Bimstec, a regional grouping of the Bay of Bengal countries, which does not include Pakistan will be a part of India's diplomatic strategy. In fact, the Bay of Bengal Initiative for Multi-Sectoral Technical and Economic Cooperation was promoted by India in 1997, at a time when it was fed up with Pakistan's negative stand in Saarc. It wanted to ensure another grouping which would work better. Modi is hoping to breathe fresh life into Bimstec and ensure that this regional forum would work better than Saarc.
All this diplomatic maneuvering will take place in India's best-known tourist destination. Brics have often held its summits away from the capital cities. The first meeting of Brazil, Russia, India and China (South Africa had not yet joined) was in the Russian city of Yekaterinburg in 2009. China held the Brics summit in 2011 in Sanya, South Africa in 2013 in Durban and Brazil in Fortaleza in 2014. Last year's was in Ufa in Russia. Manmohan Singh's Brics summit predictably was in New Delhi in 2012.
When Brics first began it was the toast of the world. Their economies were galloping, while the industrialised nations remained stagnant, the hope was that the emerging economies would become the driving force to revive the world's economic engine. The hopes have however been belied. China's economy is no longer galloping, Russia has to deal with falling oil prices and plunge in the commodities market worldwide, Brazil is reeling under both economic and political problems, South Africa's Jacob Juma is on the backfoot and the economy has shown no signs of picking up. India is better placed than the rest but Brics itself is going through a rough patch at the moment.
But for India, the Goa summit is much more than the economy. In fact, while Brics is important, equally so are the Bimstec nations: Bangladesh, Myanmar, Sri Lanka, Thailand, Bhutan and Nepal. Regional, connectivity, trade and economic will be driving the Bimstec but lurking over this will be India's efforts to show Pakistan that unless it stops propping up terror outfits, India and the rest of the group will go continue to blacklist that country.
Brics has a tradition of holding its summits away from the capital cities. Prime Minister Narendra Modi, who is not a part of the Delhi establishment, also likes the idea of spreading events outside the capital city. When Xi visited India in 2014, his first stop was Modi's home state of Gujarat. In fact, foreign policy outreach programmes are now held across the country. Conferences, especially Asean related meetings take place in the North East. Discussions on India's Act East policy were held in Guwahati, Shillong and other towns.This also happened during the UPA regime as the government felt that public issues need to be taken to the general people. The lecture circuit now is spread across not just the metros but across towns and cities in the hinterland. But when world dignitaries gather, it has generally been in the national capital.
Goa, India's most important tourist spot luckily has the infrastructure to host ten world leaders and their entourages without any problem. The BJP ruled state, once a Portuguese colony was taken over by India in 1961. Goa has a large Christian population as Francis Xavier the great Christian saint and missionary came here to preach here more than 400 years. The tiny state is a fine example of India's liberal ethos and has neighbourhoods dominated by both Russian, Israeli tourists and Western tourists. As India expands its naval presence across not just the Indian Ocean but right on to the Pacific, Goa plays into India's history as a seafaring nation.
Sports
By beating Djokovic in Sunday's final, Medvedev became the first Russian to win a major title since Maria Sharapova in 2014, and the first Russian man since Marat Safin in 2005.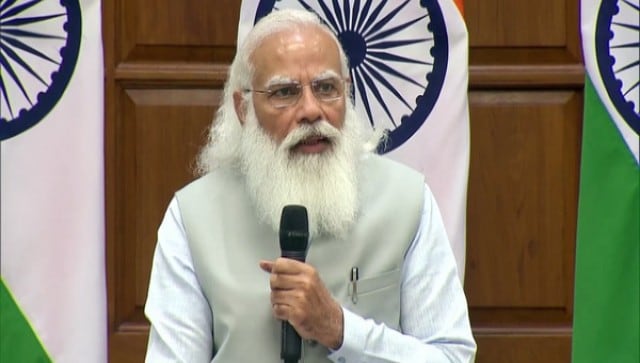 World
New strategic alignments and alliances are taking shape, even as old relationships suddenly seem to have regained their relevance
World
Navalny's team maintains that Smart Voting is not about voting for an ideal candidate, but rather is about defeating United Russia and Kremlin-backed politicians