"Brexit continues to mean Brexit": May presses on with her plan
By Elizabeth Piper and William James LONDON (Reuters) - Prime Minister Theresa May refused to budge from her position on Brexit on Wednesday, brushing aside criticism from all corners of parliament and saying her strategy was already being negotiated with the European Union.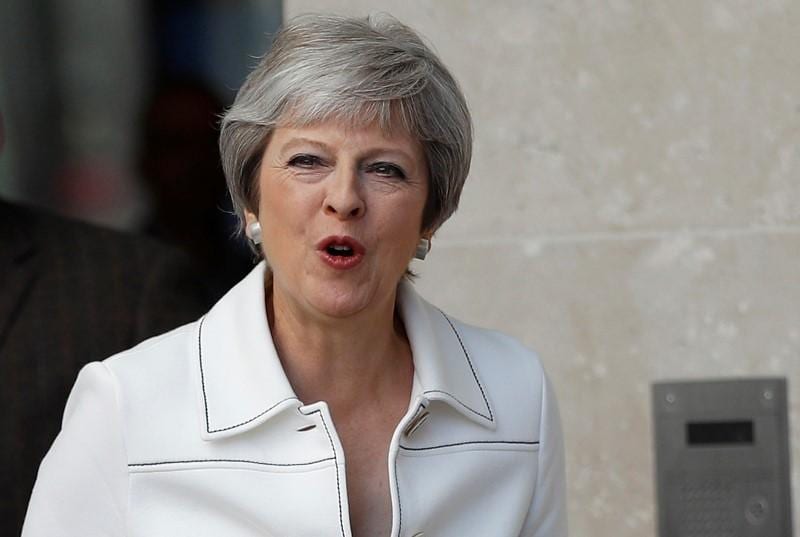 By Elizabeth Piper and William James
LONDON (Reuters) - Prime Minister Theresa May refused to budge from her position on Brexit on Wednesday, brushing aside criticism from all corners of parliament and saying her strategy was already being negotiated with the European Union.
After narrowly escaping defeat in parliament over her plans for leaving the EU, May signalled she would not drop a proposal on Britain's future relationship with bloc - the biggest shift in its foreign and trade policy for almost half a century.
But by sticking to her plan for a "business-friendly" departure that would keep Britain in a free trade zone with the EU for manufactured and agricultural goods, May has thrown down the gauntlet both to backers of a cleaner break with the bloc, and to those who don't want to leave at all.
Since the plan was unveiled earlier this month, Brexit supporters and pro-EU lawmakers in her party have been at war with each other, and in some cases with the prime minister herself.
Brexit supporters complain that the plan means swathes of the British economy would still be subject to rules set in Brussels. Pro-EU politicians complain that it would still leave Britain facing complicated customs procedures, and outside the free market for services that make up most of its economy.
At a session of parliament, May stood firm after being challenged by one pro-Brexit lawmaker in her party to explain when she had decided to change her catchphrase from "Brexit means Brexit", to "Brexit means Remain".
"Brexit continues to mean Brexit," May said to cheers from her Conservative supporters.
At a later meeting of her lawmakers, senior party officials said May was welcomed. One government minister said on condition of anonymity that the Conservatives had come to their senses and were backing her Brexit plan.
But that did not stop Boris Johnson, the former foreign minister who quit last week over May's plan, from renewing his call for government to rethink it, saying "it is not too late to save Brexit".
May said talks had already started with Brussels based on the proposal, which was set down in a policy document last week, and referred to as "Chequers" for the prime minister's country residence where its terms were thrashed out.
The prime minister insisted she was confident Britain had enough time to negotiate a deal with the EU before leaving in March next year, and denied suggestions that Britain was moving closer to a "no-deal" Brexit.
"ABYSS"
May would face a leadership challenge if 15 percent of the members of parliament from her Conservative Party wrote letters calling for one. But many of them fear that would bring down the government and force an election, which could be won by the opposition Labour Party and its left-wing leader Jeremy Corbyn.
In a sign of Conservative lawmakers falling into line, one of them, Simon Clarke, told the party meeting that he had submitted such a letter but was now withdrawing it for the sake of party unity.
"We've looked into the abyss in the last few days," he told reporters outside the meeting.
"Chequers would not be my preferred option ... but I'm also clear that Conservative Party civil war is not where we need to be at this time - the threat of a Corbyn government, or no Brexit at all, has to be borne in mind."
May's vulnerability in parliament, where she lost her majority in an ill-judged election last year, was laid bare on Monday and Tuesday when she faced rebellions from both the pro-Brexit and pro-EU wings of her party.
She won the votes on a customs and a trade bill, but suffered an unexpected defeat on a separate amendment, which means her government must now seek continued participation in the European medicines regulatory framework.
One Conservative lawmaker told Reuters the party whips, whose job it is to enforce discipline in parliament, had threatened to call a confidence vote in May if she lost -- a move that could bring down the government.
Johnson, figurehead of the Brexit campaign in the 2016 referendum, urged May to change her Brexit strategy in a scathing assessment of the government's handling of the negotiations.
"We have time in these negotiations, we have changed tack once and we can change again," he said in his resignation speech to parliament on Wednesday, more than a week after he quit.
"It is as though a fog of self-doubt has descended," Johnson said. "We should not and need not be stampeded by anyone."
(Reporting by Elizabeth Piper and William James; Additional reporting by Andrew MacAskill; Editing by David Stamp and Peter Graff)
This story has not been edited by Firstpost staff and is generated by auto-feed.
Find latest and upcoming tech gadgets online on Tech2 Gadgets. Get technology news, gadgets reviews & ratings. Popular gadgets including laptop, tablet and mobile specifications, features, prices, comparison.
World
By Andy Sullivan (Reuters) - Wednesday night's matchup between Vice President Mike Pence and Democratic challenger Senator Kamala Harris unfolded largely free of the chaos that marred last week's debate between President Donald Trump and former Vice President Joe Biden. Here are a few standout moments from the debate: PACKING THE COURT?
World
WASHINGTON (Reuters) - The United States on Thursday slapped fresh sanctions on Iran's financial sector, targeting 18 Iranian banks in an effort to further shut Iran out of the global banking system as Washington ramps up pressure on Tehran weeks ahead of the U.S. election. In an announcement posted on its website, the U.S
Business
ZURICH (Reuters) - Swiss drugs and diagnostics group Roche is shipping supplies from Germany to help Britain's National Health Service (NHS) fill gaps caused by a logistics glitch at a Roche warehouse in southern England, it said on Thursday. Roche, a main supplier of COVID-19 and other diagnostic tests to the NHS, told UK customers on Wednesday that a switch from an old warehouse to a new automated distribution centre had caused an unforeseen technical issue that hit processing capacity. "We are confident that the plans we have put in place will deliver significant improvements by the weekend to the supply of the tests affected by these logistical issues," Roche said on Thursday, reiterating its timetable from Wednesday.