Brazil's neighbours call for meeting and Amazon pact as fires rage
By Maria Cervantes LIMA (Reuters) - Peru and Colombia called on Tuesday on fellow Amazonian countries to attend a presidential meeting next month on the forest fires raging in Brazil and Bolivia and to forge a pact to protect the world's largest tropical forest. The meeting is scheduled to take place in the Amazonian region of Leticia in Colombia on Sept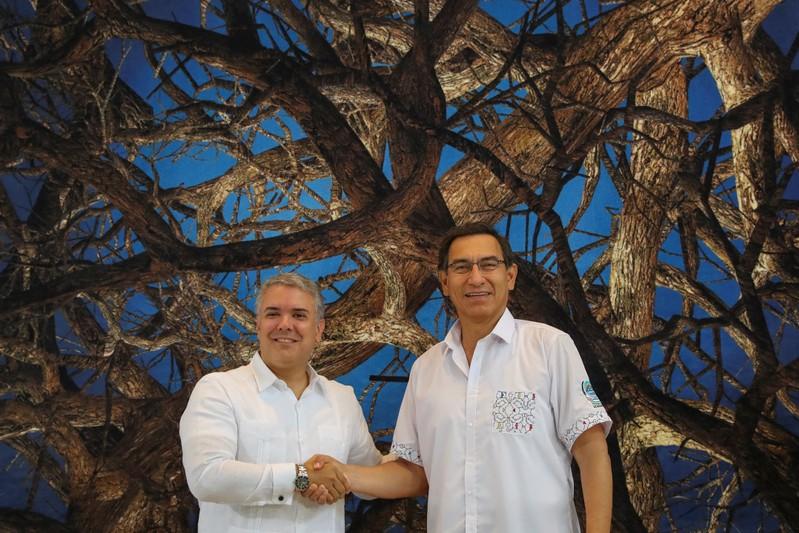 By Maria Cervantes
LIMA (Reuters) - Peru and Colombia called on Tuesday on fellow Amazonian countries to attend a presidential meeting next month on the forest fires raging in Brazil and Bolivia and to forge a pact to protect the world's largest tropical forest.
The meeting is scheduled to take place in the Amazonian region of Leticia in Colombia on Sept. 6, the two countries said in a statement after Peruvian President Martin Vizcarra and Colombian President Ivan Duque met.
"We have to raise our voice to a presidential level and make a pact where we all coordinate our actions to protect our Amazon," Duque told a news conference in the Amazonian city of Pucallpa in Peru.
Vizcarra said the meeting would seek to commit countries to a common plan for protecting the rainforest in the Amazon basin, which is shared by Brazil, Peru, Colombia, Venezuela, Ecuador, Bolivia, Guyana and Suriname.
"It shouldn't just be a reactive policy due to the emergency that neighbouring countries are facing with these fires. Rather it should have a long-term view on how to avoid deforestation," Vizcarra said alongside Duque.
The fires in Brazil have created a major crisis for the far-right government of President Jair Bolsonaro, who is losing popularity at home and finding himself isolated on the global stage over his response to blazes that threaten what many view as a key bulwark against global climate change.
Duque called the fires in Brazil "worrisome" but added that people around the world need to become more aware of how they contribute to climate change.
The fires are not limited to Brazil, with at least 10,000 square km (about 3,800 square miles) burning in Bolivia, near its border with Paraguay and Brazil.
Leftist Bolivian President Evo Morales called for an emergency meeting of Amazonian countries on Friday, but said "some countries" had shown a lack of interest for ideological reasons.
(Reporting By Maria Cervantes, Writing By Mitra Taj; Editing by Alistair Bell)
This story has not been edited by Firstpost staff and is generated by auto-feed.
Find latest and upcoming tech gadgets online on Tech2 Gadgets. Get technology news, gadgets reviews & ratings. Popular gadgets including laptop, tablet and mobile specifications, features, prices, comparison.
Business
By James Davey LONDON (Reuters) - Distribution of several British newspapers was disrupted on Saturday after climate change activists blockaded printworks used by Rupert Murdoch's News UK, publisher of The Times and The Sun, drawing condemnation from Prime Minister Boris Johnson.
Business
PARIS (Reuters) - France denied the European Union's Brexit negotiator Michel Barnier was about to be sidelined by EU leaders in a bid to break the deadlock in trade talks, as reported by British newspaper the Daily Telegraph. Twisting a famous British war slogan, European affairs minister Clement Beaune tweeted on Saturday: "Keep calm and support Michel Barnier".
World
MEXICO CITY (Reuters) - Mexico's National Electoral Institute (INE) has denied former President Felipe Calderon's bid to register his Free Mexico movement as a new political party, saying some of its funding was questionable.