Brazil's Bolsonaro sticks to travel plan despite 'mold' in lungs
By Lisandra Paraguassu BRASILIA (Reuters) - Brazilian President Jair Bolsonaro made a scheduled visit to the south of the country on Friday, after revealing the night before that he is taking antibiotics for a lung infection. Bolsonaro has previously tested positive three times for the coronavirus, but, according to one source, doctors accompanying him on the trip have not linked the lung infection to COVID-19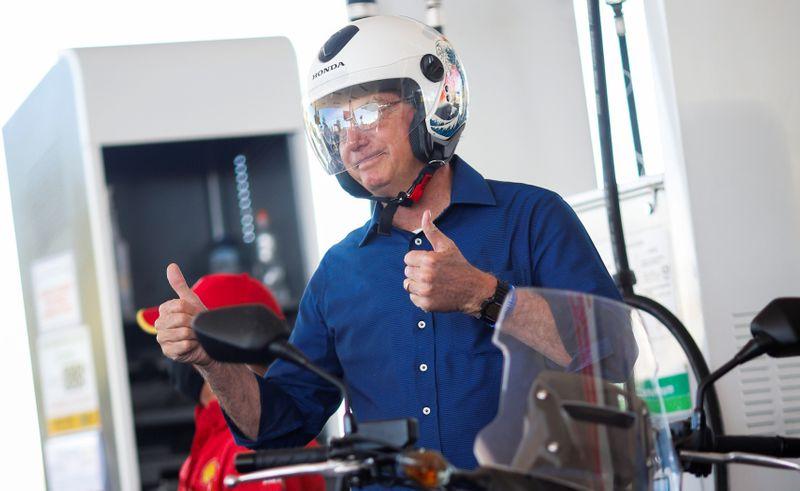 By Lisandra Paraguassu
BRASILIA (Reuters) - Brazilian President Jair Bolsonaro made a scheduled visit to the south of the country on Friday, after revealing the night before that he is taking antibiotics for a lung infection.
Bolsonaro has previously tested positive three times for the coronavirus, but, according to one source, doctors accompanying him on the trip have not linked the lung infection to COVID-19.
Bolsonaro is one of a handful of world leaders to have tested positive for coronavirus. British Prime Minister Boris Johnson was rushed into intensive care in April, and took several weeks to fully recover.
Having spent most of July self-isolating at his official residence in Brasilia, Bolsonaro said on Saturday that his last coronavirus test was negative.
However, a week back into his normal schedule, the president said in his weekly live broadcast on Thursday that he felt weak and the test results revealed an infection.
"I just had a blood test, you know, I had a little weakness yesterday, they even found a little bit of infection too. I'm on antibiotics now. ... After 20 days indoors, I have other problems. I have mold in my lungs," he said.
His wife, Michelle Bolsonaro, tested positive on Thursday, according to a statement from the presidential palace. Science and Technology Minister Marcos Pontes also tested positive for the virus, making him the fifth Cabinet minister diagnosed publicly.
Despite his lung infection, Bolsonaro on Thursday visited the states of Bahia and Piauí, which both boast warm weather. On Friday, he traveled to the southern state of Rio Grande do Sul, where temperatures at this time of year are much cooler.
(Reporting by Lisandra Paraguassu; Writing by Jamie McGeever; Editing by Jonathan Oatis)
This story has not been edited by Firstpost staff and is generated by auto-feed.
Find latest and upcoming tech gadgets online on Tech2 Gadgets. Get technology news, gadgets reviews & ratings. Popular gadgets including laptop, tablet and mobile specifications, features, prices, comparison.
Business
By Foo Yun Chee BRUSSELS (Reuters) - The European Union's executive on Friday wrapped up preliminary talks with French drugmaker Sanofi aimed at securing its COVID-19 vaccine for the 27-country EU bloc, the latest deal with vaccine producers. Armed with an emergency fund of more than 2 billion euros ($2.4 billion), the European Commission wants to strike deals with up to six drugmakers for their vaccines for their 450 million citizens against the coronavirus that has killed 674,000 people worldwide
Business
By Lucia Mutikani WASHINGTON (Reuters) - U.S. consumer spending increased for a second straight month in June, setting up consumption for a rebound in the third quarter, though the recovery could be limited by a resurgence in COVID-19 cases and the end of expanded unemployment benefits.
Business
By Steve Holland and Daphne Psaledakis WASHINGTON (Reuters) - The United States intensified its economic pressure on China's Xinjiang province on Friday, imposing sanctions on a powerful Chinese company and two officials for what it said were human rights abuses against Uighurs and other ethnic minorities. The move, the latest blow to U.S.-China relations, came a week after U.S