Brazil to send aid to Venezuela together with U.S.: spokesman
BRASILIA (Reuters) - Brazil will deliver humanitarian aid to the Venezuelan border by Feb. 23 together with the United States at the request of Venezuela's opposition leader Juan Guaidó, presidential spokesman General Otavio Rego Barros said on Tuesday. The distribution of the food and medicine from the northern Brazilian city of Boa Vista across the border will be in Venezuelan trucks driven by Venezuelan citizens organised by Guaidó, the spokesman said at a news conference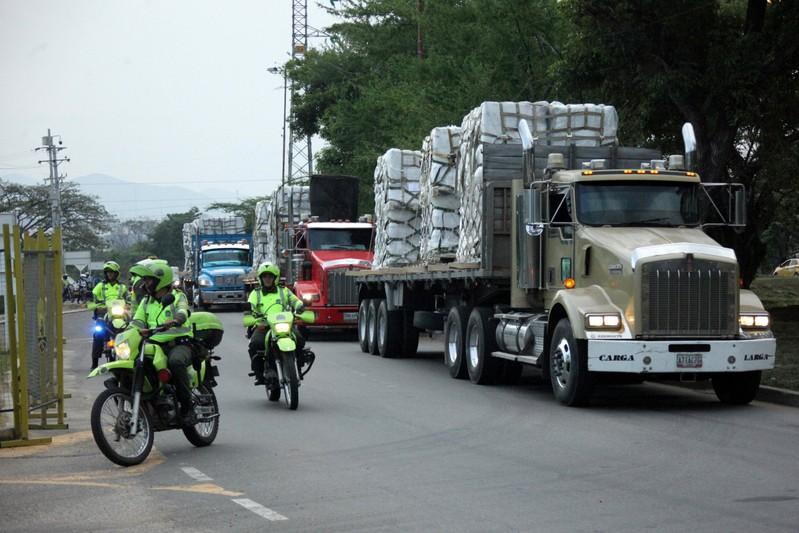 BRASILIA (Reuters) - Brazil will deliver humanitarian aid to the Venezuelan border by Feb. 23 together with the United States at the request of Venezuela's opposition leader Juan Guaidó, presidential spokesman General Otavio Rego Barros said on Tuesday.
The distribution of the food and medicine from the northern Brazilian city of Boa Vista across the border will be in Venezuelan trucks driven by Venezuelan citizens organised by Guaidó, the spokesman said at a news conference.
The opposition effort aims to bring humanitarian aid into Venezuela from neighbouring Colombia, Curacao and Brazil as of Feb. 23 despite the protests of leftist President Nicolas Maduro who has denied there are widespread shortages.
Maduro's opponents are hoping the Venezuelan military on the border will disobey his orders to block the aid.
The government of Brazil's new right-wing President Jair Bolsonaro has recognised Guaidó as the legitimate leader of Venezuela until elections can be held.
Brazil's Foreign Ministry said in a statement that the aid will be placed in Boa Vista and the border town of Pacaraima to be collected by what it called "the government of acting President Juan Guaidó."
"Brazil is thus joining this important international initiative to support the Guaidó government and the people of Venezuela," the statement said.
(Reporting by Ricardo Brito and Anthony Boadle; Editing by James Dalgleish)
This story has not been edited by Firstpost staff and is generated by auto-feed.
Find latest and upcoming tech gadgets online on Tech2 Gadgets. Get technology news, gadgets reviews & ratings. Popular gadgets including laptop, tablet and mobile specifications, features, prices, comparison.
World
MOSCOW (Reuters) - Russian President Vladimir Putin said on Wednesday he had noted what he called "sharp anti-Russian rhetoric" from U.S. Democratic presidential candidate Joe Biden, but that he had been encouraged by Biden's comments on arms control. Putin, in comments on state television ahead of the U.S.
World
By John Irish and Robin Emmott PARIS/BRUSSELS (Reuters) - France and Germany said on Wednesday they would propose European Union sanctions against Russian individuals after receiving no credible answers from Moscow over the poisoning of Kremlin critic Alexei Navalny with a nerve agent. Several Western governments have said Russia, which has denied accusations by Navalny that it was involved in the poisoning, must help in investigations or face consequences. The decision and speed with which Europe's two main powers agreed to push ahead with sanctions suggests a hardening of the bloc's diplomacy towards Moscow.
World
By Steve Holland WASHINGTON (Reuters) - U.S. President Donald Trump, under coronavirus quarantine in the White House and restricted from traveling, is seeking ways to put a spark back in his struggling re-election bid and get behind his desk in the Oval Office with four weeks left until Election Day.