Brazil impeachment: All you need to know about the political war against Dilma Rousseff
The impeachment battle against Brazilian President Dilma Rousseff has been waged in the streets, in Congress and in the courts.
The impeachment battle against Brazilian President Dilma Rousseff has been waged in the streets, in Congress and in the courts.
These key dates track an often complex process that moves forward Monday with a vote in the lower house commission, then a decisive vote in the full lower house a week later.
2 December, 2015
Controversial lower house Speaker Eduardo Cunha formally opens the impeachment saga by accepting a petition from a group of lawyers.
They accuse Rousseff of having illegally juggled government accounts and taking loans in order to mask the depth of government shortfalls during her 2014 re-election.
Meanwhile, many politicians, including Cunha, are snared in criminal corruption probes linked to a vast embezzlement scheme at state oil company Petrobras.
16 March, 2016
The Supreme Court resolves technical issues that had been holding up impeachment proceedings and the battle gets under way.
17 March
The lower house of parliament forms a cross-party commission of 65 members to recommend whether impeachment should go ahead.
4 April
Against a backdrop of regular pro- and anti-Rousseff street protests, Brazil's solicitor general, Jose Eduardo Cardozo, makes final arguments before the commission in the president's defense.
He tells deputies that the charges do not amount to impeachable offenses and that the process is fueled by Cunha's "desire for revenge."
11 April
The commission was to vote on Monday, with only a simple majority needed either way. The commission's rapporteur Jovair Arantes already recommended last week in favor and expectations were that the "yes" side would prevail.
17 or 18 April
The commission vote is non-binding but sets the tone for when the lower house of Congress meets a week later -- expected for either April 17 or 18 -- to issue a decisive ruling.
A two-thirds majority will be required there for an impeachment trial to open in the upper house. Anything less and the matter will be dropped.
If a trial starts in the Senate, then another two-thirds vote will be required for Rousseff to be removed from office. In the meantime, she would have to step aside and Vice President Michel Temer would take over.
A guide to the impeachment process
Brazil's President Dilma Rousseff risks being driven from office if the lower house votes in favor of an impeachment trial, with Monday's vote in a special commission a symbolic first step.
These are the main stages in the crisis, which comes on top of a deep recession in Latin America's biggest economy as it prepares to host the Olympic Games in August in Rio de Janeiro.
Runup
A petition to impeach Rousseff, accusing her of fiddling government accounts to mask budget shortfalls, was accepted last year. On March 17 this year, lawmakers formally launched an impeachment commission after procedural obstacles were resolved.
Launch
The commission votes Monday on whether to recommend impeachment. Although non-binding the decision will help set the tone for a crucial vote in the lower house a week later, probably 17 or 18 April.
Trial
If fewer than two-thirds of the lower house approve the motion, Rousseff escapes impeachment. If two-thirds approve, the case passes to the Senate.
There, a simple majority of the Senate will be enough to begin a trial. Rousseff will be ordered out of office provisionally for up to six months while the Senate hears evidence.
She would be replaced by her vice president and leading opponent, Michel Temer.
Judgement
After closing arguments in the impeachment trial, senators will vote on whether to remove Rousseff from office. If two-thirds of senators vote to impeach her, she will be out. If not, she can resume her post.
Analysts say the case may take just a few weeks to reach the Senate, but once there the proceedings could take months.
Road bumps
If the Senate launches an impeachment trial, it could be under way as Brazil hosts the Olympic Games in Rio from August 5 to 21.
The political crisis engulfing Rousseff and her allies such as predecessor Luiz Inacio Lula da Silva has sparked angry street protests which threaten to heat up over the coming months. Rousseff could also slow things down with challenges in the Supreme Court.
Lula himself is awaiting a Supreme Court ruling on whether he can join Rousseff's cabinet, partly shielding him from corruption charges brought by a lower court.
And while the political paralysis in Brasilia deepens, nothing is being done to address Brazil's gaping recession.
Sports
Seven matches are scheduled to take place at the stadium, including a semi-final. The final is slated for the iconic Maracana Stadium in the city.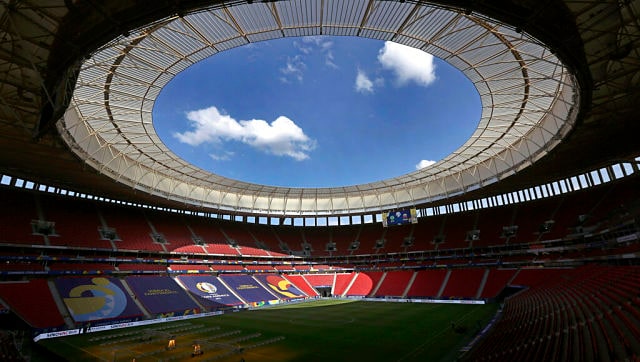 Sports
The South American football confederation, CONMEBOL, later updated the total, saying 13 members of the Venezuelan delegation had tested positive.
Sports
Venezuela played with a makeshift side missing eight players ruled out after testing positive for coronavirus the day before.