Brazil Amazon deforestation climbs more than 100% in November over same month last year - government agency
SAO PAULO (Reuters) - Deforestation in Brazil's Amazon jumped to the highest level for the month of November since record-keeping began in 2015, according to preliminary government data published on Friday. Destruction of the world's largest tropical rainforest totalled 563 square kg (217.38 square miles) in November, 103% more than in the same month last year, according to the country's space research agency INPE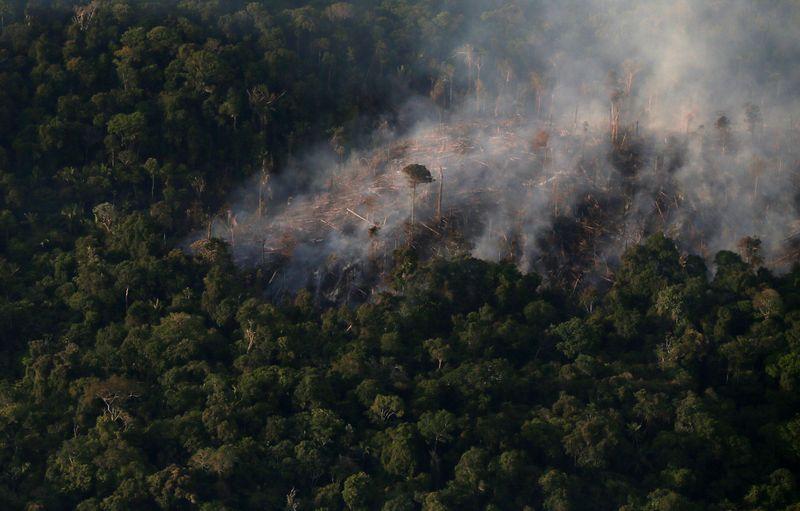 SAO PAULO (Reuters) - Deforestation in Brazil's Amazon jumped to the highest level for the month of November since record-keeping began in 2015, according to preliminary government data published on Friday.
Destruction of the world's largest tropical rainforest totalled 563 square kg (217.38 square miles) in November, 103% more than in the same month last year, according to the country's space research agency INPE.
That would bring total deforestation for the period from January to November to 8,934 square km, 83% more than in the same period in 2018 and an area almost the size of Puerto Rico.
The data released by INPE was collected through the DETER database, a system that publishes alerts on fires and other types of developments affecting the rainforest.
The DETER numbers are not considered official deforestation data. That comes from a different system called PRODES, also managed by INPE.
PRODES numbers released last month showed deforestation rose to its highest in over a decade this year, jumping 30% from 2018 to 9,762 square km.
Deforestation usually slows around November and December during the Amazon region's rainy season. The number for last month was unusually high.
Researchers and environmentalists blame right-wing President Jair Bolsonaro for emboldening ranchers and loggers by calling for the Amazon to be developed and for weakening the environmental agency Ibama.
Bolsonaro and Environment Minister Ricardo Salles have said previous governments played a role in deforestation's increase, saying policies including budget cuts at agencies like Ibama were in place well before the new government took office on Jan. 1.
Brazil's Environment Ministry had no immediate comment on Friday on the DETER data for November.
(Reporting by Marcelo Teixeira; Editing by Tom Brown)
This story has not been edited by Firstpost staff and is generated by auto-feed.
Find latest and upcoming tech gadgets online on Tech2 Gadgets. Get technology news, gadgets reviews & ratings. Popular gadgets including laptop, tablet and mobile specifications, features, prices, comparison.
World
By Kate Holton LONDON (Reuters) - The post-Brexit woes facing Scotland's fishing industry deepened on Saturday as its biggest logistics provider, DFDS Scotland, said it would halt exports to the European Union through one of its main services until at least Wednesday. Previously the company had said it would take until Monday to resume its "groupage" export service - which allows exporters to ship multiple products in a single consignment - while it tries to fix IT issues, paperwork errors and a backlog of goods. DFDS's move represents another blow for Scottish fishermen who this week warned that their businesses could become unviable after Britain shifted to a less integrated trade deal with the EU at the turn of the year
World
VATICAN CITY (Reuters) - Pope Francis said on Saturday he planned to be vaccinated against COVID-19 as early as next week and urged everyone to get a shot, to protect not only their own lives but those of others.
World
By Rich McKay (Reuters) - A man photographed carrying off the Speaker's lectern during the Capitol Hill riots was arrested late Friday, while a top Democratic lawmaker on Saturday called on mobile carriers to preserve social media content related to the riots. Dozens of people have been charged following the storming of the Capitol on Wednesday, with the FBI asking the public for help identifying participants, given the proliferation of images of the riots on the internet.