Boulder falls from Jerusalem's Western Wall, barely missing worshipper
By Jeffrey Heller JERUSALEM (Reuters) - An elderly worshipper had a close call on Monday when a 100-kg (220 lb) stone suddenly fell from Jerusalem's Western Wall and crashed at her feet. The Israel Antiquities Authority said the boulder may have been dislodged by erosion caused by vegetation or moisture in the biblical wall, the holiest place where Jews are permitted to pray. 'I didn't hear or feel anything until it landed right at my feet,' Daniella Goldberg, a 79-year-old Jerusalem resident who had gone to the wall in the early morning to worship, told Reuters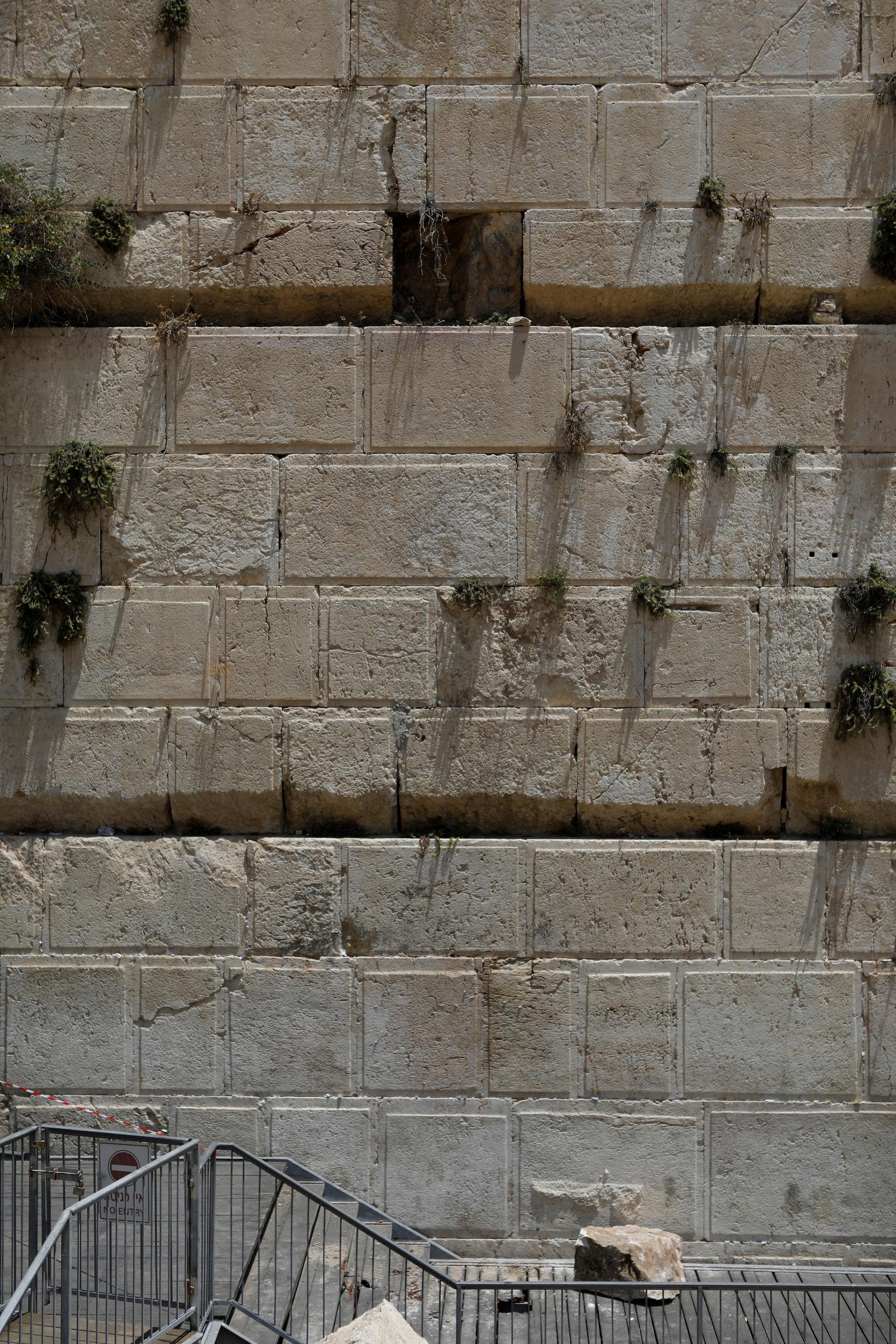 By Jeffrey Heller
JERUSALEM (Reuters) - An elderly worshipper had a close call on Monday when a 100-kg (220 lb) stone suddenly fell from Jerusalem's Western Wall and crashed at her feet.
The Israel Antiquities Authority said the boulder may have been dislodged by erosion caused by vegetation or moisture in the biblical wall, the holiest place where Jews are permitted to pray.
"I didn't hear or feel anything until it landed right at my feet," Daniella Goldberg, a 79-year-old Jerusalem resident who had gone to the wall in the early morning to worship, told Reuters.
A security camera captured the rare occurrence at the site revered by Jews as a remnant of the compound of the Second Temple destroyed by the Romans in 70 AD.
One of Islam's holiest sites, the Noble Sanctuary, where al-Aqsa mosque and the Dome of the Rock stand, lies above.
The footage showed the stone falling from a height of about seven metres (23 feet) in a nearly vacant section of the wall adjacent to its picture-postcard main plaza, where Jewish worshippers traditionally cram written prayers into crevices.
Just a day earlier, worshippers had flocked to the holy site for Tisha B'Av, an annual Jewish day of mourning that marks the destruction of the two Biblical temples in Jerusalem.
"A great miracle occurred when a stone weighing about 100 kilos fell near the worshipper and did not hurt her," Jerusalem Mayor Nir Barkat said in a statement.
The Jerusalem municipality temporarily closed the section for a safety inspection. It is built near piles of boulders believed to date to the time of the Second Temple.
The main Western Wall esplanade remained open.
A 2014 study by the Hebrew University of Jerusalem charted erosion in the different kinds of limestone that make up the Western Wall and said it a problem for engineers concerned about its stability.
(Editing by Ros Russell)
This story has not been edited by Firstpost staff and is generated by auto-feed.
Find latest and upcoming tech gadgets online on Tech2 Gadgets. Get technology news, gadgets reviews & ratings. Popular gadgets including laptop, tablet and mobile specifications, features, prices, comparison.
World
By Andy Sullivan (Reuters) - Wednesday night's matchup between Vice President Mike Pence and Democratic challenger Senator Kamala Harris unfolded largely free of the chaos that marred last week's debate between President Donald Trump and former Vice President Joe Biden. Here are a few standout moments from the debate: PACKING THE COURT?
World
WASHINGTON (Reuters) - The United States on Thursday slapped fresh sanctions on Iran's financial sector, targeting 18 Iranian banks in an effort to further shut Iran out of the global banking system as Washington ramps up pressure on Tehran weeks ahead of the U.S. election. In an announcement posted on its website, the U.S
Business
ZURICH (Reuters) - Swiss drugs and diagnostics group Roche is shipping supplies from Germany to help Britain's National Health Service (NHS) fill gaps caused by a logistics glitch at a Roche warehouse in southern England, it said on Thursday. Roche, a main supplier of COVID-19 and other diagnostic tests to the NHS, told UK customers on Wednesday that a switch from an old warehouse to a new automated distribution centre had caused an unforeseen technical issue that hit processing capacity. "We are confident that the plans we have put in place will deliver significant improvements by the weekend to the supply of the tests affected by these logistical issues," Roche said on Thursday, reiterating its timetable from Wednesday.