Boston blasts, and the strange world of America's bomb cults
No one knows who carried out Monday's murderous terrorist attacks in Boston. The killings, however, have cast grim light on the bomb cults flourishing on America's margins—jihadist and neo-Nazi alike.
Lawrence Nicholas Thomas was buried near where he fell, in an unmarked grave in the mountains outside the small town of Doda. Nineteen, back then in September 1997, Thomas had left his home near Atlanta, Georgia, for a Lashkar-e-Taiba camp in Pakistan-occupied Kashmir. Then, he crossed the Line of Control to "destroy the enemies of Allah, the vile Hindus and Sikhs." "I always wanted a piece and some grenades and a blade," a friend recounted Thomas as saying in a posthumous online hagiography, "and now I have my piece and my rifle and I have my grenades and my blade—and it's all fi-sabeelillah [in the way of god]."
"Jibreel al-Amriki," the others in his unit used to call Thomas—"the American". He'd never, to anyone's knowledge, known a Hindu or Sikh in his life—though the blade and the gun shape its course.
No one knows if the Federal Bureau of Investigation detectives sift through the debris in Boston, they will discover the fingerprints of jihadists, white supremacists, or just crazed individuals. The tragic killings are, however, a useful prism to examine the bizarre bomb cults flourishing on the country's margins.
1: The jihadi cult
Back in March 2010, Adam Pearlman appeared in a video that shook America. Pearlman—the son of a California musician, grandson of an eminent doctor, aspiring rock-star—had given up death-metal in the mid-1990s; now, he'd chosen a different tune. "Muslims in the West," he said in the video, produced by al-Qaeda's media house as-Shahaab, "have to remember that they are in a perfect place to play an important and decisive part in the war against the Zionists and crusaders." "You can go down to a gun show at the local convention centre," he continued "and come away with a fully automatic assault rifle... So what are you waiting for"?
Ever since 9/11, there has been evidence that this message is resonating on the fringes of Muslim communities in the United States. The Congressional Research Service's expert Jerome Bjelopera estimates that there have been 63 plots involving United States citizens or permanent residents, four successful, since then. From May 2009 to December 2012, 42 home-grown jihadists were arrested.
Last year alone, Pakistan-origin Raees Alam Qazi and his brother Sheheryar Alam Qazi were charged with "conspiracy to use a weapon of mass destruction." Adel Daud, a United States citizen, tried to bomb a bar in Chicago; illegal immigrant Amine el-Khalifi to blow up the Capitol in Washington, DC; Sami Osmakac to attack nightclubs in Tampa. There were many others, too.
There were just two American jihadist plots that succeeded since 9/11, both in 2009—Nidal Hasan's rampage through the Fort Hood base in Texas, which claimed 13 lives, and Abdul Hakim Muhammad, who shot dead a soldier at a military career centre in Little Rock, Arkansas.
Still, others came close. Faisal Shahzad, a Pakistani immigrant admitted to training with the Tehreek-e-Taliban Pakistan, set off an explosives-packed jeep in New York's iconic square in 2010. Lives were saved because the urea-based fertiliser he chose as a base was chemically inert. In 2008, Najibullah Zazi received explosives instruction from al-Qaeda in Pakistan to target New York's packed subway system, but intelligence services intercepted a key e-mail just in time.
In a 2010 article, the expert Paul Cruickshank attributed to rise of the American jihadist to "emerging network of radical preachers, demagogues, bloggers, and activists attempting to disseminate extremist ideas among Muslim youth in the United States." He flagged the Islamic Thinkers Society and Revolution Muslim as key parts of this ideological infrastructure, though both oppose terrorism.
Experts William Rosenau and Sara Daly have argued that those most drawn to these ideas are young people alienated from society because of their race, beliefs or both. Cruickshank concurs: new converts and children of Muslim immigrants, he writes, "have struggled for identity and purpose in the United States, making them vulnerable to radical preachers."
Much of this ideological infrastructure, Thomas' story shows, flourished long before to 9/11. In the December 1997 issue of its house magazine, The Message, the Islamic Circle of North America hailed Thomas' decision to fight in Kashmir. "Knowledge without action," it proclaimed, "is like a donkey carrying books." "For one young man, knowledge became a source of inspiration that led him to take actions that can benefit everyone."
INCA has since often condemned extremism, but investigations have found that its speakers have praised jihadist violence on several occasions.
Thomas, who discovered Islamism at 16, after flirting with both Buddhism and Judaism, was one of these deracinated youth—finding meaning in the Lashkar, his words suggest, as some of his black, inner-city contemporaries found it in street-gangs.
Back then, America didn't care.
2. The Neo-Nazi cults
It still doesn't care enough, experts say, when it comes to some kinds of hate. In 2009, the Department of Homeland Security published a path-breaking report, saying "white supremacist lone wolves pose the most significant domestic terrorist threat." It warned that economic recession, and white working-class hardship, were fuelling racial resentments. President Barack Obama's then-imminent rise, the report said, might catalyse this hatred. Neither the government, nor its opponents, wanted to hear the message. Its lead author, Daryl Johnson, left the organisation the next year, after his team was dissolved in the face of Republican protest.
Politics, though, doesn't change the figures. Earlier this year, scholar Arie Perliger published a major study of America's neo-Nazis and white supremacists for the Combating Terrorism Center at the United States Military Academy. His study shows that, since 9/11, these groups killed at least 253 people and injured 1,526. Those numbers are much higher than for jihadist violence directed at the United States. From 2007, the attacks—on abortion clinics, immigration-rights advocates, on religious and ethnic minorities—have been increasing steadily.
Last year's massacre of six Sikhs at Oak Creek was part of this spectrum. Wade Page, the killer, was closely linked to Hammerskin Nation, a band revered by the neo-Nazi movement.
It's worth recalling that the worst act of terrorist violence in the United States until 9/11, the April 1995 bombing of the Federal Building in Oklahoma, which claimed 168 lives, was carried out by white supremacist Timothy McVeigh.
Perliger identifies three main trends on America's neo-Nazi right. The first consists of organisations committed to preserving what they believe to be the natural racial order—among them, the Ku Klux Klan, the National Alliance, and skinhead groups such as Hammerskin Nation. The second are anti-federalist militias, scores of which are dotted around the United States, which see government as an evil to be overthrown. Finally, Christian fundamentalist groups like Aryan Nation strive to build a nation-state built on god's word.
"The light of the sun and water," the Jaish-e-Muhammad commander Muhammad Masood Azhar wrote, "are essential for crops; otherwise they go waste. In the same way, the life of nations depends on martyrs. The national fields can be irrigated only with the blood of the best hearts and minds."
Neo-Nazis would relate to these words. "The blood of martyrs," Adolf Hitler famously said, "will be the baptismal water of the Third Reich."
"The tree of liberty must be refreshed from time to time with the blood of patriots and tyrants," said another famous figure. His name was Thomas Jefferson, author of the Declaration of Independence, and his words were emblazoned on the back of the t-shirt McVeigh was wearing at the time of his arrest.
Figures like McVeigh or Thomas have emerged from the most threadbare fringes of America's cultural fabric—a world marked by deprivation, anger and cultural dislocation, where meaningful social ties have snapped. They represent the death of the American Dream.
Or do they? Jefferson's veneration of blood points to the deep roots and legitimacy of political violence in his culture, and raise the discomfiting prospect that killing is as American as motherhood or apple pie.
For Indians, then, this is perhaps a good opportunity to look hard into the mirror America is holding up to them.
Subscribe to Moneycontrol Pro at ₹499 for the first year. Use code PRO499. Limited period offer. *T&C apply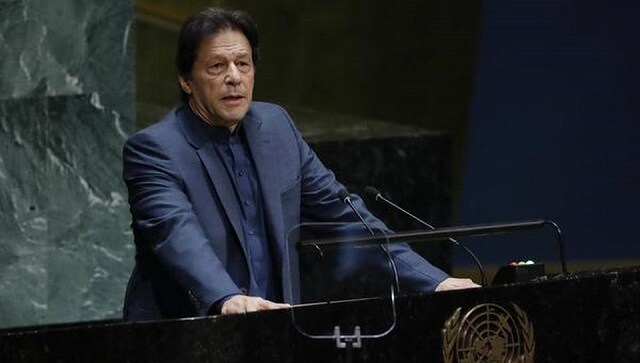 World
The FATF said that that there is a serious deficiency on the part of Pakistan in checking terror financing and the country is yet to demonstrate it has taken action against the UN-designated terrorists and their associates
World
Fiction writing and worst-case scenarios have become a favorite pastime for Clinton and her husband, former President Bill Clinton.
science
The Perseverance rover, about the size of a car, is the largest Mars payload ever — weighing a tonne on Earth.