Bosnia's security minister wants army at border to curb entry of migrants
By Maja Zuvela SARAJEVO (Reuters) - Bosnia's security minister said on Wednesday he would seek legislative changes to enable border deployments of the army to help stop migrants entering the impoverished country en route to European Union territory. Hundreds of thousands of migrants who streamed northwards through the Balkans to EU territory in 2015 largely bypassed Bosnia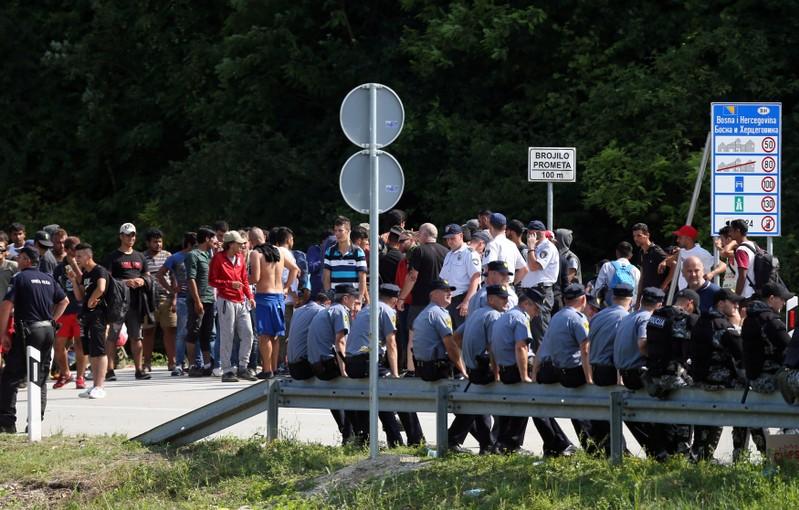 By Maja Zuvela
SARAJEVO (Reuters) - Bosnia's security minister said on Wednesday he would seek legislative changes to enable border deployments of the army to help stop migrants entering the impoverished country en route to European Union territory.
Hundreds of thousands of migrants who streamed northwards through the Balkans to EU territory in 2015 largely bypassed Bosnia. But the ex-Yugoslav republic now finds itself struggling to accommodate about 5,000 people intent on making their way via neighbouring Croatia to affluent EU countries further north.
More than 9,000 people from Asia and North Africa have entered Bosnia from Serbia and Montenegro since the beginning of 2018, including 3,000 over the past month, and a similar number have managed to cross into EU member Croatia.
"I am planning to initiate changes to the law that will provide for the deployment of the army in the protection of our borders," Security Minister Dragan Mektic told reporters.
Regional police in northwest Bosnia said on Wednesday 15 migrants were injured in violence involving around 50 people staying in a makeshift camp on the outskirts of Velika Kladusa. An investigation into the incident was under way, police added.
With only two official asylum and refugee centres, the small country of 3.5 million people - which aspires to EU membership - is hardpressed to cope with the migrants.
New facilities are planned pending a deal among Bosnia's multi-layered, semi-autonomous regional governments, many of which reject hosting migrants on their territory.
Many migrants are staying in improvised shelters, tents and dilapidated buildings, lacking running water and toilets, especially in the northwestern towns of Bihac and Velika Kladusa, near the Croatian border.
Red Cross officials have voiced concern about worsening conditions for thousands of migrants stranded in Bosnia and many say the government is failing to adequately protect the rights of refugees.
The authorities of Bihac and Velika Kladusa, their resources stretched and citing health and security risks, plan to stage a protest in front of the central government building in the capital Sarajevo on Thursday to demand an urgent solution to the problem.
"We (Bosnia) have become the collateral damage of an EU problem. We will not allow the country to become a hot spot," said Mektic. "The EU has failed this test, for it has allowed criminals and people smugglers to run this process instead of its own institutions."
He said he expected the European Commission to soon draft the text of an agreement that would allow deployments of officers from the EU border agency Frontex to Bosnia to help it curb migration and organised crime.
(Reporting by Maja Zuvela; Editing by Mark Heinrich)
This story has not been edited by Firstpost staff and is generated by auto-feed.
Find latest and upcoming tech gadgets online on Tech2 Gadgets. Get technology news, gadgets reviews & ratings. Popular gadgets including laptop, tablet and mobile specifications, features, prices, comparison.
World
ROVANIEMI, Finland (Reuters) - Christmas is coming, but in Santa's home village in northern Finland, the COVID pandemic means that the flocks of tourists who usually start to make merry in Rovaniemi at this time of year are not. Finland has adopted some of the strictest travel restrictions in Europe, despite its low level of infections, meaning most foreigners cannot enter the country. The northern part of Finland, where many businesses rely on tourists flying in to meet Santa Claus, see the Northern Lights or take a snowmobile safari, has seen visitor numbers plummet.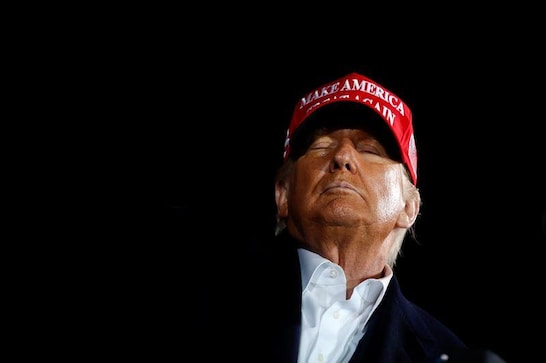 World
By Elizabeth Culliford and Nandita Bose (Reuters) - U.S. President Donald Trump's re-election campaign's Twitter account was briefly restricted on Thursday, causing an outcry from Republican lawmakers who accused social media companies of acting like "speech police" and vowing to hold Twitter responsible
World
By Anurag Maan and Shaina Ahluwalia (Reuters) - U.S. cases of the novel coronavirus crossed 8 million on Thursday, rising by 1 million in less than a month, as another surge in cases hits the nation at the onset of cooler weather