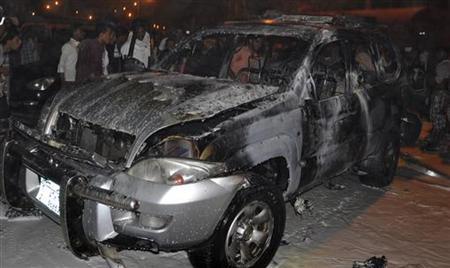 ADEN (Reuters) - A senior Yemeni military officer was killed when a bomb planted in his car exploded in the southeastern city of Mukalla in an attack blamed on al Qaeda, a security official said on Friday.
The bombing was the latest in a series of attacks on senior figures or government institutions in Yemen since a U.S.-backed offensive drove Islamist militants linked to al Qaeda from their strongholds in the southern part of the country in June.
Brigadier Omar Barasheed, dean of the Command and General Staff College, died in hospital from injuries incurred in the bombing, the official told Reuters.
His bodyguard was killed and a civilian was wounded.
The official, who asked not be named, said all signs indicated al-Qaeda was behind the attack, which happened late on Thursday in the capital of Hadramaut province.
Earlier this week, security forces foiled a plot by an al Qaeda-linked cell to carry out attacks in the capital Sanaa and seized 40 belts packed with explosives, highlighting risks posed by Islamist militancy in the impoverished Arab state.
The Defence Ministry said seven militants had been detained in the southern town of Jaar, where a suicide bomber killed 45 tribal fighters and threatened further attacks.
The United States has been pouring financial and military aid into Yemen to stem the threat of attacks from al Qaeda in the Arabian Peninsula (AQAP) and prevent any spillover of violence into neighboring Saudi Arabia, the world's top oil exporter.
It has also stepped up a campaign of drone missile strikes against AQAP, which has been behind several failed attacks on the United States, including an attempt to blow up an airliner over Detroit on Christmas Day in 2009.
In the latest such strike, residents said a drone on Friday struck a farm owned by a former Islamist militant in Jaar where suspected militants from Ansar al-Sharia group (Partisans of Islamic Law) have been present, but there were no reports of any casualties.
Also on Friday, suspected Islamist militants attacked a Yemeni army patrol on duty between Hadramaut and the nearby Ma'arib province killing two soldiers, a local official said. The official said two other soldiers were wounded in the attack.
(Reporting By Mohammed Mukhashaf; Writing by Mirna Sleiman; Editing by Michael Roddy)
Updated Date: Aug 11, 2012 03:45 AM