Bolivian opposition leader arrives in La Paz to raise pressure on Morales
By Daniel Ramos and Monica Machicao LA PAZ (Reuters) - A Bolivian protest leader who has become a figurehead for opposition to President Evo Morales arrived on Wednesday in capital La Paz, where he plans to formally demand the leftist leader step down after a contentious election last month. Luis Fernando Camacho, a civic leader from the eastern city of Santa Cruz, arrived at the capital's main airport in nearby El Alto and was whisked away in a convoy amid a huge security presence and with rival protest groups massing outside. The gambit, after he was blocked from leaving the airport in a previous attempt to enter La Paz on Tuesday, has sparked a fierce backlash from government supporters, while seemingly helping rally a split opposition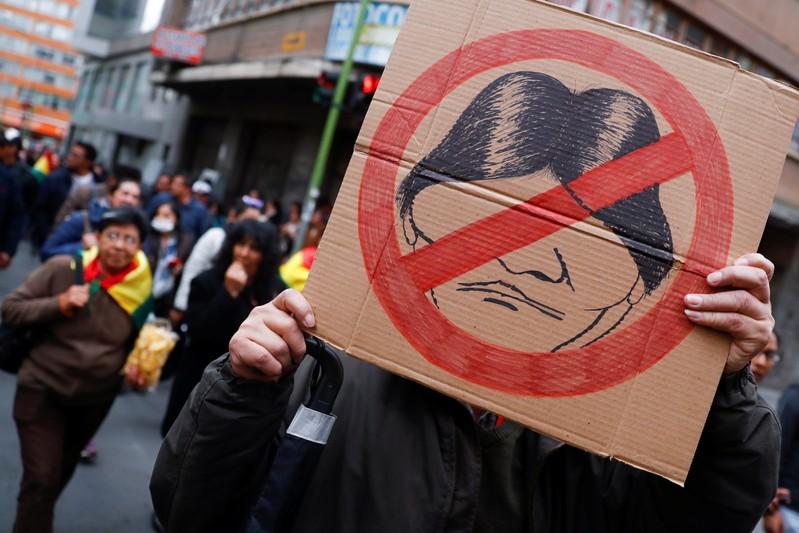 By Daniel Ramos and Monica Machicao
LA PAZ (Reuters) - A Bolivian protest leader who has become a figurehead for opposition to President Evo Morales arrived on Wednesday in capital La Paz, where he plans to formally demand the leftist leader step down after a contentious election last month.
Luis Fernando Camacho, a civic leader from the eastern city of Santa Cruz, arrived at the capital's main airport in nearby El Alto and was whisked away in a convoy amid a huge security presence and with rival protest groups massing outside.
The gambit, after he was blocked from leaving the airport in a previous attempt to enter La Paz on Tuesday, has sparked a fierce backlash from government supporters, while seemingly helping rally a split opposition.
Camacho plans to march to the presidential palace to deliver a pre-written letter of resignation for Morales to sign.
The new attempt is likely to fan tensions, following weeks of protests and strikes since the Oct. 20 vote. Hostilities have ramped up since Tuesday night in La Paz and Cochabamba, with clashes between Morales supporters and the opposition.
Carlos Mesa, the runner-up in the October election, was at the El Alto airport waiting for Camacho to arrive, along with ex-President Jorge Quiroga.
"I think this is a fundamental moment for the opposition that believes in a democratic response and a peaceful way out," said Mesa, who has repeatedly raised allegations of fraud against Morales and called for new elections.
Morales, a socialist leader who has been in power since 2006, has defended his election win and said that the opposition is trying to lead a "coup" against him and that his rivals were inciting violence.
BOLIVIANS VS BOLIVIANS
With little sign of a political solution, the standoff has worsened. On Wednesday, newspaper headlines decried the violence and pointed to an economic cost of $167 million. "Bolivians against Bolivians" read the front page of one local daily.
Morales won last month's vote with a lead of just over 10 points over Mesa, handing the former coca grower an outright win and avoiding a second-round runoff. The victory, however, was marred by a near 24-hour halt in the count, which, when resumed, showed a sharp and unexplained shift in Morales' favor.
International governments have called for calm and are backing an audit of the election by the Organization of American States (OAS), which has recommended that a second round vote go ahead. Morales has agreed the audit will be "binding."
Since the vote, cities have gone into lockdown, with daily marches and road blocks. Camacho earlier this week called for people to blockade public institutions and the country's borders in order to hit government incomes.
Benjamín Blanco, a senior trade official, said on Wednesday that borders with Peru, Argentina, Paraguay and Brazil had been affected, with hundreds of trucks being stopped.
(Reporting by Daniel Ramos, Monica Machicao, David Mercado and Miguel Lo Bianco; Writing by Adam Jourdan and Dave Sherwood; Editing by Diane Craft and Rosalba O'Brien)
This story has not been edited by Firstpost staff and is generated by auto-feed.
Find latest and upcoming tech gadgets online on Tech2 Gadgets. Get technology news, gadgets reviews & ratings. Popular gadgets including laptop, tablet and mobile specifications, features, prices, comparison.
World
JOHANNESBURG (Reuters) - South Africa's President Cyril Ramaphosa said on Wednesday that travel to all international countries will be permitted pending strict health protocols, despite having the highest number of confirmed COVID-19 cases on the continent. "We are also opening up international travel to all countries subject to the necessary health protocols and the presentation of a negative COVID-19 certificate," said Ramaphosa during a national address. Africa's most advanced economy, which has recorded more than 740,000 coronavirus infections and nearly 20,000 deaths, eased lockdown restrictions to their lowest level in September as the rate of new cases fell.
World
By Nidal al-Mughrabi KHAN YOUNIS, Gaza Strip (Reuters) - On the roof of an apartment block in one of Gaza's most crowded cities, two lion cubs prowl among the water tanks and dine on slaughtered chickens as children take selfies. It is a bizarre sight even in a war-scarred Gaza Strip that has become accustomed to the unaccustomed.
World
MEXICO CITY (Reuters) - Mexican President Andres Manuel Lopez Obrador on Wednesday dug in his heels as one of the few leaders of major countries yet to congratulate Joe Biden on his presidential election win, saying it was too early and that his country was "not a colony". Lopez Obrador, who accused rivals of electoral fraud in his presidential defeats in 2006 and 2012, says he has no side in the U.S. election, and will wait until legal challenges launched by the Trump administration over the vote have played out