Boehner: Trump has been 'complete disaster' | Reuters
By Pete Schroeder | WASHINGTON WASHINGTON U.S. President Donald Trump's time in office has been a 'complete disaster' aside from foreign affairs, fellow Republican and former U.S. House Speaker John Boehner said at an energy conference.The former Ohio congressman said he has been friends with Trump for 15 years but never thought he would occupy the White House
By Pete Schroeder
| WASHINGTON
WASHINGTON U.S. President Donald Trump's time in office has been a "complete disaster" aside from foreign affairs, fellow Republican and former U.S. House Speaker John Boehner said at an energy conference.The former Ohio congressman said he has been friends with Trump for 15 years but never thought he would occupy the White House. And while he praised Trump's aggressive steps to challenge the Islamic State militant group and other moves in international affairs, he was highly critical of the president's other early efforts."Everything else he's done has been a complete disaster," Boehner said at the energy conference in Houston on Wednesday, according to the energy publication Rigzone. "He's still learning how to be president."
A spokesman for Boehner confirmed the comments.Boehner, who resigned from Congress in 2015, was also highly critical of efforts by the administration and his former Republican colleagues in Congress to advance sweeping healthcare and tax reform plans.
He said Republicans should never have tried to "repeal and replace" the Affordable Care Act, even after the House narrowly passed an overhaul measure. The Senate is considering its own version of the package.And he dismissed tax reform efforts, which form a cornerstone of the Republican policy agenda, as "just a bunch of happy talk."
While Boehner's successor, Speaker Paul Ryan, tries to include a border adjustment tax, a tax on imports, as a key piece of any tax code overhaul, Boehner declared it "deader than a doornail" amid opposition from fellow Republicans and the White House.Boehner also supported efforts to "get to the bottom" of any potential interactions between Trump associates and the Russian government. However, he described any calls to impeach Trump as the purview of "the crazy left-wing Democratic colleagues of mine."Democratic Representative Al Green has formally introduced articles of impeachment for Trump, but such an effort has not been embraced by most Democratic lawmakers as the investigation continues. (Reporting by Pete Schroeder; Editing by Jonathan Oatis)
This story has not been edited by Firstpost staff and is generated by auto-feed.
Find latest and upcoming tech gadgets online on Tech2 Gadgets. Get technology news, gadgets reviews & ratings. Popular gadgets including laptop, tablet and mobile specifications, features, prices, comparison.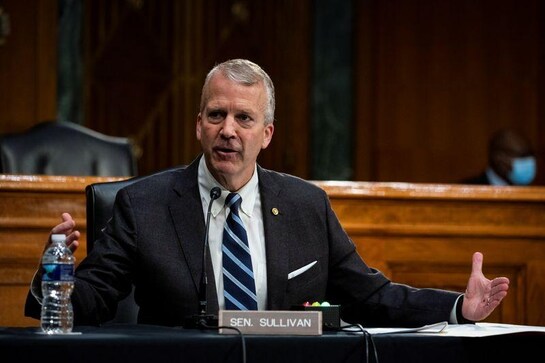 World
By David Morgan WASHINGTON (Reuters) - U.S.
World
LONDON (Reuters) - British Prime Minister Boris Johnson described his phone call with U.S. President-elect Joe Biden as a return to traditional issues in relations between Britain and the United States. "It was a kind of return to the kind of business that we're used to doing together: sticking up for democracy around the world, human rights, free trade, NATO, our joint security, the transatlantic alliance ..
World
By Nvard Hovhannisyan and Nailia Bagirova YEREVAN/BAKU (Reuters) - The fate of Armenia's prime minister hung in the balance on Wednesday after parliament agreed to discuss protesters' demands for his resignation over a ceasefire that secured territorial advances for Azerbaijan in Nagorno-Karabakh.