'BNP lost because of its pro-Pakistan, anti-Liberation stance,' says Mesbah Kamal, Dalit rights activist in Bangladesh
Mesbah Kamal, Dalit rights activist and professor of history, Dhaka University, talks about why Sheikh Hasina's Awami League alliance return to power for a third consecutive term and the significance of Bangladesh's 11th parliamentary elections
Long before Bangladesh voted to elect its 11th parliament on 30 December, the Opposition had been critical of the country's Election Commission for not providing them with a level playing field against the Awami League-led Grand Alliance. The landslide victory of the Awami League-led alliance is now being furnished as evidence to sustain the Opposition's charge. Is South Asia evolving a new political model in which political parties come to power through elections and then deploy state power to knock out competitors from the electoral race to retain power? Or does the Awami League's astonishing victory conceal social processes not easily discernible to outsiders?
In a telephonic interview, Mesbah Kamal, Dalit rights activista and professor of history, Dhaka University, answers these questions and analyses the significance of Bangladesh's 11th parliamentary elections. A regular in television talk shows, Kamal wears many hats — he is the chairperson of the Research and Development Collective; general secretary, Adivasi Odhikar Andolan; secretary-general of the National Coalition for Indigenous People in Bangladesh; and chief advisor of Bangladesh Dalit Forum. These are edited excerpts from the interview conducted with Kamal.
Sheikh Hasina's Awami League has won a landslide victory but Bangladesh's Opposition in claiming it was not a free and fair election. How true are these claims?
We don't yet know the final voting percentage but it was over 60 percent. That is a very good turnout. Of course, there are allegations of intimidation, but it can be definitely said that these were essentially stray cases. The overall result would have been perhaps the same even if there had been no intimidation, or if the elections would have been 100 percent fair.
What explains the huge support for the Awami League?
This is partly because the entire country has rallied behind the pro-liberation forces (a term used for those who fought against the Pakistani Army to liberate Bangladesh). They also represent the country's secular, democratic forces. The other reason for the Awami League's victory is the (Sheikh Hasina) government's development initiatives. Bangladeshis thought that the government's continuity is essential for continuing the process (of development).
Critics would say that Khaleda Zia's Bangladesh Nationalist Party did not have a level playing field — she is in jail and the candidature of her party's candidates was rejected in as many as 17 constituencies. Could that be the reason behind BNP's poor performance?
Really, that is not the reason for the Opposition's defeat. Khaleda Zia has been very widely discredited, largely because of the graft charges levelled against her when she was in power. In fact, her party had started to gather support because of its alliance with Kamal Hossain (who enjoys an iconic status in Bangladesh) and some other well-known political leaders. Hossain said the Opposition alliance will not have any affiliation with the Jamaat-e-Islami, which is an Islamic fundamentalist group. Soon thereafter, it became clear that the Bangladesh Nationalist Party (BNP) would continue its affiliation with the Jamaat-e-Islami.
Are you saying that the Jamaat-e-Islami was the most important factor why the BNP was comprehensively trounced?
Yes, it cost them a high percentage of votes. The second reason was the role of (Khaleda Zia's son) Tarique Rahman in the election. He has been discredited because of his involvement in corruption when his mother was in power. He was also held responsible for the 21 August, 2004, grenade attack on Sheikh Hasina. Around 24 people were killed in the incident. Tarique was sentenced to 20 years of imprisonment in the case.
Tarique was earlier the BNP's senior vice-president. He has been out of the country for 10 years. Yet he played a major role in choosing candidates, even interviewing them through video conferencing. This fact dominated media headlines and turned the popular sentiment against the BNP.
There were thus two reasons for the BNP's poor showing — its persistence on retaining affiliations with the Jamaat-e-Islami, contrary to what Kamal Hossain had promised, and Tarique's leadership role in the Opposition alliance.
Are you saying that the 2018 parliamentary election is a vote against the anti-liberation forces and communal or fundamentalist elements?

Of course, it is. The BNP and the Jamaat in Bangladesh are known as pro-Pakistani elements. They are also known to be associated with the ISI (the Pakistani intelligence agency). In fact, there were reports that the ISI provided a list of potential candidates (to the BNP).
Weren't these reports speculative?
These reports were based on telephone conversations between a top BNP leader, who had been earlier a minister, and an ISI agent based in Dubai.
Can we then say that the election results are a message to the BNP that it cannot be pro-Pakistan and still hope to win elections?
Clearly, yes. The BNP has no political future as long as they continue to be pro-Pakistan and function under the leadership of Khaleda Zia and Tarique Rahman. BNP has paid a price for being anti-liberation and pro-Pakistan. Leaders from Jamat-e-Islami have been executed after a very long trial that was conducted by the International Crimes Tribunal, which held them guilty for committing atrocities, genocides and raping women. The charges against them have been proved beyond any doubt.
These constitute the memory of 1971. There are people who saw 1971 and are still alive. It is also a memory that transcends generations. A very good number of voters did not see 1971 — for instance, those who voted for the first time in this election numbered nearly 2 crores. These first-time voters (too) rejected the anti-liberation forces.
The memories of (the Bangladesh) Liberation War dominated the media. In Bangladesh, TV talk shows are extremely popular and a very important instrument for political education. It is because of TV talk shows that issues pertaining to the Liberation War have reached the younger generation.
Essentially, the issues were framed thus: Do we own our liberation war? Do we own our freedom fighters? Do we own our history? How to write real history? All these issues have gone against the fundamentalists. The BNP is, in fact, a changed or another name of the Muslim League.
Muhammad Ali Jinnah's Muslim League?
Yes, Jinnah's Muslim League. They have been using the cover of BNP, but the party is a continuation of the Muslim League. They have been exposed.
Students in Bangladesh recently took to the streets. It was interpreted as an expression of discontent against the government. Was it not?
There were a couple of issues the young people wanted to be addressed. There was a campaign against the quota system in government jobs (56 percent of jobs are reserved; of that, 30 percent are reserved for families of freedom fighters), and for road safety. These were popular demands. I must say the government did not handle these protests well. The Awami League government had many successes, but there were also failures. However, this did not mean, as some thought, that they would vote for the BNP.
There is always anti-incumbency against a ruling party. But the anti-incumbency was not so strong that people would cast their votes negatively. Ultimately, it can be said that people want, above all, parties that are pro-liberation, secular and democratic. They don't want to give space to anti-liberation and communal forces.
Do you think Kamal Hossain joined the Opposition alliance because he might have thought liberal democracy requires an effective opposition?
He probably thought that space for people to express their democratic aspirations was shrinking. He was partially correct. But this did not mean he had to go and align with anti-liberation and communal forces. It was the biggest political mistake of his life. It will be difficult for Hossain to overcome his mistake.
Do you think Sheikh Hasina is becoming increasingly authoritarian?
At this stage, I will say it is not so. When a party has an absolute majority, it does pose a real challenge (to democracy). Sheikh Hasina has a fantastic majority, but unless she is careful, things could well turn (against her).
Are we seeing a new model of democracy in South Asia — a leader comes to power through elections and then uses power to knock out those who could be his or her competitors?
The Awami League's history is quite different. It hasn't, for instance, resorted to extra-judicial killings. What Sheikh Hasina has been trying is to restore the rule of law. She has been trying to punish the perpetrators of atrocities and genocides, but very much through the judicial process. The judicial process in Bangladesh takes very long to complete. But it is a good thing that Sheikh Hasina and the Awami League have shown tremendous patience.
Look at the trial of the killers of Sheikh Mujibur Rahman. It went through the judicial process even though it took many, many years to bring the killers to justice. Or take the case of four national leaders, who were killed in jail in 1975. This case also took very long to complete, as did cases involving the collaborators (of the Pakistan Army in 1975). Before they were executed, they were given all chances (to appeal against the verdict). The vision here is to sensitise people against the values of anti-liberation forces. The Awami League seeks to challenge them politically and ideologically.
Do you think the 2018 verdict will force Islamic fundamentalists to go underground for waging their battle? Or do you think they will realise their mistake and dilute their hardline position?
In fact, I think it is a mistake to believe or hope they will change themselves. Even after 48 years, they neither admitted to the atrocities they committed in 1975 nor did they appeal for mercy.
Do you think these Islamic fundamentalist forces will adopt more violent methods?
These forces have always had underground outfits. They had it in the 1960s. Going underground is new neither for them nor for Bangladesh. They have gone as extreme as they could against the country and people's interest. Not only are they a declining force, but they will also become politically obsolete in the future. This will create space for (the emergence of) other secular, democratic forces which are on the margins.
Politics
The Congress also accused the Election Commission of acting "as per instructions of the BJP", adding that there are reports of people detecting EVMs being transported in private vehicles
Politics
CPM has fielded KN Balagopal in place of Potty this time in accordance with its three-term policy. The Congress meanwhile has fielded Resmi R. The Bharatiya Janata Party (BJP) has fielded Vayakkal Soman from the seat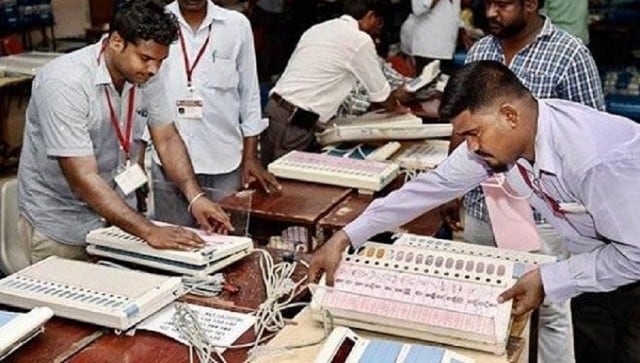 Politics
The Bodo Peoples Front had moved the poll panel alleging that its candidate from Tamulpur, Rangja Khungur Basumatary, joined the BJP on 1 April under inducement