Biden will have to make early decision on North Korea - adviser
WASHINGTON (Reuters) - The incoming U.S.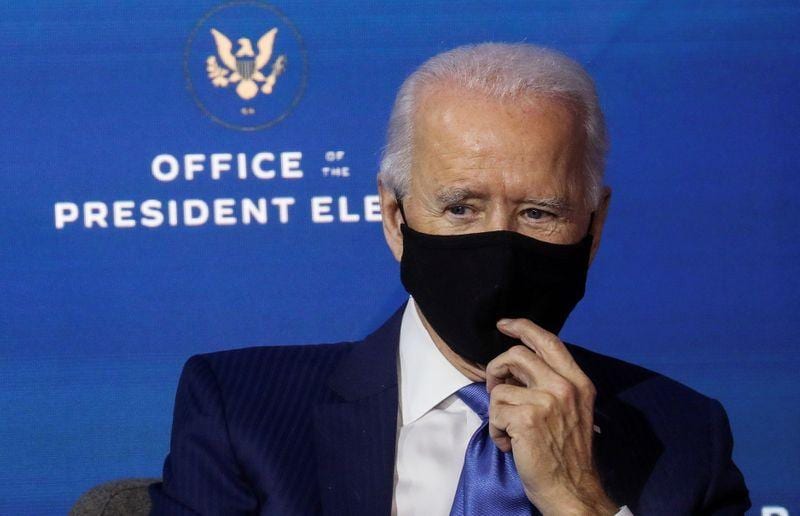 WASHINGTON (Reuters) - The incoming U.S. administration will have to make an early decision on what approach it will take with North Korea and not repeat the delay of the Obama era, a former U.S. official who has advised President-elect Joe Biden said on Wednesday.
Kurt Campbell, the top U.S. diplomat for East Asia under President Barack Obama and seen as a contender for a senior position under Biden, said the administration he had served in began with a "rather prolonged period of study" on how to handle Pyongyang.
"One of the key challenges of Biden administration is the need to make an early decision about what to do with respect to North Korea," Campbell said.
He said the period of delay during the Obama administration saw "provocative" steps by North Korea "that basically headed off any possibility of engagement."
Campbell had praise for the "extraordinarily bold strokes" of outgoing President Donald Trump's North Korea diplomacy, which involved unprecedented summits with North Korean leader Kim Jong Un, though so far no progress in persuading him to give up nuclear weapons and missiles that threaten the United States.
"When I talk about areas that I think we need to emulate or admire, I think some boldness is appropriate in American foreign policy, particularly in Asia," Campbell said, while stressing the need to work closely with South Korea.
"Early signals to North Korea will be something that will be near the top of the list of the Biden team as they assume office," he said.
While Kim has been unwilling to give up his weapons, he has conducted no nuclear or long-range missile tests since 2017. He has though shown off new weapons and there are fears he could resume tests to challenge the incoming U.S. administration.
Biden, who was vice president under Obama, called Kim a "thug" during the election campaign and said the "days of cozying up to dictators are over."
Last year, North Korea called Biden a "rabid dog" that needed to be "beaten to death with a stick."
Biden said in October he would only meet Kim "on the condition that he would agree that he would be drawing down his nuclear capacity to get there. The Korean Peninsula should be a nuclear free-zone."
(Reporting by David Brunnstrom; Editing by Bernadette Baum)
This story has not been edited by Firstpost staff and is generated by auto-feed.
Find latest and upcoming tech gadgets online on Tech2 Gadgets. Get technology news, gadgets reviews & ratings. Popular gadgets including laptop, tablet and mobile specifications, features, prices, comparison.
Business
By Uday Sampath Kumar (Reuters) - Target Corp reported a 17.2% rise in comparable sales for the holiday season on Wednesday as its online sales more than doubled, thanks to faster deliveries and higher demand for home goods, electronics and beauty products.
Business
By Medha Singh and Devik Jain (Reuters) - The S&P 500 and the Nasdaq rose in choppy trading on Wednesday as Intel shares jumped thanks to a change in management while broader sentiment was muted after a recent run to record highs. Intel said it would replace Chief Executive Officer Bob Swan with VMware Inc CEO Pat Gelsinger next month
Business
By Danny Ramos LA PAZ (Reuters) - The Bolivian government said on Wednesday it had signed a contract with India's Serum Institute for the supply of 5 million doses of AstraZeneca's COVID-19 vaccine. President Luis Arce said that combined with a recent deal to buy 5.2 million Sputnik V vaccine doses from Russia, Bolivia now expected to be able to inoculate all of its vaccinable population. Both vaccines require two doses to be given, meaning they would be used to inoculate a total of 5.1 million people from Bolivia's 11.51 million-strong population.