Biden to meet U.S. coronavirus vaccine adviser amid surge, distribution questions
By Doina Chiacu WASHINGTON (Reuters) - The chief adviser for U.S.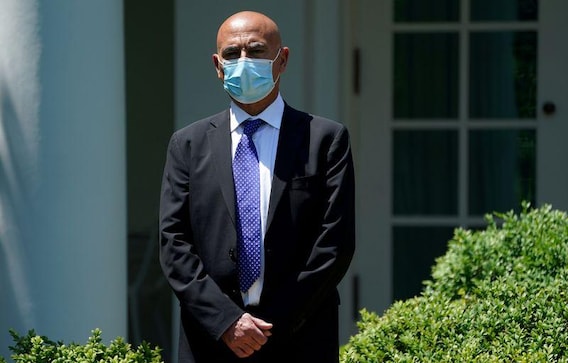 coronavirus
vaccine adviser amid surge, distribution questions" src="https://images.firstpost.com/wp-content/uploads/reuters/12-2020/07/2020-12-06T155443Z_1_LYNXMPEGB50CP_RTROPTP_2_HEALTH-CORONAVIRUS-USA-VACCINE.jpg" alt="Biden to meet US coronavirus
vaccine adviser amid surge distribution questions" width="300" height="225" />
By Doina Chiacu
WASHINGTON (Reuters) - The chief adviser for U.S. efforts to develop a coronavirus
vaccine said on Sunday he planned to meet with President-elect Joe Biden this week to discuss the program before the expected first round of vaccinations in the country later this month.
Moncef Slaoui, chief adviser to the U.S. government's Operation Warp Speed initiative, said he has not yet met with Biden, who last week criticized the Trump administration's vaccine distribution plan.
"We really look forward to it because actually things have been really very appropriately planned," Slaoui said in an interview with CBS' "Face the Nation."
Biden said on Friday his team had not seen a detailed outline from the Trump administration to distribute a vaccine to various states, which he called an expensive and difficult process.
"There is no detailed plan that we've seen, anyway, as to how you get the vaccine out of a container, into an injection syringe, into somebody's arm," Biden said.
Slaoui said part of the confusion may be that the government's plan relies on state health agencies to deliver the vaccine.
"I think the plans are there and I feel confident that once we will explain it, everything in detail. I hope the new transition team will understand that things are well planned," he told the CBS program.
The United States is struggling with a resurgence of the virus, with record infections and a daily death toll that has exceeded 2,000 in recent days. More than 281,000 Americans have died from the COVID-19
disease, according to a Reuters tally.
President Donald Trump's refusal to acknowledge his loss to Biden in the Nov. 3 presidential election caused a delay in the transition process that allowed White House health advisers to communicate with the new Biden health advisory team.
Biden was due to announce members of his public health team this week.
VACCINE NOT ENOUGH
First-responders, health care workers and nursing home residents will be the first groups to receive the vaccine once the U.S. Food and Drug Administration approves it, which is expected in the next week or two. The FDA's outside advisers are scheduled to meet on Thursday to review Pfizer's emergency use application for its vaccine
Slaoui has said the second tranche of people to get the vaccine will likely include essential employees such as postal workers, and then the general population will follow.
Asked on Sunday when Americans would start seeing the impact of the vaccine, Slaoui told CBS that might happen for the most susceptible people in January or February.
"But on a population basis, for our life to start getting back to normal, we're talking about April or May," he said.
With the winter holiday season approaching, U.S. health experts have been pleading with Americans to not let up on their coronavirus
safety protocols - wearing masks, social distancing and avoiding large gatherings.
"That's what's gonna get us most through this," U.S. Health Secretary Alex Azar said on ABC's "This Week" program.
Dr. Deborah Birx, who serves with Azar on the White House coronavirus
task force, told NBC's "Meet the Press" that public health officials have had to battle incorrect messages from the Trump administration about masks and other mitigation measures.
"I want to be very frank to the American people. The vaccine is critical. But it's not going to save us from the current surge," she said. "Only we can save us from this current surge."
(Reporting by Doina Chiacu; Editing by Lisa Shumaker and Paul Simao)
This story has not been edited by Firstpost staff and is generated by auto-feed.
Find latest and upcoming tech gadgets online on Tech2 Gadgets. Get technology news, gadgets reviews & ratings. Popular gadgets including laptop, tablet and mobile specifications, features, prices, comparison.
Business
By Aditya Kalra NEW DELHI (Reuters) - India's tobacco industry will object to a proposal to ban smoking zones in hotels and prohibit advertising at cigarette kiosks as the government steps up anti-smoking efforts, two executives said on Wednesday. India has over the years introduced tobacco controls and launched campaigns to deter its use, but enforcement of the law has been a challenge.
World
HONG KONG (Reuters) - Over 50 pro-democratic activists in Hong Kong were arrested on Wednesday for breaking the city's contentious national security law, local media reported, in the biggest crackdown yet against the democratic opposition under the new law. The arrests in the Asian financial hub included well known democratic figures and former lawmakers James To, Lam Cheuk Ting and Lester Shum, according to the Democratic Party's Facebook page and public broadcaster RTHK. Police did not immediately respond to requests for comment.
World
BRASILIA (Reuters) - Brazil's syringe manufacturers said on Tuesday they will supply 30 million syringes and needles for the country's COVID-19 vaccination program after the government said it would requisition surplus supplies. Executives of the three main manufacturers met with President Jair Bolsonaro at the Health Ministry and it was agreed that each would supply 10 million syringes to cover the initial stages of the vaccination plan.