Beyond Harry and Meghan: A look at messy monarchies across the world
Britain doesn't have a monopoly on royal dirty laundry. Here are four other messy monarchies that have recently been involved in their own dysfunction, disorder, and high drama
It is fair to say the world knows a great deal more about the Duke of Sussex's penis than it did a month ago, not to mention novel uses for Elizabeth Arden cream.
Since the death of Queen Elizabeth II and the accession of King Charles III in September, the Firm — as the British royal family is unofficially known — hasn't just been grappling with a major management reshuffle.
In a Netflix series and his splashy new memoir, Prince Harry has been lobbing a near constant stream of bombshell revelations into the public domain, airing intimate personal details as well as allegations of treachery and familial betrayal afoot behind palace doors in the House of Windsor.
But Britain doesn't have a monopoly on royal dirty laundry. Behold, four other messy monarchies that have also been engaged lately with dysfunction, disorder and high drama of their own.
Norway
There were waves in Norway in November when Princess Martha Louise relinquished royal duties to focus on her alternative medicine business with her fiance, Durek Verrett, a celebrity shaman whose clients have included Selma Blair and Nina Dobrev.
It was the latest in a series of controversies stemming from the princess' relationship with Verrett, who suggested in his 2019 book, Spirit Hacking, that cancer was a choice. The self-described "sixth-generation shaman" also sells a "Spirit Optimiser" medallion on his website that he claims helped him recover from COVID-19. For her part, Martha Louise has frequently suggested that she can communicate with animals and angels.
Denmark
There has been much talk in Britain in recent years about a potential slimming down of the monarchy that would cut the number of working royals. In September, the Danes actually did it.
Queen Margrethe II of Denmark announced that she had "discontinued" royal titles for the children of her second son, Prince Joachim, meaning that her grandchildren in that line — Nikolai, 23; Felix, 20; Henrik, 13; and Athena, 10 — would not be princes or princesses. She ruffled some familial feathers in the process, sparking a tit-for-tat saga that played out in the Danish news media.
"We are all very sad," Prince Joachim told the Danish tabloid Ekstra Bladet. "It's never fun to see your children being mistreated like that. They have been put in a situation they do not understand." The prince said he had been given only five days to tell his children. His eldest son, Nikolai, added: "We are in shock at this decision. I am very confused as to why it has to happen like this."
In October, the queen admitted that she had "underestimated" the impact of her choice but said her decision had been "a long time coming" and was made in line with her values as a "queen, mother and grandmother."
"It is my duty and my desire as queen to ensure that the monarchy always shapes itself in keeping with the times," she said in a statement. "Sometimes, this means that difficult decisions must be made, and it will always be difficult to find the right moment."
Thailand
King Maha Vajiralongkorn of Thailand is not a conventional ruler, at least by contemporary standards. The king, who was officially crowned in 2019, two and a half years after acceding to the throne upon his father's death, has been married four times and has publicly courted untold mistresses.
When he was crown prince, he appointed his pet poodle Foo to the role of air chief marshal and held four days of Buddhist funeral rites when the poodle died in 2015, according to The Guardian.
Then there is the 70-year-old king's fondness for wearing crop tops and transfer tattoos, which he has worn on numerous promenades during the pandemic in Germany, where he spends most of his time.
Belly-baring vests have become the garment of choice for many young Thai pro-democracy protesters at rallies in recent years. Their demands include limiting the powers of a king who has become the richest monarch in the world, partly by amassing personal control of an estimated $43 billion in royal assets in 2018 that were historically overseen by an agency meant to manage the money for the benefit of the Thai people.
Spain
In May of last year, Juan Carlos, the former king of Spain, returned to Spanish soil for the first time in almost two years, prompting headlines across the country he had ruled for nearly four decades.
Juan Carlos, who abdicated in 2014, moved to Abu Dhabi in 2020 after fraud investigators alleged that he had received about $100 million in kickbacks in connection with a high-speed-rail contract in Saudi Arabia that was awarded to a Spanish consortium.
Swiss prosecutors dropped the case, but it was far from the first controversy to tarnish a monarch known for his lavish lifestyle — including an elephant-hunting trip that took place in the midst of the financial crisis — and a string of extramarital affairs. His predilection for murky business dealings — one shared by his younger daughter's husband — has tainted public view of the Spanish monarchy, despite the best efforts of the current king, Felipe VI; his wife, Queen Letizia; and their two teenage daughters.
The two Spanish kings — father and son — were last seen in public in September at the funeral of Queen Elizabeth in London.
Elizabeth Paton, c.2023 The New York Times Company
Read all the Latest News, Trending News, Cricket News, Bollywood News,
India News and Entertainment News here. Follow us on Facebook, Twitter and Instagram.
World
For the position of Scotland's next First Minister and to succeed Nicola Sturgeon, Yousaf is competing against Finance Secretary Kate Forbes and former minister Ash Regan. The winner will be announced on March 27 after the polls
Entertainment
Following the demise of Queen Elizabeth II, her entire fortune was automatically transferred to her eldest son, King Charles III.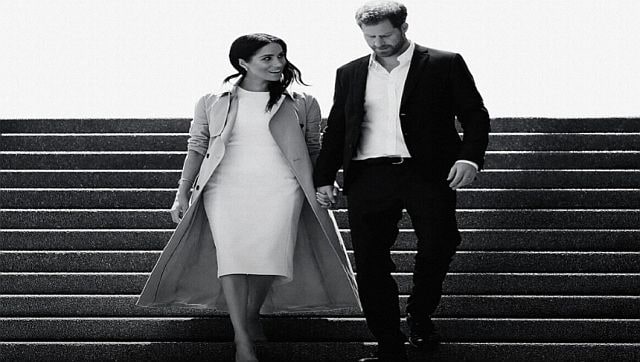 Entertainment
Here is a look at how Prince Harry and Meghan Markle are prostituting their titles and the Royal Family to make more money.