Between golden Kalashnikov and bankruptcy: Pakistan will benefit from Saudi aid, but will likely lose Iran in process
Saudi Prince's gift of golden Kalashnikov and golden bullets to Imran Khan a symbol of Riyadh's new position as patron of Pakistan, which is likely to bring in gifts at the top and plenty of trouble below
Saudi Arabia is eager to show Riyadh as a 'partner' of China at a time when their global positioning is weak, but in the process, Pakistan may pay a high price

Islamabad has agreed to a CPEC project despite its fears that Riyadh's presence would incense Iran into renewing support to Shia fundamentalists in Pakistan

Reports alternately confirm and deny that Pakistani troops are to be sent to Yemen, thus forcing Islamabad to choose side in what's essentially Saudi Arabia-Iran war
Recently, a Pakistani newspaper published an image of a smiling Pakistan prime minister Imran Khan receiving a gift from Saudi Prince Fahd Bin Sultan Bin Abdul Aziz Al Saud. Nothing unusual in that, except that the gift in question was a gold Kalashnikov accompanied by a set of gold bullets. Prince Fahd is known to undertake various charitable activities as Governor of Tobruk province in Saudi Arabia. In Pakistan, he is better known as the royal who almost hunted the endangered houbara bustard into extinction by bagging several thousands of them during his stay in Baluchistan.
All of this is rather symbolic of Saudi Arabia's new position as patron of Pakistan, which is likely to bring in gifts at the top and plenty of trouble below. Saudi investments are stated to rise spectacularly, particularly in Baluchistan where rebels have long been seeking some freedoms, including the right to live.
It's not that Riyadh hasn't had a special place in Pakistan, providing among other things, a useful retreat for politicians fleeing the wrath of the Pakistan Army. These days, Saudi Arabia is known more for being on the path to becoming a major investor in Pakistan and a haven for retired generals, rather than errant politicians.
The Saudi Arabia-Pakistan relationship has flourished following the near isolation of the Kingdom after the shameful episode of the murder of journalist Jamal Khashoggi, when much of the official representatives of non-debt ridden countries excused themselves from attending an investor conference in Riyadh, due to public pressure. The conference was aimed at increasing foreign investment in the country, which has fallen to a record low of a reported $1.4 billion from more than $12 billion in 2012. Saudi Arabia's wealth still has enough clout to bring in interested parties, but the Kingdom is now looking at other ways to increase its growth and international status both of which are vital to preserving the monarchy in its present state. And that's where Pakistan comes in.
Khan, who is no politician, was heard saying that while he was concerned over the brutal killing of Khashoggi, Pakistan was "desperate" for Saudi assistance. This comment – denied later – was unsurprising given the state of the economy and the dreaded conditionalities that the International Monetary Fund was expected to impose on what was Pakistan's largest loan request yet.
The desperation was probably also made worse by the fact that Khan had come back empty-handed from his first trip as Pakistan PM to Saudi Arabia in September 2018. Razzak Dawood, Khan's adviser on commerce, had reportedly said: "It was awful to beg from Saudi Arabia". It was not until the Khan actually attended the investor's conference – being only one of two prominent politicians among the dozens invited who actually did – that Riyadh opened the purse strings, and that too without clearly stating the conditions.
The extent of the opening of purse strings is still under some doubt. Initially, the Pakistani stock market reacted strongly to the news of a $6 billion package — half in terms of deferred oil facilities and half as a deposit to rectify the balance of payment crisis. In December, it was reported that the second tranche of $1 billion had been deposited, leading to a sigh of relief from those monitoring Pakistan's foreign exchange reserves. Hope was buoyed further as reports indicated further largesse of up to $12 billion in assistance. This was unprecedented in the bilateral history of the two countries.
The reality, however, soon dawned.
It appeared that the Saudis were more interested in investment — that too specifically in Baluchistan — than pouring in money into Pakistan's coffers. The composition of the official delegation made it clear that the Saudis were looking for investment in power, ports and mining. On top of the agenda were Gwadar, the Reqo Diq copper and gold mines, and imports of urea and LNG. The long-dormant Saudi Pakistan Business Council was also to be revived.
Thereafter came another surge of optimism as newspapers announced that Riyadh would be a "third strategic partner" in the prestigious China Pakistan Economic Corridor, an announcement made by the ebullient Minister for Information Fawad Chaudhry. Pakistanis celebrated. This coming together of two brotherly countries together with the Chinese was sure to bring the country back from the brink. But days later came a terse correction. Minister for Planning and Development Khusro Bakhtiar, whose ministry is responsible for making final decisions on CPEC as a whole, announced that Saudi Arabia would not be a part of the project after all, but would take part in 'offshoots' of the CPEC under separate arrangements. In other words, Saudi Arabia would not sit at the same table in the Joint Working Groups or Joint Coordination Committees of the CPEC. That would remain a strictly China-Pakistan enterprise.
The confusion surrounding Saudi Arabia's involvement in CPEC (and Pakistan), however, now appears to have been cleared. Quoting Saudi petroleum officials, Reuters reported last week that Riyadh plans to invest $10 billion in setting up a refinery in Gwadar. The official, however, also observed that "Saudi Arabia wants to make Pakistan's economic development stable through... partnership with Pakistan in the China Pakistan Economic Corridor". It seems that the CPEC partnership — in whatever form — is back on the table. Pakistan Petroleum Minister Ghulam Sarwar Khan echoed these statements saying that Saudi Arabia would indeed become an important partner in CPEC by investing in the project.
While Saudi Arabia 's Aramco is indeed looking to double its refining capacity, the recent developments highlight two points. First, Riyadh wants to be associated with the CPEC even in an oblique manner. Second, Islamabad has now agreed to a project it has been fending earlier (Islamabad fears Saudi Arabia's presence just 120 kilometres from the Iranian border would incense Tehran, and result in Iran's renewed support to Shia fundamentalist groups in Pakistan). Clearly, the Khan government has had to pay a price for that financial bailout.
There could be another price to pay as well. There are reports that alternately confirm and deny that Pakistani troops are to be sent to Yemen. The reality is that a small contingent of Pakistani troops has been in Riyadh since 1979. Former Pakistan Army chief General Raheel Shareef is in the Kingdom commanding the Islamic Military Alliance to Fight Terrorism, and Pakistan troops were part of the Saudi Republic Day parade in Riyadh. However, using Pakistani troops to fight in Yemen is another matter altogether.
In November 2018, Pakistan senator Rehman Malik wrote an impassioned piece asking Imran to oblige the Saudis by sending troops into Yemen. That's easy for him to say. He's in the opposition. Sending boots on the ground anywhere is a politically dangerous decision, and when deployed into a Saudi Arabia-Iran competitive war, it could be political suicide.
In sum, there is no doubt that the strong tilt towards Riyadh is going to cost Pakistan dearly in terms of relations with an Islamic world that is ranged with Riyadh or Iran. Already, there are reports that Pakistan may renegotiate an LNG deal with Qatar for better terms, or turn alternatively to the Saudis instead. Saudi Crown Prince Muhammad bin Salman is due to visit in February, and a number of deals, including the refinery, are expected to be finalised during the visit. The Saudis in their turn are eager to show themselves as 'partners' with China at a time when their global positioning is weak.
Saudi Arabia is an important partner for India as well with Riyadh promising to scale up investments in India during the most recent meeting on the sidelines of the G-20 meet. While Pakistan may envy India's relative freedom to manoeuvre between Riyadh and Tehran, there's one area where the Pakistanis score. India's phlegmatic implementation approach ensures that even top projects such as the building of a giant refinery in Western Maharashtra in collaboration with Saudi Arabia and the UAE continue to be beset by delays. Islamabad has a far faster decision and implementation cycle in CPEC since the Army is involved directly or indirectly in most of the projects. There's another worry.With the Saudis now likely to be firmly established in Gwadar, India's Chabahar implementation is again beset by diplomatic difficulties, even though Saudi presence may spur Iran's own interest in fully operationalising the port. The competition between Saudi Arabia and Iran, however, is likely to get fierce, and therefore, the security of the port project may need to be significantly upgraded. Meanwhile, pity the Baloch. With both the Saudis and the Chinese running hotfoot across the province, their chances of getting justice and even limited freedoms are even more remote. Baluchistan was once a remote backwater that no one was interested in. It's now moved to be a strategic centrepiece, together with all the trouble that brings in its wake.
Opinion
To claw out of the deep economic ditch, Pakistan needs to scrape off its jihadi DNA and hatred of the other. That leads us to the bigger question: If it gives up its Islamist instincts, will it still be Pakistan?
Explainers
The Hajj, a pilgrimage required of all able-bodied Muslims once in their life, represents one of the world's largest gatherings of people. Minority affairs minister Smriti Irani, making the announcement, said the step has been taken in keeping with the Modi government's aim to end 'VIP culture'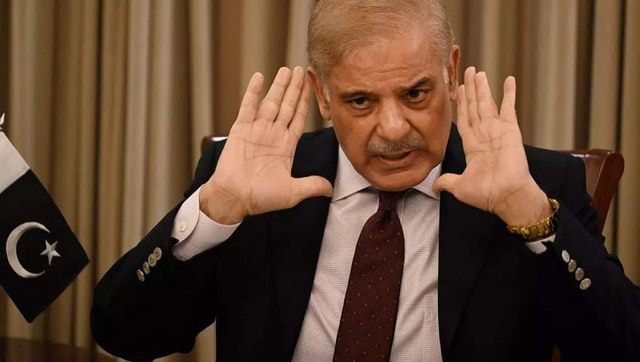 Explainers
Pakistan's dire economic situation just keeps getting worse with reports of its forex reserves being at the lowest in nearly a decade. There is food inflation and an energy crisis, and debt is rising. Now, some are worried Islamabad might go the Colombo way