Benjamin Netanyahu meets Emmanuel Macron in Paris, discusses ways to confront Iranian nuclear threat
Benjamin Netanyahu and Emmanuel Macron discussed the regional arena and the need to maintain regional stability, especially in Lebanon, and opportunities to expand the circle of peace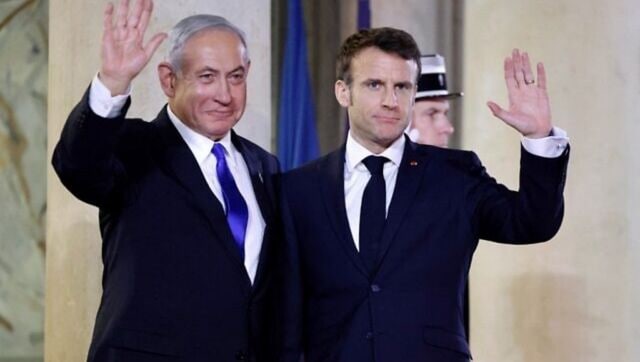 Paris: Amid a new spasm of violence in the Mideast, Israeli Prime Minister Benjamin Netanyahu on Thursday met France's president Emmanuel Macron, business leaders and members of France's Jewish community during a trip to Paris.
"The two leaders discussed at length ways to confront the Iranian nuclear threat. PM Netanyahu stressed that deterrence with Iran and its proxies in the Middle East needs to be strengthened. He also called for imposing significant sanctions on the Iranian regime and for the Revolutionary Guards to be included on the EU terrorism list," read a post on the official Twitter handle of the Prime Minister of Israel.
It added that Netanyahu and Macron also discussed the regional arena and the need to maintain regional stability, especially in Lebanon, and opportunities to expand the circle of peace.
Netanyahu's visit started with a dinner meeting at the Elysee Palace, where Macron's office said he planned to share France's "solidarity with Israel in the face of terrorism," but also stress "the need for everyone to avoid measures likely to feed the spiral of violence." Macron also is offering to help revive long-stalled dialogue between Israelis and Palestinians, The Associated Press reported.
Pro-Palestinian activists plan a protest in Paris on Saturday to decry Macron's decision to host Netanyahu at such a volatile time in the Mideast conflict. The demonstrators say they will also protest prison conditions in Israel for Palestinian militants, including solitary confinement and limits on family visits.
Earlier, Netanyahu said Iran and its nuclear program would be "the main topic of our talk" when he meets with Macron.
Macron has criticised Iran's lack of transparency over its nuclear activities and warned that its support for Russia's war in Ukraine exposed Iran to further sanctions and growing isolation.
Read all the Latest News, Trending News, Cricket News, Bollywood News,
India News and Entertainment News here. Follow us on Facebook, Twitter and Instagram.
World
President Isaac Herzog said his proposal reflects a broad cross section of Israel and suggested that Israel's survival depends on reaching a compromise.
World
Demonstrators had made blocking Netanyahu's route to the airport a centerpiece of their efforts, and the the optics of the Israeli leader having to make alternate travel plans were a win for the protest movement.
World
The proposed pension changes have prompted major strikes and protests across the country since January.