As more than half the world's population resides in cities, the success of urban areas becomes even more crucial. The World Economic Forum annual meeting devised a City Momentum Index to gauge which cities are thriving in the ever-changing global economic landscape. Bengaluru ranked on top of this list of the most dynamic cities in the world.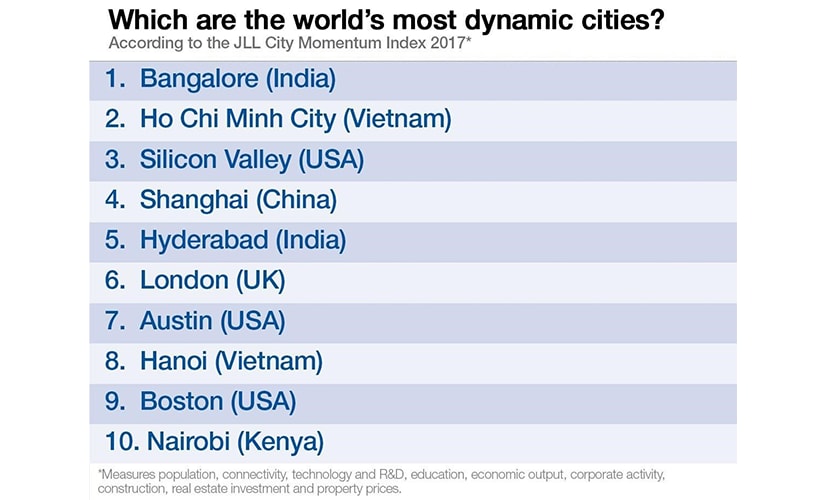 Environment, housing and livability i.e. housing affordability and space restraints played a huge factor in the rankings. But the list primarily aimed at highlighting which cities had the technology and infrastructure for innovation. These factors ensured that the city can sustain its success.
Another observation that this list made was that cities that "integrate change and technology into their DNA" were more likely to succeed. It also noted that whether it was a nascent cities like Nairobi, or a metropolitan giant like London, cities were becoming more compactly networked and are outpacing their national economies.
It is worth noting that more than half of the top 30 in the 2017 ranking were in the Asia-Pacific. In fact, India also overtook China in the most cities to make the top 30 of this list. Six Indian cities: Bengaluru, Hyderabad, Pune, Chennai, Delhi and Mumbai made the top 20 as compared to five cities from China.
The index examined 42 variables across 134 metropolitan areas. The factors can be clubbed into three areas, two that account for short-term changes and one that factors economic sustainability. The first set of factors includes an array of factors like GDP, FDI, population and more. The second category focuses on commercial real estate, through elements like construction, rents, investment and transparency in the office, retail and hotel sectors.
The third takes a more 'big picture' perspective to the discussion. Aspects like innovation capacity and technological prowess, access to education and environmental quality are considered for this rank. According to the list, these factors ensure that the cities are "future-proofing" their progress.
By 2050, the the world's urban population is expected to have doubled, this list gets all the more relevant. Building one's infrastructure around these short term as well as the big picture elements can ensure the progress of cities across the globe. As the report concludes, "History is fraught with once-great cities that were complacent and took their eyes off the forces of change. When those forces seem to come by the nanosecond, no city can afford to blink."
World leaders also got together at the World Economic Forum to discuss the biggest global risks in 2017. Watch this video to find out more about the Global Risk Report 2017.
Your guide to the latest cricket World Cup stories, analysis, reports, opinions, live updates and scores on https://www.firstpost.com/firstcricket/series/icc-cricket-world-cup-2019.html. Follow us on Twitter and Instagram or like our Facebook page for updates throughout the ongoing event in England and Wales.
Updated Date: Jan 18, 2017 22:33:23 IST