Benazir Bhutto assassination case: Two senior Pakistani cops acquitted as Lahore HC suspends their 17-year sentence
Two senior police officials convicted by a Pakistani anti-terrorism court in the Benazir Bhutto assassination case are set to walk free from jail after a court suspended their 17-year sentence, media reports said on Friday
Islamabad: Two senior police officials convicted by a Pakistani anti-terrorism court in the Benazir Bhutto assassination case are set to walk free from jail after a court suspended their 17-year sentence, media reports said on Friday.
The Lahore High Court's (LHC) Rawalpindi Bench suspended the 17-year jail sentences and fines handed out to additional inspector general of police Saud Aziz and senior superintendent of police Khurram Shahzad by an anti-terrorism court on 31 August.
Aziz was the Rawalpindi city police officer and Shahzad the Rawal Town SP when the former prime minister Bhutto was assassinated in 2007.
The two police officers were convicted for criminal negligence and washing the crime scene.
The anti-terrorism court had acquitted five alleged members of the banned Tehreek-i-Taliban Pakistan (TTP) for want of evidence.
Bhutto, 54, also the chief of Pakistan Peoples Party (PPP) was assassinated in a suicide attack at an election campaign rally in Rawalpindi's Liaquat Bagh on 27 December, 2007.
They were both awarded 10 years in prison under Section 119 of the Pakistan Penal Code (PPC) and seven years under Section 201 of the PPC, and fined Rs 1 million each for "facilitating commission of an offence".
While Aziz has retired from the police force, Shahzad is the SSP Special Branch in Rawalpindi. They had both challenged their conviction in the LHC's Rawalpindi Bench which suspended their conviction on Thursday.
The court accepted their bail plea against surety bonds of Rs 200,000 each, Dawn newspaper reported.
The two police officers are likely to be released from Adiala Jail later on Friday, media reports said.
On 29 September, the Federal Investigative Agency (FIA) filed a petition in the LHC's Rawalpindi Bench challenging the anti-terrorism court's (ATC) decision in the murder case. The PPP has also challenged the ATC's decision.
The PPP has alleged that Benazir had repeatedly stated that Musharraf was not providing her security.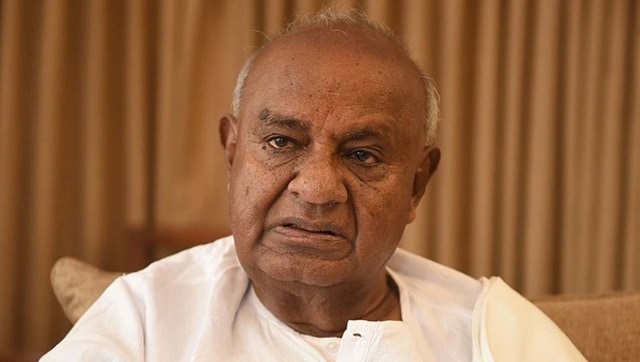 Politics
Gowda had served as the 11th Prime Minister from 1 June 1996 to 21 April 1997, after emerging as the leader of the 13-party United Front
India
When the prime minister says he's making an announcement, Indians start expecting the unexpected. It all started with the sudden announcement to ban Rs 500 and Rs 1000 notes on 8 November 2016
World
Sources said that everyone agreed that the PML-N should implement the economic agenda for the remaining term and then announce the next elections in consultation with the coalition partners