'Basil,' the alarm specialist, jailed over huge UK diamond heist
By Stephen Addison LONDON (Reuters) - A 58-year-old man nicknamed 'Basil' was jailed for 10 years on Friday after being found guilty of being the final member of a gang of ageing criminals who carried out one the most audacious robberies in the annals of British crime. The gang ransacked 73 deposit boxes at the Hatton Garden Safety Deposit building in London's jewellery district over the Easter weekend of 2015, stealing gold, silver, diamonds and jewellery worth 13.5 million pounds ($18 million). Disguised as workmen, they abseiled down a lift shaft over the Easter weekend and used a diamond-tipped drill to cut through the vault wall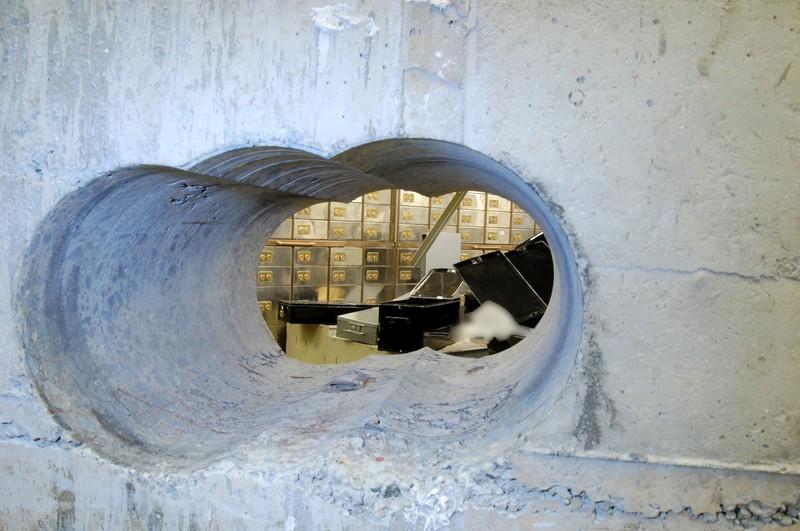 By Stephen Addison
LONDON (Reuters) - A 58-year-old man nicknamed "Basil" was jailed for 10 years on Friday after being found guilty of being the final member of a gang of ageing criminals who carried out one the most audacious robberies in the annals of British crime.
The gang ransacked 73 deposit boxes at the Hatton Garden Safety Deposit building in London's jewellery district over the Easter weekend of 2015, stealing gold, silver, diamonds and jewellery worth 13.5 million pounds ($18 million).
Disguised as workmen, they abseiled down a lift shaft over the Easter weekend and used a diamond-tipped drill to cut through the vault wall. It was Britain's biggest-ever robbery and much of the haul was never recovered.
On Friday, Michael Seed was jailed at Woolwich Crown Court in London after the jury accepted prosecution evidence that he was the man, nicknamed Basil by the rest of the gang, who had remained at large.
"(We) were able to ... prove he was not only involved but was one of the ringleaders," said Kate Mulholland of the Crown Prosecution Service (CPS). "He was the only member of the group with the technical knowledge to defeat complex alarm systems."
Basil was seen on closed-circuit TV inside the building wearing a ginger wig and a face-covering as a disguise.
The rest of the ringleaders: Brian Reader, 77 at the time, Terry Perkins, 67, Daniel Jones, 61, and John 'Kenny' Collins, 75, were identified in the weeks after and eventually jailed. Others who helped them were also convicted.
But Basil remained unidentified, having last been seen on CCTV walking away from Hatton Garden with a large plastic bag over his shoulder.
Three years later, police raided Seed's one-bedroom flat in north London and found items stolen from Hatton Garden including jewellery and gold ingots. Seed told police he was an amateur jeweller and had come by the items innocently, the CPS said.
Burglar alarm technical manuals were also found along with signal blockers for alarms, and a machine for melting precious metals.
When the other ringleaders were sentenced in 2016, Judge Christopher Kinch said: "It is clear that the burglary ... stands in a class of its own in the scale of the ambition, the detail of the planning, the level of preparation and the organisation of the team carrying it out."
Like Britain's Great Train Robbery of 1963 with which the Hatton Garden raid was inevitably compared, it was later the subject of books and films.
(Reporting by Stephen Addison; editing by Michael Holden)
This story has not been edited by Firstpost staff and is generated by auto-feed.
World
BAGHDAD (Reuters) - Rockets hit near U.S. forces and contractors in Iraq on Wednesday, including an air base north of Baghdad and a military base at Baghdad International Airport, the Iraqi army and security officials said. The army reported at least three rockets hit Balad air base, where U.S
World
By Silvia Ognibene and Silvia Aloisi FLORENCE, Italy (Reuters) -Italian police have arrested a Chinese couple accused of running a leather goods business which exploited immigrant workers it employed to make handbags for a Burberry supplier, according to an arrest warrant seen by Reuters. Tax police in Florence said in a statement that the two Chinese nationals were arrested on Wednesday as part of an investigation into alleged labour exploitation and tax fraud and that restrictive measures had been imposed on two other family members, including a ban on them leaving Italy
World
WASHINGTON (Reuters) - The United States on Wednesday blacklisted four Nicaraguans, including a daughter of President Daniel Ortega, as Washington warned it would continue to use diplomatic and economic tools against members of the leftist government engaged in repression. The U.S. State Department called on Ortega to release detained presidential candidates as well as other civil society and opposition leaders arrested over the past week in what Washington called "an increasing wave of repression." "There are costs for those who are complicit in the regime's repression.