Barking up the wrong tree: Sniffer dogs at UK airport find sausages, not drugs
The six sniffer dogs at Britain's third largest airport have failed to find a single person carrying class A drugs -- heroin or cocaine -- over the border during a six-month period
London: Sniffer dogs at UK's Manchester airport are under pressure to perform.
The six sniffer dogs at Britain's third largest airport have failed to find a single person carrying class A drugs -- heroin or cocaine -- over the border during a six-month period studied by the independent chief inspector of borders and immigration.
A highly critical report by the chief inspector says that one dog, trained to detect illegal animal products, often found "small amounts of cheese or sausages" carried by holidaymakers.
Inspectors said that although heroin and cocaine were assessed as "very high priority" for the search team, no class A drugs had been found by the dogs between November 2014 and June 2015.
The review assessed border checks at the airport and the Home Office, which oversees the checks, said improvements must be made. Some recommendations had already been implemented, it added.
The airport has six detector dogs and new kennels, which cost 1.25 million pounds. One dog made "accurate detections"- but most were of cheese or sausages, which the report said was a poor return on the annual cost of running the canine team.
Over the period the dogs helped seize more than 46,000 cigarettes, 60 kg of tobacco, 181 kg of illegal meat and 28,000 pounds in cash, the Guardian reported.
The dogs were successful on three occasions at detecting illegal drugs, finding small amounts of class B substances.
They also found tablets of human growth hormone, Viagra and Bromazepam.
"A senior manager agreed that there was a lack of innovation in the use of the dogs, and told us that a new management structure was being put into place to take a fresh look at their deployment, the report said.
Entertainment
Scott was known for her elegant creations in lush fabrics; among her many influential customers was former first lady Michelle Obama.
World
As the world's second-most populous country that is just coming out of the horrors of a punishing second wave of cases, India will be a natural destination for any extra shots that the world's wealthiest nations commit to sharing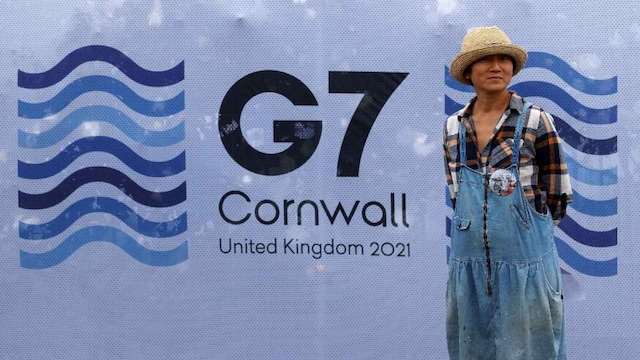 World
In 2014, Russia was suspended from the G8 after it annexed Ukraine's Crimea peninsula and sanctions were imposed on Moscow.