Barcelona van attack turns Las Ramblas into 'bloody killing zone': Witnesses recount scenes of horror and chaos
A van driver ploughed into crowds of pedestrians on Barcelona's most popular street in broad daylight on Thursday, killing 13 people in an attack claimed by the Islamic State.
In the latest in a wave of attacks in Europe where vehicles have been used as weapons of terror, a van ploughed into crowds of pedestrians on Barcelona's most popular street in broad daylight on Thursday, killing 13 people in an attack claimed by the Islamic State. Police announced the arrest of two suspects, identified as a Spaniard and a Moroccan, but said the driver was still on the run.
Hours later in Cambrils, a city 120 kilometres south of Barcelona, police said they shot dead "four suspected terrorists" and left another injured in a "possible terrorist attack." The incident in Cambrils took place in the early hours of Friday, but police gave no further details, nor did they mention whether the shooting was linked to the Barcelona attack.
Witnesses in Barcelona told of scenes of chaos and horror, with bodies strewn along the famous Las Ramblas boulevard — a hugely popular street with shops and restaurants and normally packed with tourists and street performers until well into the night — as other people fled for their lives screaming in panic.
"When it happened I ran out and saw the damage," local shop worker Xavi Perez told AFP. "There were bodies on the ground with people crowding round them. People were crying. There were lots of foreigners," he added.
Footage broadcast on Spanish television showed a white van, its front crushed, abandoned by its driver on a road surrounded by police cars. Tom Gueller, who lives on a road next to Las Ramblas said he saw the vehicle speeding along the boulevard.
"It wasn't slowing down at all. It was just going straight through the middle of the crowds in the middle of the Ramblas," he told BBC radio.
A taxi driver who witnessed Thursday's attack, Oscar Cano, said the white van suddenly jumped the curb and sped down the central pedestrian area at a high speed for about 500 yards (457 meters), veering from side to side as it targeted people.
"I heard a lot of people screaming and then I saw the van going down the boulevard," another witness, Miguel Angel Rizo, told The Associated Press. "You could see all the bodies lying through Las Ramblas. It was brutal. A very tough image to see."
Jordi Laparra, a 55-year-old physical education teacher and Barcelona resident, said it initially looked like a terrible traffic accident.
"At first I thought it was an accident, as the van crashed into 10 people or so and seemed to get stuck. But then he maneuvered left and accelerated full speed down the Ramblas and I realized it was a terrorist attack," Laparra said. "He zigzagged from side to side into the kiosks, pinning as many people as he could, so they had no escape."
Carol Augustin, a manager at La Palau Moja, an 18th-century former palace on Las Ramblas that now houses offices and a tourism center, said the van passed in front of the building.
"People started screaming and running into the office. It was such a chaotic situation. There were families with children," she said.
Tamara Jurgen, a visitor from the Netherlands, said she and a friend were inside a clothing store steps from the scene and were kept inside until it was safe to leave.
"We were downstairs when it happened and everyone was screaming and running. We had to run up to the roof and throw our bags over a wall," Jurgen said. "We were all together along this wall and we were scared we were going to have to jump."
With inputs from agenices
India
JeM's Mohammad Ismail Alvi, a relative of Masood Azhar, and Sameer Dar were killed in a gunfight in Pulwama, in an operation that is seen as a major success for security forces.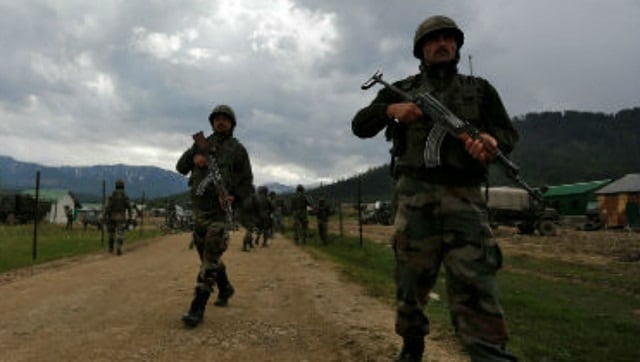 India
The police said that one of the militants, identified as Fayaz War, was involved in several attacks and killings of civilians and security personnel. He was the last perpetrator of violence in north Kashmir
India
The vote to decide whether Susana Diaz, the former regional president, can be elected as a senator for the region was halted as the rodent disrupted proceedings