More than 12 years since he delivered a keynote speech at the Democratic National Convention in Boston to announce his arrival on the American political stage, outgoing United States President Barack Obama wrapped up his eight-year tenure in the White House with oratory that has defined his political career – rousing and emotive.
His farewell speech in Chicago, his hometown, was in parts, a defence of his legacy, a repudiation of the rhetoric from his successor-to-be President-elect Donald Trump, and an exhortation to his party's supporters to keep the faith.
The speech started with Obama speaking to the nation about his "successes", from overcoming the Great Recession to creating jobs. Or those in tackling the Islamic State and keeping the American homeland secure. While critics will counter those claims, this was a necessary statement to make simply because Obama, himself, claimed that Hillary Clinton's campaign was for his third term, and the subsequent defeat in November, has been considered by some, in part, as a referendum on the Obama years in the Oval Office.
While the new administration is expected to swiftly move to dismantle and replace the Affordable Care Act, derisively called Obamacare, which quickly turned into an issue that has won Republicans most of the election cycles since 2008, the President laid out a clear challenge to Trump to get rid of a programme that has secured coverage for the uninsured and for those with preexisting conditions, as he said that "if anyone can put together a plan that is demonstrably better than the improvements we've made to our health care system – that covers as many people at less cost – I will publicly support it. " This lays down the line for a partisan battle in the US Congress in the weeks ahead over this legislation's fate.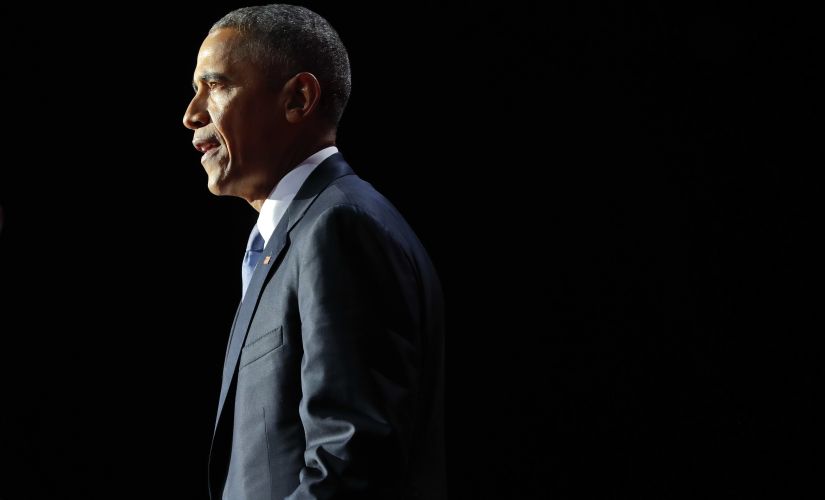 He also spoke up for the Paris Agreement on Climate Change, another achievement of the Obama years, and another that's threatened: "Now, we can and should argue about the best approach to the problem. But to simply deny the problem not only betrays future generations; it betrays the essential spirit of innovation and practical problem-solving that guided our Founders."
Obama repeatedly spoke of the greatness of America, contrasting with Trump's campaign slogan of Make America Great Again. And one volley may have been levelled at Trump, (though he was only mentioned once by name in the context of the transition), as Obama spoke of "political dialogue" turning "so corrosive" that it was "coarse with rancor that Americans with whom we disagree are not just misguided, but somehow malevolent. We weaken those ties when we define some of us as more American than others; when we write off the whole system as inevitably corrupt." That may have been targeted the Trumpian chant of DraintheSwamp.
The first African-American President of the USA also addressed the hopes of a "post-racial America" created by his election in 2008, one, he said was "never realistic." While speaking of the divide that remains, and riffing on social justice themes relating to the LGBT community, Muslims in America and illegal immigrants, Obama may well have rallying the troops to the battles ahead with Trump.
In a deviation from the prepared text, Obama described the "most important office" in America as being that of the "citizen". And that's one he will occupy in the years ahead. "I won't stop; in fact, I will be right there with you, as a citizen, for all my days that remain," he said, signalling that his pending move into a walled-off Washington manor means he will remain a player, in a manner, in politics, perhaps even taking on the Trump agenda. Perhaps, a parting shot across the bow.
It was certainly an emotional valedictory speech for Obama, as he wiped tears at times when he spoke of his wife First Lady Michelle Obama and his daughters, Malia and Sasha.
As chants of "Four more years" rang through the arena, Obama responded, "I can't do that." Perhaps fittingly, he ended the speech with the chorus that resounded through America in 2008: "Yes We Can", though in between that repeated line was another, "Yes We Did." As Bruce Springsteen's Land of Hope and Dreams served as the coda for the evening, that's the impression Obama will want to leave behind as his historic journey to America's highest office concludes.
Updated Date: Jan 11, 2017 09:54:18 IST