On his historic Hiroshima visit, Barack Obama recalled how 71 years ago 'death fell from the sky'
US President Barack Obama's Hiroshima visit drew raves on social media and from the many of the thousands who turned up to witness the historic event.
On Friday, US President Barack Obama paid moving tribute to the victims of the first atomic bomb, offering a comforting embrace to a tearful man who survived the devastating attack on Hiroshima.
In a ceremony loaded with symbolism, the first sitting US president to visit the city clasped hands with one survivor and hugged another, after speaking about the day that marked one of the most terrifying chapters of World War II.
"71 years ago, death fell from the sky and the world was changed," Obama said of a bomb that "demonstrated that mankind possessed the means to destroy itself. Why did we come to this place, to Hiroshima? We come to ponder a terrible force unleashed in the not-so-distant past. We come to mourn the dead".
Obama's visit drew raves on social media and from the many of the thousands who turned up to witness the historic event.
Obama: 'Sorry, not sorry for vaporizing 100,000 civilians when Japan was already defeated' #Hiroshima pic.twitter.com/YFjTPMr8bk

— Paul Gottinger (@PaulGottinger) May 27, 2016
@1PhoenixDragon we're in Japan on vacation and we watched the live coverage earlier of Obama in Hiroshima. Heartbreaking. 😢

— Seattle Lit (@seattlelit) May 27, 2016
As crows called through the hush of the Hiroshima Peace Memorial Park, Obama offered a floral wreath at the cenotaph, pausing in momentary contemplation with his eyes closed and his head lowered.
It also spawned a huge queue of well-wishers eager to snap a picture of the white-flower wreath. Some posed beside the wreath inscribed with Obama's name, including visitors who had been unable to catch a glimpse of the US president because of the huge crowds.
The site lies in the shadow of a domed building, whose skeleton stands in silent testament to those who perished.
Japanese Prime Minister Shinzo Abe followed by offering his own wreath and a brief, silent bow.
After both men had spoken, Obama, whose predecessor Harry Truman gave the go-ahead for the world's first nuclear strike, greeted ageing survivors, embracing 79-year-old Shigeaki Mori, who appeared overcome with emotion.
"The president gestured as if he was going to give me a hug, so we hugged," Mori told reporters afterwards.
Obama also chatted with a smiling Sunao Tsuboi, 91, who had earlier said he wanted to tell the US president how grateful he was for his visit.
Ball of searing heat
The trip comes more than seven decades after the Enola Gay bomber dropped its deadly atomic payload, dubbed "Little Boy", over the western Japanese city.
The bombing claimed the lives of 1,40,000 people, some of whom died immediately in a ball of searing heat; others succumbed to injuries or radiation-related illnesses in the weeks, months and years afterwards.
A second nuclear bomb destroyed the city of Nagasaki, three days later.
The visit also marks seven years since Obama's memorable speech in Prague in which he called for the elimination of atomic weapons, a call that helped him win the Nobel Peace Prize.
Crowds of young and old gathered to meet the American president, who retains enormous star power in Japan.
"We welcome President Obama," said 80-year-old Toshiyuki Kawamoto.
"I hope this historic visit to Hiroshima will push for the movement of abolishing nuclear weapons in the world."
'We listen to the silent cry'
Japanese and American flags flew on the street in front of the site, with a city official saying it was the first time the Stars and Stripes had been raised there.
As expected, Obama offered no apology for the bombings, having insisted that he would not revisit decisions made by Truman at the close of a brutal war.
As an eternal flame flickered behind him, however, he said leaders had an obligation to "pursue a world without" nuclear weapons. "This is why we come to this place, we stand here, in the middle of this city and force ourselves to imagine the moment the bomb fell. We force ourselves to feel the dread of children confused by what they see. We listen to a silent cry."
"The world was forever changed here but, today, the children of this city will go through their day in peace," the US president said. "What a precious thing that is."
While some in Japan feel the attack was a war crime because it targeted civilians, many Americans believe it hastened the end of a bloody conflict, and ultimately saved lives.
Though there had been calls for an apology, public reaction to the visit and the speech was overwhelmingly positive.
Megu Shimomura, a 14-year-old schoolgirl, one of the selected guests at the ceremony, told AFP: "I was thrilled to attend the historic event. Obama is someone who lives in a very different world than I do but I felt his humanity."
Shinzo Abe praised the "courage" of the visit, which he said offered hope for a nuclear free future.
"An American president comes into contact with the reality of an atomic bombing and renews his resolve toward realising a world without nuclear weapons," he said.
"I sincerely welcome this historic visit, which has long been awaited by not only people of Hiroshima, but by all Japanese people."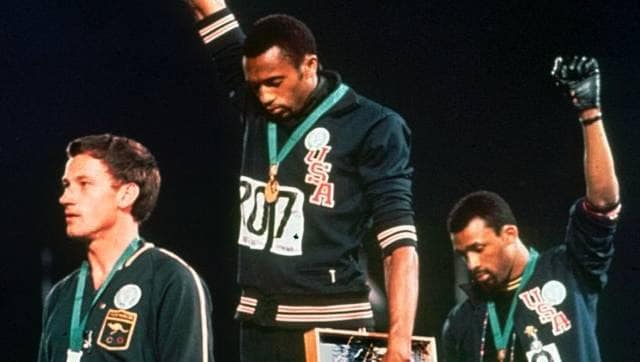 Sports
Here are the 10 most memorable moments from past editions of the Olympics
Sports
Shuichi Adachi, a former Hiroshima bar association head, submitted a strong statement earlier this week to Yuzaki and Hiroshima Mayor Kazumi Matsui opposing Bach's visit. It was written on behalf of 11 anti-Olympic and pacifist groups.
India
Posted on 21 July, the over one-minute-long video has got more than 45,000 views and 3,100 likes till now on Twitter