Barack Obama did not make a Pakistan visit due to 'complicated' bilateral relations: White House
Outgoing US President Barack Obama could not visit Pakistan because of a 'complicated relationship' with the country, said the White House.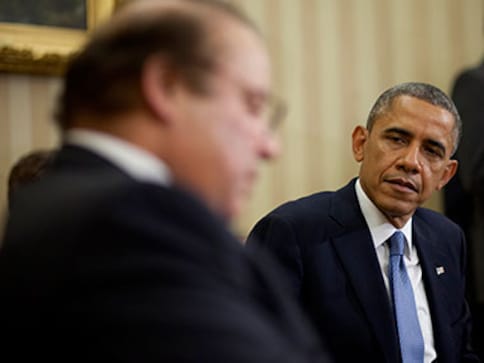 Washington: Outgoing US President Barack Obama at the beginning of his term had expressed his desire to visit Pakistan, but could not do so because of a "complicated relationship" with the country, the White House said on Friday.
"At one point in his presidency, I do recall President Obama expressing a desire to travel to Pakistan. For a variety of reasons, some of them relating to the complicated relationship between our two countries at certain times over the last eight years, President Obama was not able to realise that ambition," White House Press Secretary Josh Earnest told reporters at his daily news conference.
The White House Secretary was responding to a question over Pakistan's statement that President-elect Donald Trump in his telephonic conversation with Prime Minister Nawaz Sharif had said that he would love to visit the country.
"But one thing we do know is that it sends a powerful message to the people of a country when the President of the United States goes to visit. That's true whether it's some of our closest allies, or that's also true if it's a country like Pakistan, with whom our relationship is somewhat more complicated," he said.
"But ultimately, when President Trump begins planning his overseas travel, he'll have a range of places to consider, and Pakistan would certainly be one of them," Earnest said.
Asked about the telephonic conversation between Trump and Sharif and Pakistan's claim that President-elect lavished praise on the Prime Minister and offered to play any role in helping it to address its outstanding issues, he said "I saw the readout of the telephone call that you're referring to. I can't speak to the accuracy or to the tone of that phone call.
"I'd refer you to the President-elect's team for more of a description of what the President-elect may have communicated to the Prime Minister of Pakistan." Trump's critics have used Pakistan's readout on the telephonic conversations to slam him on his "poor                                                                                                                                  foreign policy" judgment.
Earnest said the US relationship with Pakistan is one that's quite complicated, particularly in view of the "overlapping national security interests". "Obviously, President Obama's conversations with his counterpart in Pakistan have been an important priority.
The US relationship with Pakistan is one that's quite complicated, particularly when you consider our overlapping national security interests," he said. "The relations between our two countries, particularly over the last eight years, have not been consistently smooth, particularly in the aftermath of the raid on Pakistani soil that President Obama ordered to take Osama bin Laden off the battlefield," he added.
Noting that this obviously is an important relationship, Earnest said there have been areas where the US and Pakistan have been able to effectively coordinate their efforts. Earnest said Obama benefited from the professionalism and expertise of career diplomats at the State Department who were able to offer him good advice about engaging with world leaders.
"President Obama benefited enormously from the advice and expertise that's been shared by those who serve at the State Department. And I'm confident that as President-elect Trump
takes office, those same State Department employees will stand ready to offer him advice as he conducts the business of the United States overseas. Hopefully he'll take it," he said.
World
Justice Arthur Engoron of the Manhattan Supreme Court set a trial date of 2 October, 2023 in the case that alleges Trump and his family members misstated the value of properties to enrich themselves
News & Analysis
After Elon Musk reinstated Donald Trump's account, the former US President said he won't be returning to Twitter as he doesn't see any reason for it.
World
"Looking around the world when the US and (its) President (Joe) Biden look for partners that can truly help carry the load, truly helped move forward a global agenda, India and Prime Minister Modi are very high on that list," Finer told a gathering of several hundred Indian-Americans.