Bangladesh retaliates with stern law even as editors protest repressive legislation curtailing press freedom
Bangladesh's newspaper editors formed a human chain in front of the National Press Club in Dhaka to protest against a newly enacted internet law.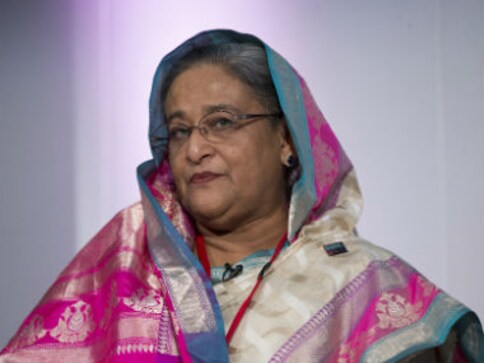 Bangladesh's newspaper editors formed an unprecedented human chain on Monday in front of the National Press Club in Dhaka to protest against a newly enacted internet law, which they say is a blow to freedom of expression and independent journalism. However, the government has brushed off their concerns by giving the nod to a new draft broadcasting law that would authorise up to three years of jail for anyone presenting "misleading and false" information in television talk shows.
The members of the influential Editors' Council — including those thought to be sympathetic to the government — called for an overhaul of the Digital Security Act to safeguard journalists, while carrying a banner seeking to "annul anti-free speech clauses of the law".
Opponents say the law is a part of a broader attempt by the government to silence its critics, but Prime Minister Sheikh Hasina and her son, also her adviser, Shajeeb Wazed, defended the act, saying it was necessary to prevent fake news and rumours, and protect citizens' data.
The Editors' Council, which has opposed the law since it was introduced, earlier held meetings with three cabinet ministers, hoping to soften the law. They initially postponed their human chain programme upon requests from the ministers who promised to address their concerns. However, while the ministers assured that they would discuss the matter with the prime minister, the president approved it on 8 October, making it effective.
On Monday, after the editors' protest, the ministers drew the attention of Hasina on their concerns in a cabinet meeting. She responded by saying, "The law has already been passed. What is now to discuss in the cabinet?"
Claiming that harsher laws exist in the US and the UK, she also said, "The law was not enacted to harass anyone. The government will take a tough stance against anyone who harms society. Truth-seekers aren't supposed to have any problem (with the law). This law is against those who intentionally take a stand against the government, the country and the spirit of the liberation."
Matiur Rahman Chowdhury, the editor-in-chief of Bangla daily Manab Zamin and a member of the council, told Firstpost, "It's very unfortunate. After having repeated discussions with the ministers, we didn't expect her to dismiss our concerns outright. After her 'no', I don't see any possibility or scope to amend the law."
"We would discuss the matter in our next meeting," he added.
The same day, the cabinet approved draft "Broadcasting Law 2018" to regulate TV channels, which would penalise anyone presenting "false or misleading" information. When contacted by Firstpost, Professor Golam Rahman, the chairman of the drafting committee, declined to comment on a particular provision. "We have submitted our draft. But I haven't seen how much of it has been retained or how much omitted," he said.
Chowdhury said, "The fact that the government approved another equally repressive draft law the day we protested against one sends a disturbing message."
"Whether one's statement is 'misleading' or 'false' is subject to interpretation," he added. "We will also discuss this new draft act in our next meeting."
Journalism or espionage?
Unveiled in January 2016, the-then draft digital security law immediately drew criticism from the local journalist community. Its "espionage" clause — which promises a 14-year jail sentence for entering a government office and gathering information secretly using any electronic device — triggered #AmiGuptachar (I am a spy) campaign by journalists. They say the provision constitutes a hindrance to investigative journalism.
Badruddoza Babu, an award-winning journalist with Maasranga TV, says both the Digital Security Act and the proposed Broadcasting Act pose a challenge to independent journalism.
"It's entirely frustrating," he told Firstpost. "Those among us who are involved in investigative journalism report on public interests. If such repressive laws exist, our scope will severely shrink. Many would now be discouraged to investigate allegations of corruption."
"Moreover, these laws are susceptible to misuse," he added.
In addition, the digital security act authorises prison sentences of up to three years for publishing information that is "aggressive or intimidating" and up to 10 years for posting information that "ruins communal harmony or creates instability or disorder or disturbs or is about to disturb the law and order situation."
The US-based Human Rights Watch said the law was "overly broad, ripe for abuse."
In the wake of several social media-inspired massive student protests, the law was made a priority by the government. It came into effect weeks after Shahidul Alam, an internationally acclaimed photographer, was arrested for making "false" and "provocative" statement on Facebook Live, after he gave a scathing interview to Al Jazeera during the protests.
He is now investigated for allegedly violating the Information and Technology Act, another much-criticised internet law, controversial sections of which have been incorporated in and replaced by the Digital Security Act.
(Nazmul Ahasan is a journalist based in Dhaka, Bangladesh.)
World
Foreign Minister AK Abdul Momen said that Bangladesh would continue to maintain a balanced foreign policy with 'powerful countries' - India, the United States and China
Explainers
For the first time ever, the Economist, Financial Times (FT) and the Wall Street Journal (WSJ), the 'most influential organs of financial commentary', are being led by women. Their appointments are significant as more women at the top increases the possibility of women rising through the ranks
Opinion
Anti-Indianism is the most important aspect that has been binding the Bangladesh-Pakistan relationship