Balochistan and Pakistan's MQM activists: Why sectarian violence in Karachi gets ignored
Pakistan is engulfed in severe lawlessness. The port city, once renowned as Bombay of Pakistan, is marred by target killings and sectarian violence. Possibly because of the ongoing happenings of terrorist-linked violence in Balochistan, the news of bloodshed in Karachi often gets eclipsed.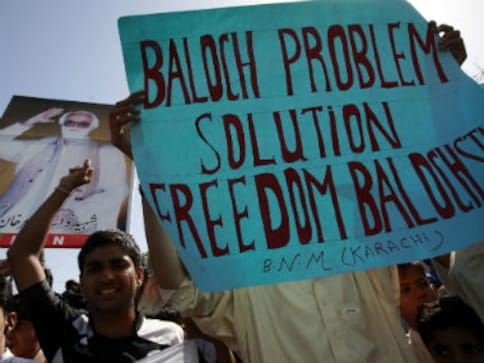 Pakistan is engulfed in severe lawlessness. The port city of Karachi, once renowned as Bombay of Pakistan, is marred by target killings and sectarian violence. Possibly because of the ongoing happenings of terrorist-linked violence in Balochistan, the news of bloodshed in Karachi often gets eclipsed.
Other than these killings, excesses on Muttahida Qaumi Movement (MQM) activists continue unabated. MQM has people from India, largely Urdu speaking, who chose to go to Pakistan after partition hoping that Pakistan will be their new home. However, are now disappointed as their hopes were belied. They still reel under the Punjabi discrimination and are at present dominated by the Pathans who are being steadily rehabilitated in Karachi and adjacent areas unsettling the non-pushto speaking population which has been affecting the existence of the Mohajirs.
For long, MQM has been a thorn in the flesh of the Pakistani establishment due to its vigorous and legitimate struggle for their rights leading MQM to wage a relentless defiance of the government under the leadership of Altaf Hussain.
Altaf and his affiliates in and outside MQM were often targets of atrocities more due to government suspicion that their allegiance was for India. For electoral gains, however, PPP and other political parties tried to cajole MQM as they carry a sizeable vote bank.
Reverting to lawlessness. On 22 October, three London-based MQM members – Zafar Arif, Kunwar Khalid Yunus, and Amjad Ullah Khan – were arrested outside Karachi press club under the draconian Maintenance of Public Order (MPO) Act and sent to the central prison.
Meanwhile, Momin Khan Momin, a prominent human rights activist and an MQM member, was falsely implicated in an arms case and arrested.
Similarly, Arif, an eighty-plus-old academic and even a philosopher of great renown having taught philosophy in Karachi university were not spared and put behind the bars.
Arif has authored many important books on philosophy and his students have won great acclaim.
Karachi authorities, as evident from these arbitrary and discriminatory actions, are pursuing a policy of repression to maintain their writ and any dissent is suppressed with brute force with scant or no respect for human rights and any reasoning or logic.
It's no exaggeration to state that freedom of expression has been a misnomer in Pakistan where free speech is curbed and stifled under the guise of national interest, the glory of Islam and religious sentiments.
The authoritative and highly-placed sources in Karachi claim that in a pseudo democracy in Pakistan, where might is right, intellectuals are the softest targets.
Journalists, scholars, human rights and political activists are routinely attacked under the convenient Blasphemy law, Protection of Pakistan Act (PPA), Protection against Cyber Crime Act (PECA), MPO etc to curb free speech and state-sponsored atrocities are legitimised through these legislations.
Few liberals confided recently that with the authorities' whose hands are stained in blood and have disrepute of the worst kind have no moral right to blame India for alleged persecutions in the Valley. In Kashmir, any dissent is not muzzled in a manner pursued in Sindh, Balochistan and other places of Pakistan.
Speaking of sectarian violence in Karachi, five people were gunned down outside a women's majlis in Nizamabad on 29 October. Again, on last Friday (4 November), sectarian bloodshed took a toll of six persons.
These incidents led to arrests of high-profile and peace-loving Shia leaders and clerics, including ex-PPP senator Faisal Raza Abidi and others.
In a most recent case, on 7 November, protesters agitating over killings in Malir area, blocked the national highways and disrupted rail traffic causing major law and order problem. They were demanding the release of incarcerated Shia leaders currently under arrest.
Sindh CM has been calling for peace but his pleas seem to have fallen on deaf ears ostensibly due to the genuine demands of the protesting elements.
The situation remains grim and with increasing repression, more counterproductive measures by the dissenters are on the anvil threatening peace in Karachi.
Sindh may assume same titanic proportions of violence and lawlessness, as currently witnessed in Balochistan, in not so distant future. This is noticed glaringly from the emerging pattern and indicators in the troubled areas in Pakistan showing no signs of cessation.
Some analysts say the prevailing situation is limping towards the Balochistan way and Karachi may see more intensified killings and disorder as being witnessed in Quetta perpetrated by Lashkar-e-Jhangvi and other supported outfits who generally have a field day.
Objectively, if the independence-seeking Balochis who are, at present, on a defiant mode and MQM (with thirty-two years of standing  as a political party) join hands proactively, then all the government-created roadblocks are likely to crumble paving way for a concerted movement aimed at unsettling the 'might' and despotism of the federal government.
With the government fatigued with its battle for survival under the leadership of PM Nawaz Sharif (tainted with accusations on Panama papers), a stepped-up aggressive movement by Imran Khan and his party, the civil and military entities embroiled in an ugly showdown, uncertainty about the appointment of the new Army Chief Raheel Sharif expected to retire this month and most significantly, with Donald Trump (known for his anti-Pakistan innuendoes during his campaigns) emerging triumphant as the next US president, Pakistan may have to face serious trouble with skeptics possibly telling its establishment "You asked for it".
The author is a retired IPS officer is a security analyst and columnist. Views are personal.
World
All production units of Dawlance, a private company with Turkish sponsors, have stayed shut since the start of 2023
World
Imran Khan's Zaman Park residence turned into a battle scene when protesters clashed with police officials trying to arrest the former Pakistan prime minister in the Toshakhana case. Amid the clashes, Khan issued a statement, urging supporters to continue the struggle no matter what happens
World
While foreign aid had prevented Pakistan from suffering an economic crisis in the past, the current situation is different as the International Monetary Fund (IMF) imposing a host of tough conditions before considering a financial bailout