Bali's Mount Agung volcanic eruption: Indonesian volcano last erupted in 1963, killing nearly 1,500 people
Thousands of tourists were stranded at Bali's Ngurah Rai airport, with 280 flights cancelled, and some 15,700 passengers affected after the Mount Agung volcano erupted, a thick plume of ash and smoke shooting thousands of metres into the sky on Thursday.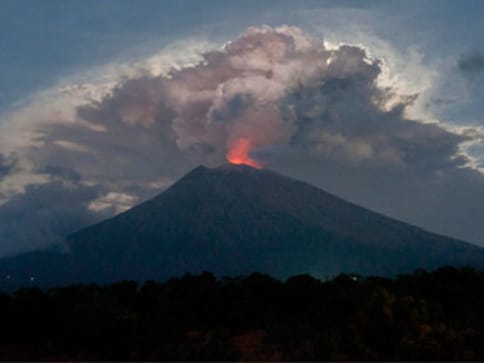 Thousands of tourists were stranded at Bali's Ngurah Rai airport, with 280 flights cancelled, and some 15,700 passengers affected after the Mount Agung volcano gushed a 2,500-metre column of ash and smoke into the sky on Thursday.
Eruption of Bali's Mount Agung volcano sends column of ash and smoke 8,200 feet into the sky.

Officials say nearly 450 flights to and from the island were canceled, affecting some 75,000 people. https://t.co/Iuc8fEFvfC pic.twitter.com/tEbigicLl1

— ABC News (@ABC) June 29, 2018
Flights cancelled included Malaysia-based AirAsia and Australia's JetStar. Ash is dangerous for planes as it makes runways slippery and can be sucked into their engines.
Despite the eruption, the volcano's status has not been raised by Indonesia's volcanology agency and remained at alert level, while the Volcano Observatory Notice for Aviation has issued an orange level warning.
A striking orange-red glow could be seen at the top of Mount Agung's crater after it shot smoke and ash some 2,000 metres (6,500 feet) into the sky Thursday evening.
The last time there was a major eruption at Mount Agung was in 1963 (after 120 years) which killed nearly 1,500 people, according to BBC. The eruption lasted for almost a year.
Here's all you need about the volcano:
Mount Agung, situated in northeastern Bali, is 612 miles (984 kilometres) from Indonesia's capital of Jakarta, and 11 miles (18 kilometres) from Bali's other volcano, Mount Batur.
It is a composite volcano, also known as a stratovolcano, which means that in such volcanoes, volcanic ash, lava and other eruption material piles up steeply. They form typical conical volcanoes, which can also be high mountains. Agung rises to a height of 9,888 feet (3,014 metres).
The first eruption was recorded in 1843 by Swiss botanist Heinrich Zollinger where thousands of people and animals died.
The next eruption in 1963, was one of the largest and most destructive in the country's history. The first indications of the volcano being active were the recurrent feeble earthquake tremors felt by villagers living in Jekhuri, close to the peak. On 18 February, 1963, the first thin column of smoke could be seen. By 20 February, lava had started to flow down the slope claiming its first victims.
Minor eruptions continued on the island for months, where about 280 million cubic metres of magma was ejected, according to The Independent. Lava reportedly travelled as far as 14 kilometres to the south.
However, the deadliest effects of the eruption were the pyroclastic flows. According to DW, they are hot clouds of gases, ash and rock debris that race down the mountain at a very high speed. These waves of superheated gas can travel up to hundreds of kilometres per hour, similar to a volcanic avalanche.
The Washington Post quoted the US Geological Survey as saying: "A pyroclastic flow will destroy nearly everything in its path. With rock fragments ranging in size from ash to boulders travelling across the ground at speeds typically greater than [50 mph], pyroclastic flows knock down, shatter, bury or carry away nearly all objects and structures in their way." They pose the biggest threat.
At present, there is a four-kilometre (2.5 mile) no-go zone around Agung's peak.
Indonesia, an archipelago of more than 250 million people, sits on the Pacific "Ring of Fire" and is prone to earthquakes and volcanic eruptions. Government seismologists monitor more than 120 active volcanoes.
With inputs from agencies
World
Rittenhouse hails from Illnois' Antioch, which is around 24.14 kilometers from Wisconsin's Kenosha. The white teenager, who lived with his mother, has been described as an 'admirer' of the police.
India
Mann Ki Baat started on AIR from October 2014 and is broadcast in 21 regional languages, 31 local dialects and 16 foreign languages and is the most popular radio programme in India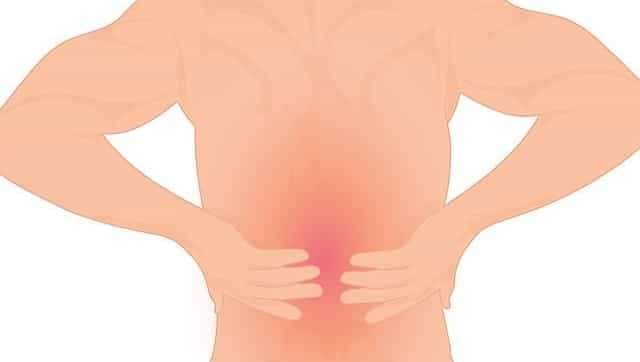 India
About 80 percent of population experience low back pain at some point in their lifetimes. It is the most common cause of job-related disability