Bahrain follows Emirates and normalizes ties with Israel
WASHINGTON/JERUSALEM/DUBAI (Reuters) - Bahrain joined the United Arab Emirates in striking an agreement to normalize relations with Israel on Friday, a dramatic move aimed at easing tensions in the Middle East. U.S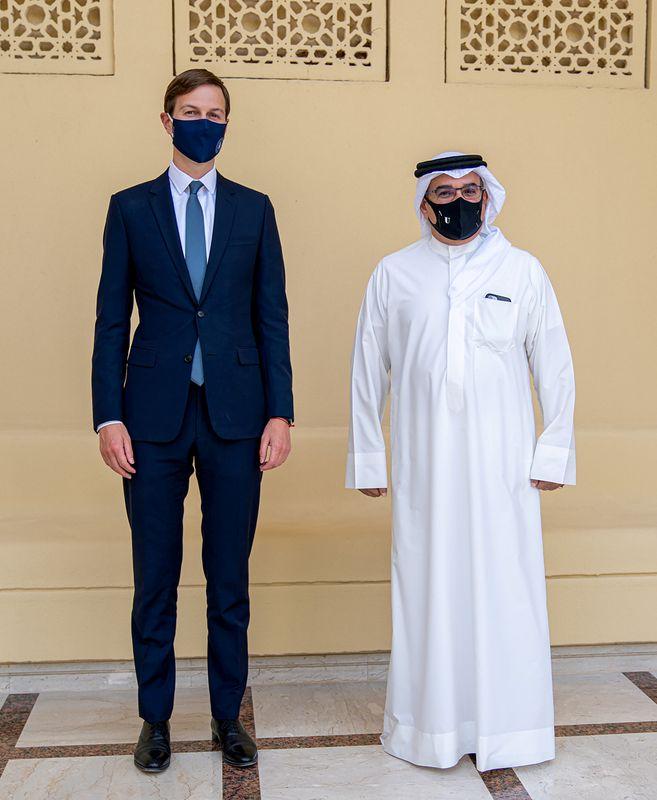 WASHINGTON/JERUSALEM/DUBAI (Reuters) - Bahrain joined the United Arab Emirates in striking an agreement to normalize relations with Israel on Friday, a dramatic move aimed at easing tensions in the Middle East.
U.S. President Donald Trump tweeted the news after he spoke by phone to both Bahrain's King Hamad bin Isa Al Khalifa and Israeli Prime Minister Benjamin Netanyahu, the White House said.
"This is a historic breakthrough to further peace in the Middle East," the United States, Bahrain and Israel said in a joint statement.
"Opening direct dialogue and ties between these two dynamic societies and advanced economies will continue the positive transformation of the Middle East and increase stability, security, and prosperity in the region," it said.
The United Arab Emirates last month agreed to normalize ties with Israel under a U.S.-brokered deal. That deal is scheduled to be signed on Sept. 15 at a White House ceremony hosted by Trump and attended by Israeli Prime Minister Benjamin Netanyahu and UAE Foreign Minister Sheikh Abdullah bin Zayed al-Nahyan.
The easing of relations with Israel comes amid a backdrop of shared fears about the threat of Iran to the region.
The Trump administration has tried to coax other Sunni Arab countries to engage with Israel. The most powerful of those, Saudi Arabia, has signaled it is not ready.
Bahrain, a small island state, is a close ally of Saudi Arabia and the site of the U.S. Navy's regional headquarters. Riyadh in 2011 sent troops to Bahrain to help quell an uprising and, alongside Kuwait and the UAE, in 2018 offered Bahrain a $10 billion economic bailout.
Friday's deal makes Bahrain the fourth Arab country to reach such an agreement with Israel since exchanging embassies with Egypt and Jordan decades ago.
Last week, Bahrain said it would allow flights between Israel and the UAE to use its airspace. This followed a Saudi decision to allow an Israeli commercial airliner to fly over it on the way to the UAE.
(Reporting by Steve Holland, Dan Williams and Aziz El Yaakoubi. Additional reporting by Alex Cornwell and Lisa Barrington; Editing by Nick Tattersall)
This story has not been edited by Firstpost staff and is generated by auto-feed.
World
ATHENS (Reuters) - Greek police used teargas and water cannon to disperse people who had gathered in central Athens on Saturday to protest against mandatory COVID-19 vaccinations. More than 4,000 people rallied outside the Greek parliament for a third time this month to oppose mandatory inoculations for some workers, such as healthcare and nursing staff.
World
ISTANBUL (Reuters) - Two Turkish soldiers were killed and two were wounded in an attack on their armoured vehicle in northern Syria, and Turkish forces immediately launched retaliatory fire, Turkey's defence ministry said on Saturday. "Our punitive fire against terrorist positions is continuing," the statement on Twitter on said. It did not specify where the attack occurred, but media reports said it was in the al-Bab area.
World
By Marcelo Rochabrun SAO PAULO (Reuters) - Protesters took to the streets in several Brazilian cities on Saturday to demand the impeachment of far-right President Jair Bolsonaro, whose popularity has fallen in recent weeks amid corruption scandals against the backdrop of the pandemic. This week, news broke that Brazil's defense ministry told congressional leadership that next year's elections would not take place without amending the country's electronic voting system to include a paper trail of each vote. Bolsonaro has suggested several times without evidence that the current system is prone to fraud, allegations that Brazil's government has denied