Backers of Venezuelan opposition leader occupy embassy in Brazil
By Sergio Moraes and Anthony Boadle BRASILIA (Reuters) - Brazil dispatched diplomats and police officers on Wednesday to resolve a standoff inside the Venezuelan embassy in Brasilia after it was occupied by backers of Venezuela's opposition.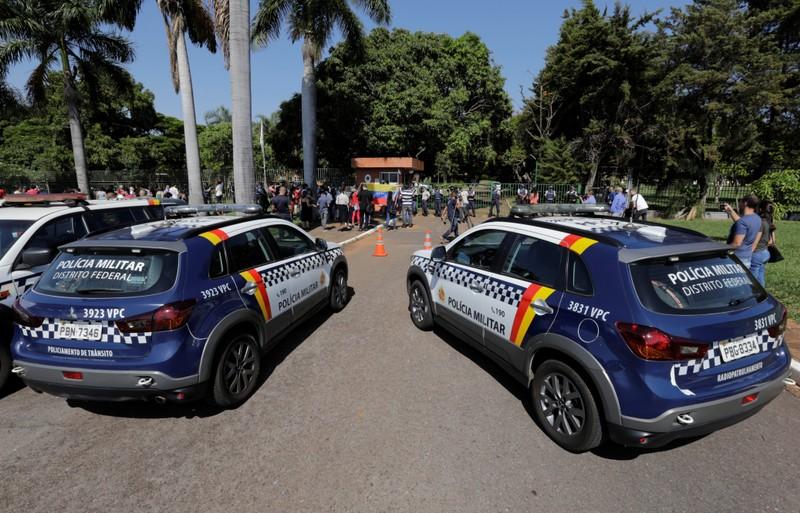 By Sergio Moraes and Anthony Boadle
BRASILIA (Reuters) - Brazil dispatched diplomats and police officers on Wednesday to resolve a standoff inside the Venezuelan embassy in Brasilia after it was occupied by backers of Venezuela's opposition.
Representatives of Venezuelan President Nicolas Maduro later regained access to the building, creating a tricky situation for Brazil's President Jair Bolsonaro, who has recognised opposition leader Juan Guaido as the legitimate leader of Venezuela.
The incident caused scuffles outside the embassy and a diplomatic embarrassment for Brazil's government as it hosted the BRICS summit of major emerging economies in the capital, including the leaders of China and Russia, who support Maduro.
Guaido's envoy in Brazil, Maria Teresa Belandria, had not been able to access the embassy since she arrived 10 months ago and has been living and working out of a Brasilia hotel.
Crowds of Brazilians who gathered outside the embassy to support the rival claims of Maduro and Guaido traded insults and some came to blows before police could separate them.
Venezuelan embassies around the world have become flash points for the competing claims of Guaido, the head of Venezuela's National Assembly, and Maduro, a socialist who took over from late President Hugo Chavez in 2013.
Earlier this year, Guaido invoked constitutional provisions to assume an interim presidency, arguing that Maduro's re-election last year was fraudulent. He has since been recognised by most Western nations as the rightful leader of Venezuela.
An occupation by protesters at the Venezuelan embassy in Washington in May resulted in arrests before the building was returned to Guaido's representatives, who are recognised by the United States.
Venezuelan Foreign Minister Jorge Arreaza said on Twitter the embassy in Brasilia had been "invaded by force at dawn."
Belandria said in a statement that her group had gained access when some embassy staff opened the doors voluntarily.
"We are 10 people and we entered peacefully. It was the Maduro people who came in violently," Venezuelan Army Mayor Jose Gregorio, who deserted to Brazil this year, told Reuters by telephone. He said a young woman in his group had fainted from the heat and was taken to hospital.
Brazilian diplomats and police officers responsible for the safety of embassies in Brasilia were trying to mediate and work out a solution, Brazil's Foreign Ministry said.
The office of Bolsonaro's security adviser, General Augusto Heleno, said in a statement the president had not "incentivised the invasion of the Venezuelan embassy."
(Reporting by Sergio Moraes and Anthony Boadle; Additional reporting by Lisandra Paraguassu; Editing by Brad Haynes and Paul Simao)
This story has not been edited by Firstpost staff and is generated by auto-feed.
Find latest and upcoming tech gadgets online on Tech2 Gadgets. Get technology news, gadgets reviews & ratings. Popular gadgets including laptop, tablet and mobile specifications, features, prices, comparison.
World
By Tim Hepher and David Ljunggren PARIS/OTTAWA (Reuters) - France said on Friday it would download the black boxes from a Ukrainian airliner downed by an Iranian missile in January, easing a stand-off over where they should be read. France's BEA crash investigation agency said it was acting at the request of Iran, which remains responsible under global rules for conducting a formal accident probe after acknowledging that the Boeing 737 was downed by its forces
World
By Brad Brooks LUBBOCK, Texas (Reuters) - With new coronavirus cases surging in Texas and Florida, officials in both states on Friday ordered bars to close again and imposed tighter restrictions on restaurants, setting back efforts to reopen their economies. Governor Greg Abbott gave bars in Texas until midday Friday to shut, while Florida's Department of Business and Professional Regulation told bars to immediately stop serving alcohol on their premises
World
By Patricia Zengerle WASHINGTON (Reuters) - The U.S. Senate passed legislation on Thursday that would impose mandatory sanctions on people or companies that back efforts by China to restrict Hong Kong's autonomy, pushing back against Beijing's new security law for the city. The measure also includes secondary sanctions on banks that do business with anyone found to be backing any crackdown on the territory's autonomy, potentially cutting them off from American counterparts and limiting access to U.S.