Back on the attack, Trump decries 'single greatest witch hunt' in U.S. history | Reuters
By Doina Chiacu and Susan Heavey | WASHINGTON WASHINGTON President Donald Trump lashed out on Thursday over his Justice Department's appointment of a special counsel to investigate possible ties between his 2016 presidential campaign and Russia, calling it 'the single greatest witch hunt' in U.S. history.Trump's Twitter comments stood in contrast to his measured statement on Wednesday night after former FBI chief Robert Mueller was named as special counsel, in which he said 'a thorough investigation will confirm what we already know - there was no collusion between my campaign and any foreign entity.'Deputy Attorney General Rod Rosenstein appointed Mueller after a succession of jarring developments that brought questions over Russia's alleged meddling in the election and possible collusion by the Trump campaign to a boil.They included Trump's firing of FBI Director James Comey, reports that Trump had previously pressured Comey to end a probe of former national security adviser Michael Flynn, and Trump discussing sensitive information on Islamic State with the Russian foreign minister.In two Twitter postings, the Republican president assailed the latest development to roil his four-month-old administration.'With all of the illegal acts that took place in the Clinton campaign & Obama Administration, there was never a special councel appointed!' Trump wrote, misspelling the word counsel as he referred to Democratic former President Barack Obama and former presidential candidate Hillary Clinton.'This is the single greatest witch hunt of a politician in American history!' added Trump, who said in a speech on Wednesday that 'no politician in history' had been treated worse or more unfairly than he has.Democratic Senator Amy Klobuchar responded, 'This is a truth hunt.'U.S. stocks rose as upbeat economic data emboldened investors to return to the market on Thursday, a day after Wall Street saw its worst selloff in eight months on worries that the political turmoil could sideline Trump initiatives such as tax cuts that investors see as favoring economic growth
By Doina Chiacu and Susan Heavey
| WASHINGTON
WASHINGTON President Donald Trump lashed out on Thursday over his Justice Department's appointment of a special counsel to investigate possible ties between his 2016 presidential campaign and Russia, calling it "the single greatest witch hunt" in U.S. history.Trump's Twitter comments stood in contrast to his measured statement on Wednesday night after former FBI chief Robert Mueller was named as special counsel, in which he said "a thorough investigation will confirm what we already know - there was no collusion between my campaign and any foreign entity."Deputy Attorney General Rod Rosenstein appointed Mueller after a succession of jarring developments that brought questions over Russia's alleged meddling in the election and possible collusion by the Trump campaign to a boil.They included Trump's firing of FBI Director James Comey, reports that Trump had previously pressured Comey to end a probe of former national security adviser Michael Flynn, and Trump discussing sensitive information on Islamic State with the Russian foreign minister.In two Twitter postings, the Republican president assailed the latest development to roil his four-month-old administration."With all of the illegal acts that took place in the Clinton campaign & Obama Administration, there was never a special councel appointed!" Trump wrote, misspelling the word counsel as he referred to Democratic former President Barack Obama and former presidential candidate Hillary Clinton."This is the single greatest witch hunt of a politician in American history!" added Trump, who said in a speech on Wednesday that "no politician in history" had been treated worse or more unfairly than he has.Democratic Senator Amy Klobuchar responded, "This is a truth hunt."U.S. stocks rose as upbeat economic data emboldened investors to return to the market on Thursday, a day after Wall Street saw its worst selloff in eight months on worries that the political turmoil could sideline Trump initiatives such as tax cuts that investors see as favoring economic growth.
Rosenstein, the No. 2 Justice Department official, named Mueller amid mounting pressure in Congress for an independent investigation beyond existing FBI and congressional probes into the Russia issue.Mueller's appointment was not expected to affect the FBI or congressional investigations.Senate Democratic Leader Chuck Schumer said Comey should still appear before congressional committees that have invited him to testify.A key issue Mueller may have to tackle is whether Trump has committed obstruction of justice, an offense that could be used in any effort in Congress to impeach him and remove him from office.
Trump cited displeasure with the FBI's Russia probe as a factor in dismissing Comey. In addition, Comey wrote a memo detailing Trump's comments to him in February saying "I hope you can let this go," referring to the Flynn probe, a source who saw the memo said on Tuesday.Asked about the potential that there had been obstruction of justice, Republican House of Representatives Speaker Paul Ryan told reporters the special counsel will "follow the facts where ever they may lead" and that "it is premature to prejudge anything at this point."Flynn's contacts with Russians during the presidential campaign, as well as his work for the Turkish government, are under investigation. He was fired as national security adviser in February after it emerged he had misled Vice President Mike Pence about conversations with the Russian ambassador to Washington in December.FLYNN CONTACTS
Flynn and other advisers to Trump's campaign were in contact with Russian officials and others with Kremlin ties in at least 18 calls and emails during the last seven months of the presidential race, Reuters reported on Thursday.
Republican Richard Burr, chairman of the Senate Intelligence Committee, said Flynn's lawyer told the committee he would not honor the panel's subpoena seeking relevant documents.Russia has denied U.S. intelligence agencies' conclusion that it interfered in the election campaign to try to tilt the vote in Trump's favor. Trump has long bristled at the notion that Russia played any role in his November election victory.In the Russian city of Sochi, Kremlin spokesman Dmitry Peskov declined to comment on Mueller's appointment, calling it an "internal matter" for the United States.Democrats and Trump's fellow Republicans widely praised the appointment of a special counsel to take over the Russia probe.Rosenstein was due to brief U.S. senators later on Thursday. Democratic Senator Joe Manchin said Rosenstein would be questioned about a letter he wrote accusing Comey of missteps as FBI director, including his handling of an election-year probe into Hillary Clinton's use of a private email server while she was secretary of state. The White House initially said that letter prompted Trump to fire Comey, but Trump later said he had already decided to dismiss him and was thinking of "this Russia thing."The Russia matter has consumed Washington and overshadowed Republican legislative priorities including a planned healthcare overhaul and sweeping tax cuts, something the party had hoped to make rapid progress on given its control of the White House and both chambers of Congress. (Reporting by Doina Chiacu and Susan Heavey; Additional reporting by Patricia Zengerle; Writing by Will Dunham; Editing by Frances Kerry)
This story has not been edited by Firstpost staff and is generated by auto-feed.
Find latest and upcoming tech gadgets online on Tech2 Gadgets. Get technology news, gadgets reviews & ratings. Popular gadgets including laptop, tablet and mobile specifications, features, prices, comparison.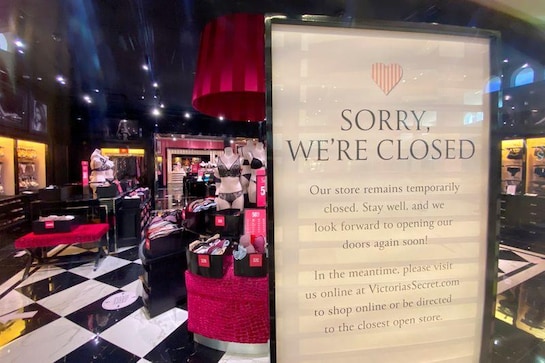 Business
By Howard Schneider WASHINGTON (Reuters) - The explosive surge in U.S. coronavirus cases this fall has left a question hanging: When will the economy take its own turn for the worse
Business
FRANKFURT/WASHINGTON (Reuters) - The heads of the Federal Reserve and the European Central Bank welcomed the encouraging results in trials of a vaccine candidate for the novel coronavirus but stressed that the economic outlook will remain uncertain. Fed chair Jay Powell and ECB President Christine Lagarde said the economy was still in for a tough time even if the development of a potential vaccine by U.S. drugmaker Pfizer and German partner BioNTech SE was reason for some optimism further ahead
Business
By Sumita Layek (Reuters) - India's fuel consumption in October registered its first year-on-year increase since February, as slowing coronavirus cases and increased mobility accelerated an economic recovery, data showed on Thursday.