Azerbaijan says 2,783 of its soldiers killed in Karabakh conflict
MOSCOW (Reuters) - Azerbaijan said on Thursday that 2,783 of its soldiers were killed during its conflict with ethnic Armenian forces over the enclave of Nagorno-Karabakh, and that more than 100 of its troops were still missing. Azerbaijan had until now not disclosed any of its military losses in the conflict that erupted on Sept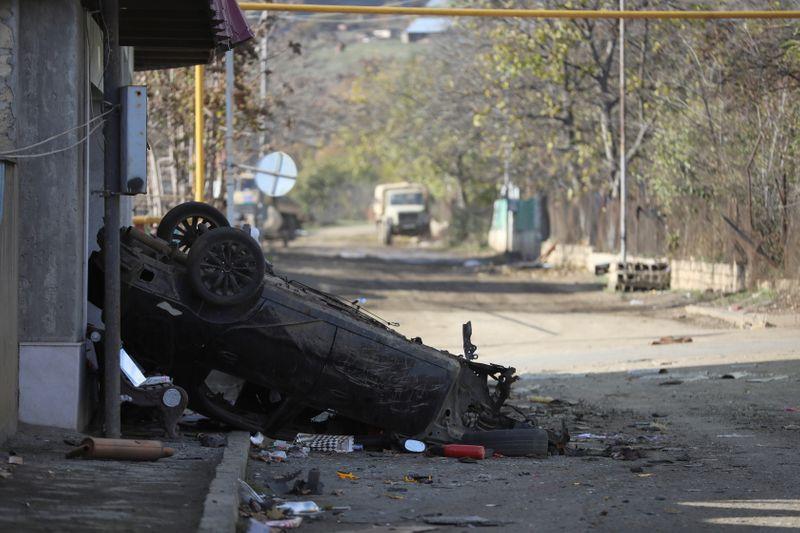 MOSCOW (Reuters) - Azerbaijan said on Thursday that 2,783 of its soldiers were killed during its conflict with ethnic Armenian forces over the enclave of Nagorno-Karabakh, and that more than 100 of its troops were still missing.
Azerbaijan had until now not disclosed any of its military losses in the conflict that erupted on Sept. 27 and came to a halt on Nov. 10 when a Russian-brokered peace deal ushered in a ceasefire.
Swathes of territory in Nagorno-Karabakh previously controlled by ethnic Armenians were handed over to Azerbaijan, whose forces had captured territory including areas that Baku lost in an earlier war in the 1990s.
Armenia has not yet disclosed a final death toll for its military, but a health ministry official confirmed on Nov. 14 that 2,317 soldiers had been killed.
(Reporting by Anton Kolodyazhnyy in Moscow and Nvard Hovhannisyan in Yerevan; Writing by Tom Balmforth; Editing by John Stonestreet)
This story has not been edited by Firstpost staff and is generated by auto-feed.
Find latest and upcoming tech gadgets online on Tech2 Gadgets. Get technology news, gadgets reviews & ratings. Popular gadgets including laptop, tablet and mobile specifications, features, prices, comparison.
World
By William James LONDON (Reuters) -British Prime Minister Boris Johnson said on Sunday tougher lockdown restrictions were probably on the way as COVID-19 cases keep rising, but that schools were safe and children should continue to attend where permitted. COVID-19 cases in Britain are at record levels and the increase in numbers is fuelled by a new and more transmissible variant of the virus
World
By Maher Nazeh BAGHDAD (Reuters) - Tens of thousands of supporters of Iranian-backed Iraqi paramilitary groups chanted anti-American slogans in central Baghdad on Sunday to mark the anniversary of the U.S. killing of Iranian general Qassem Soleimani and an Iraqi militia commander.
World
By Nathan Layne and Joseph Ax CUTHBERT, Ga. (Reuters) -Control of the U.S. Senate – and with it, the likely fate of President-elect Joe Biden's legislative agenda – will be on the ballot on Tuesday when voters in Georgia decide twin runoff elections