Austrian leader calls crisis meeting after deputy filmed discussing deals
By Kirsti Knolle VIENNA (Reuters) - Austrian Chancellor Sebastian Kurz called a crisis meeting late on Friday after two German newspapers published footage purportedly showing his deputy discussing state contracts with a potential Russian backer in return for political support. Vice-Chancellor Heinz-Christian Strache was filmed talking about the contracts with someone posing as the niece of a Russian oligarch in Ibiza in July, 2017, months before parliamentary elections, Der Spiegel and Sueddeutsche Zeitung said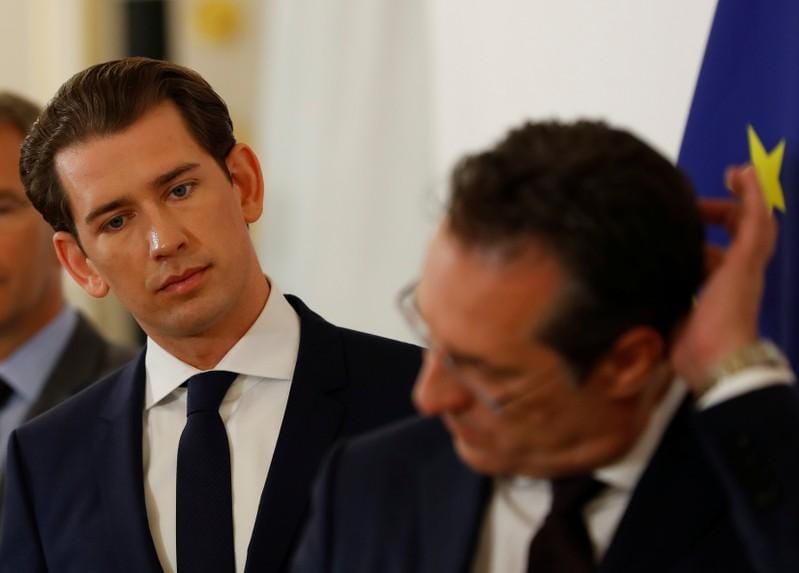 By Kirsti Knolle
VIENNA (Reuters) - Austrian Chancellor Sebastian Kurz called a crisis meeting late on Friday after two German newspapers published footage purportedly showing his deputy discussing state contracts with a potential Russian backer in return for political support.
Vice-Chancellor Heinz-Christian Strache was filmed talking about the contracts with someone posing as the niece of a Russian oligarch in Ibiza in July, 2017, months before parliamentary elections, Der Spiegel and Sueddeutsche Zeitung said.
Strache did not reply to a request for comment on the video. Reuters was not able to verify the authenticity of the footage independently, and the German newspapers did not say how they obtained it.
Kurz planned to make a statement on the case on Saturday, a government source told Reuters. The opposition called for Strache to resign.
Strache is head of the far-right Freedom Party (FPO), which became junior partner in a coalition with Kurz's conservatives in December 2017 after winning 26 percent of the votes in the October elections.
The FPO's General Secretary, Christian Hafenecker, said the party's lawyers were evaluating the material.
Neither Strache nor the Freedom Party ever received or granted any benefits from the persons concerned, Hafenecker said in a statement.
"Since the video was obviously recorded illegally, we are also preparing appropriate legal steps."
The footage, parts of which were posted by the newspapers, showed Strache and party colleague Johann Gudenus with the woman in a room in what the newspapers said was a villa in Ibiza.
The woman said she wanted to invest several hundred million euros in Austria, according to the newspapers.
Strache and Gudenus discussed investment opportunities for her, including taking over a 50 percent stake in Austria's influential tabloid Kronen Zeitung and using it to support Strache and the FPO party in the election.
Gudenus was not immediately available for comment.
"If she takes over the Kronen Zeitung three weeks before the election and get us into first place, then we can talk about everything," Der Spiegel quoted Strache as saying in the video.
Strache held out the prospect of awarding her public contracts in road construction if she helped the Freedom Party succeed, according to the video.
Vienna prosecutors said they would study the reports and decide whether there was sufficient cause to open an investigation, a spokeswoman for the prosecutors said.
(Reporting by Kirsti Knolle)
This story has not been edited by Firstpost staff and is generated by auto-feed.
Find latest and upcoming tech gadgets online on Tech2 Gadgets. Get technology news, gadgets reviews & ratings. Popular gadgets including laptop, tablet and mobile specifications, features, prices, comparison.
Business
By Howard Schneider WASHINGTON (Reuters) - A rebounding stock market and massive federal aid payments pushed the net worth of U.S. households back to pre-coronavirus levels in the second quarter, the Federal Reserve reported on Monday, with savings accounts and equity portfolios both rising sharply despite the pandemic
Business
By Rodrigo Campos NEW YORK (Reuters) - Stocks across the world hit their lowest in seven weeks and other risk assets sold off on Monday on concerns over renewed lockdown measures in Europe and Britain, as well as the United States' inability to agree on fiscal stimulus that would support millions of unemployed. Oil prices fell nearly 5%, the dollar rallied and an index of emerging market currencies fell by the most in six months. The MSCI world equity index , which tracks shares in 49 countries, touched its lowest since Aug.
Business
By Rodrigo Campos NEW YORK (Reuters) - Stocks across the world hit their lowest in seven weeks and other risk assets also sold off on Monday on concerns over renewed lockdown measures in Europe and Britain, as well as the United States' inability to agree on fiscal stimulus that would support millions of unemployed. Oil prices fell more than 3%, the dollar rose against a basket of peers and an index of emerging market currencies fell by the most in six months. The MSCI world equity index , which tracks shares in 49 countries, ended at its lowest since Aug