Australian PM meets state and territory leaders under pressure from vaccine shift
SYDNEY (Reuters) - Australia's federal government faces a tense meeting with state and territory leaders on Friday after an abrupt change to the country's vaccination program triggered by a recommendation that people under 50 take Pfizer's COVID-19 vaccine rather than AstraZeneca's shot. Late the previous day, Prime Minister Scott Morrison said the policy shift, which was based on possible links between AstraZeneca's shot and rare cases of blood clots, would delay Australia's inoculation plans which were already behind schedule due to a supply shortage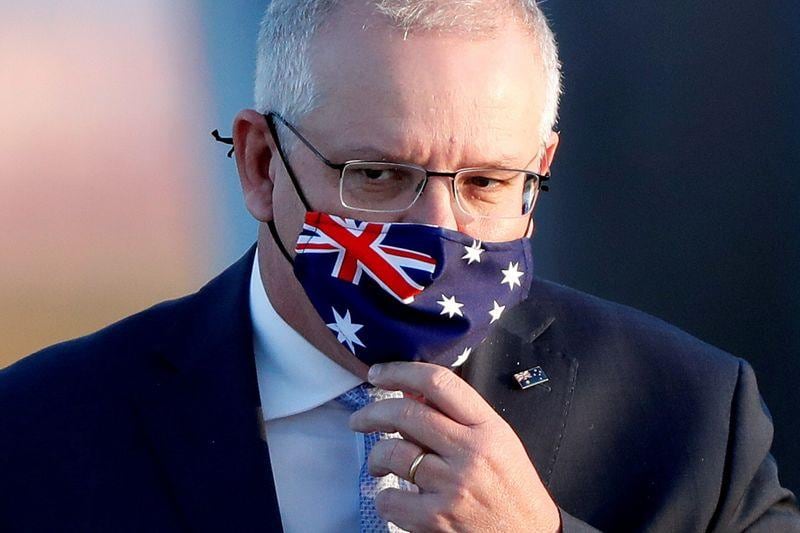 SYDNEY (Reuters) - Australia's federal government faces a tense meeting with state and territory leaders on Friday after an abrupt change to the country's vaccination program triggered by a recommendation that people under 50 take Pfizer's COVID-19
vaccine rather than AstraZeneca's shot.
Late the previous day, Prime Minister Scott Morrison said the policy shift, which was based on possible links between AstraZeneca's shot and rare cases of blood clots, would delay Australia's inoculation plans which were already behind schedule due to a supply shortage.
Australia had ordered 20 million doses of the Pfizer vaccine, enough for 10 million of its population of nearly 26 million, but had banked on the AstraZeneca vaccine for the majority of shots with biopharma CSL Ltd contracted to make 50 million doses domestically.
On Thursday the Australian authorities changed their recommendation after European regulators reiterated the possibility of links between AstraZeneca's shot and reports of very rare cases of blood clots. Plans to have the entire population vaccinated by the end of October would be pushed back as a result, Morrison said.
"There will be specific discussions about the reopening of Australia at the National Cabinet today," Chief Medical Officer Paul Kelly told the Australian Broadcasting Corp on Friday.
The government would rethink its vaccination timeline based on the new policy but "for young people and indeed for all Australians the benefits of the vaccine program far outweigh any risks and that continues to be the case," Kelly added.
After a hardline response to the coronavirus
largely stopped community transmissions, the vaccination rollout has become a hot political topic - and a source of friction between Morrison and state and territory leaders - after the country missed a target of having four million people vaccinated by end-March.
Australia began vaccinations much later than some other nations because of its low number of infections, which stand at just under 29,400, with 909 deaths, since the pandemic began.
(Reporting by Byron Kaye; Editing by Christopher Cushing)
This story has not been edited by Firstpost staff and is generated by auto-feed.
Business
(In first paragraph, fixes hyperlink to story) By Katanga Johnson WASHINGTON (Reuters) -U.S.
Business
By Ben Klayman DETROIT (Reuters) - General Motors Co's marketing and promotional spending will return to normal levels after the COVID-19 pandemic caused that budget to drop last year, the U.S. automaker's top marketing officer said on Monday. "What we went through in the pandemic was certainly severe and we should be moving back up to our normalized levels," GM Chief Marketing Officer Deborah Wahl said in an online appearance at a Reuters Events conference.
Business
By Nandita Bose WASHINGTON (Reuters) - U.S. President Joe Biden will urge Congress to invest $50 billion in semiconductor manufacturing and research when he meets with top executives from nearly 20 major companies on Monday about the global chips shortage that has roiled the automotive industry and technology firms. The push is part of his broader focus on rebuilding U.S