Austin bombings suspect identified as Mark Anthony Conditt; officials warn he may have planted more bombs
A white man, identified by US media as Mark Anthony Conditt, suspected of carrying out a series of deadly parcel bombings in the Texas state capital Austin blew himself up easing tensions in a city that has been on edge for weeks.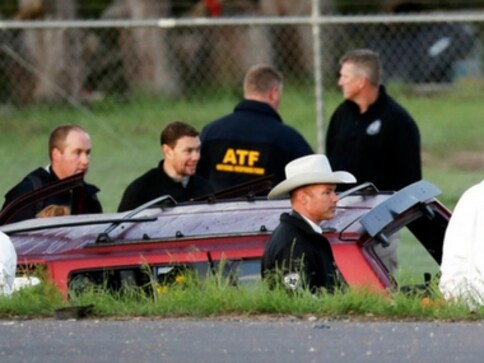 Austin: A white man suspected of carrying out a series of deadly parcel bombings in the Texas state capital Austin blew himself up early Wednesday as police closed in — easing tensions in a city that has been on edge for weeks.
Police surrounded the man — identified by US media as Mark Anthony Conditt — outside a hotel in the suburbs of Austin, where two people were killed and several others injured in the bombings that began on 2 March.
The suspect detonated a device in his car and later died, Austin police chief Brian Manley told an early morning news conference after the dramatic end to the massive manhunt involving hundreds of federal agents and local police.
Police zeroed in on the suspect — believed responsible for five explosions — over the past 24 to 36 hours as evidence came in from video footage and witness accounts, Manley said.
"The suspect is deceased," the police chief said. "It has been a long almost three weeks for the community of Austin."
Police said the suspect was 24, but some reports citing public records said he was 23.
While the search for the bomber is now at an end, authorities warned that he may have planted other explosives before his death. And the motive behind the attacks remains unknown.
"The investigation continues because there's still outstanding questions," city mayor Steve Adler told CNN. "We don't know where the suspect has been the last 24 hours."
Manley noted it was still unclear whether the man was acting alone or with accomplices.
Fred Milanowski, a senior officer at the Bureau of Alcohol, Tobacco, Firearms and Explosives (ATF), warned that the danger was not yet over.
"We want to make sure that if people see suspicious packages or bags, that they continue to call 911 so that we can respond and deal with them," Milanowski said.
President Donald Trump offered his congratulations to police, writing on Twitter:
AUSTIN BOMBING SUSPECT IS DEAD. Great job by law enforcement and all concerned!

— Donald J. Trump (@realDonaldTrump) March 21, 2018
'A little shaken up'
CBS affiliate KEYE in Austin published what it said were photos taken from security cameras of the suspect, wearing a blue baseball cap, gloves and possibly a wig of long, straw-blond hair as he dropped off packages Sunday at a FedEx office in Austin.
One of the bombs went off early Tuesday at a FedEx sorting facility in Schertz, south of Austin.
On Wednesday, a contingent of law enforcement officers were seen Wednesday morning at a home in the Austin suburb of Pflugerville. Television station KXAN reported that the property may be the residence of the suspected bomber.
Residents of Austin have lived under siege for three weeks. They placed more than 1,200 calls to police to report suspicious activities and items since investigators first realized last week that they were dealing with a serial bomber.
"I think everybody is taking a deep breath this morning. It's a little tempered by the fact that the investigation is not over yet," Adler said.
Miguel Alvarado, who was heading to a park with his son in Austin, said: "People are a little shaken up."
Ben Burroughs, who lives near the FedEx store where the suspect mailed the last two explosive packages, said he was concerned about what police may yet find.
"I'm also nervous about the devices that may still be out there," he said.
Grief
As life in Austin, a city of nearly one million people, was likely to return to normal in the coming days, some families and neighborhoods have been permanently altered.
The first explosion on 2 March killed Anthony Stephan House — a 39-year-old who grew up in the city and the father of an eight-year-old girl.
House had started a money management company and worked as a project manager for two Texas-based firms.
The second blast on 12 March killed 17-year-old Draylen Mason and critically injured his 41-year-old mother. Mason was a high school senior and a young musician, who played in a youth orchestra and was headed to college.
"There's a sense of grief about what happened," said one Austin resident who did not want to be identified. "It changes your sense of safety."
Bombs evolved
As the investigation proceeded, police said that the bombs were growing increasingly sophisticated.
The first three were hand-delivered to the doorsteps of people's houses. The fourth featured a trip wire, and the fifth was sent via the FedEx delivery chain.
In the end, police had offered a reward of $115,000 for information leading to an arrest.
Trump had weighed in on the "terrible" wave of bombings for the first time on Tuesday, saying "a very, very sick individual or maybe individuals" were behind the explosions.
Entertainment
Netflix's DO REVENGE is a tasty mixture of high school clique action and the classic Hitchcock film Strangers on a Train, one of the most influential films of the 21st century.
Entertainment
The film is a teen revenge drama set against the backdrop of high school shaming and ostracising.
World
In 2018 Alabama became the third state — along with Oklahoma and Mississippi — to authorise the untested use of nitrogen gas to execute prisoners