Aung San Suu Kyi's visit to China ahead of India a balancing act: Chinese media
Myanmar's leader Aung San Suu Kyi's visit to China ahead of India shows her wish to strike a 'balance' among major powers, state-run Chinese media said.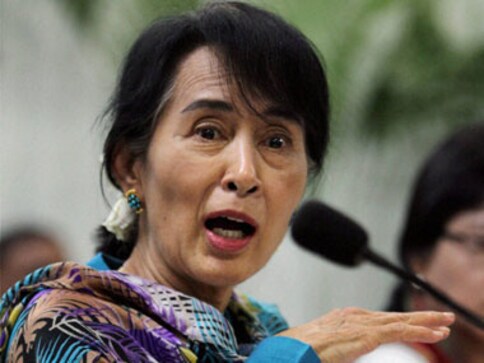 Beijing: Myanmar's leader Aung San Suu Kyi's visit to China ahead of India shows her wish to strike a "balance" among major powers, state-run Chinese media said on Tuesday and called on the Communist nation to broaden base ties with Myanmar, not relying on military alone.
Referring to Japanese media reports that India's position in Myanmar's diplomacy will outweigh China, an article in the state-run Global Times said Suu Kyi's visit to China last week "shows that China seems to be more significant than India in Myanmar's diplomacy".
"Yet in June, (State Counsellor and Foreign Minister) Suu Kyi expressed her wish to visit India during her meeting with VK Singh, India Minister of State for External Affairs," it said.
"Suu Kyi has chosen China for her first overseas trip outside ASEAN probably not because she is emotionally close to Beijing, but out of Myanmar's domestic politics and national interests. She will lead the country to seek a balance among major powers," the article co-inciding with the just-concluded visit of External Affairs Minister Sushma Swaraj to Myanmar said.
While China laid the red carpet for her, making a strong push for Myanmar to revive the stalled USD 3.6 billion Myitsone dam, Suu Kyi during the five-day visit sought China's help for Myanmar's peace process with a number of rebel groups, some of whom are ethnic Chinese outfits who received support from across the border.
The article, written by a state-run think tank said, "like China, India is one of few countries that kept a close relationship with the Myanmese government during the military rule. Yet Suu Kyi was never a fan of New Delhi's dual-track policy - supporting democratic forces and meanwhile having close ties with the military junta. She believes that India, the largest democratic country in the world, should not have kept a distance from Myanmar's democratic forces during the latter's democratisation."
The ties between Myanmar and India are full of peculiarity, complexity, and versatility due to historical connections, "as they face problems including border disputes, cross-border ethnic minorities and Indians in Myanmar, their relations have been far from smooth," it said.
"But for Myanmar, enhancing ties with India can help counterbalance China's influence in Myanmar and also develop its economy by using Indian investment," it said.
"Compared with China, India has advantages in developing relations with Myanmar. They share a lot in culture, religion and democratic values, and their high-level officials have had close relationship for a very long time.
"For instance, Suu Kyi's mother used to be Myanmar's Ambassador to India. Suu Kyi spent her adolescence in the country and graduated from University of Delhi. Apart from that, many other democratic activists have been supported and protected by India," it said.
The Myanmese people have strong sense of self-esteem and independence and they stick to the five principles of peaceful coexistence, pursue a non-aligned independent international status and hope to develop friendly relation with all countries, especially with their neighbours, it said.
The article said that as a pragmatic statesperson, Suu Kyi will lead Myanmar to balance among powers like the US, Japan, China and India and maximise the country's interests, "without completely tilting to any side".
Also Myanmar is quite special in Indian diplomacy.
"Due to its location, Myanmar is considered by India as a buffer state between it and China and therefore cannot be controlled by major powers like China," it said.
Myanmar is a crucial link to Bangladesh-China-India-Myanmar Economic Corridor, which is part of Beijing's Silk Road plan and has worked jointly with China on oil and natural gas pipelines and port construction, it said.
"India is thus worried that Myanmar may become a convenient corridor for China to come and go in the Indian Ocean, which can hence threaten India's national security and its peculiar interests in the waters," it said.
Myanmar is also a gateway for India's Look East Policy toward both East Asia and Southeast Asia.
Connectivity between the two is therefore crucial to a stronger economic, political and cultural relationship between India and Asean.
"As there are a large number of cross-border ethnic groups and rebels from Northeast India have military bases in Myanmar, relations with Myanmar matter a lot to the security of Northeast India," it said.
"Moreover, Myanmar, which has abundant oil and natural gas, is important to India that suffers energy shortages. With Myanmar's economic reforms and the lifting of the West's economic sanctions, the Myanmese market has become far more attractive to Indian companies," it said.
In an apparent reference to China's long-backing for Myanmar's military junta which kept Suu Kyi in house detention for over one-and-a-half decade, the article said "China needs to learn the lessons these things teach."
"The Chinese government must keep contact with both Myanmar's government and people. Beijing should also increase guidance for non-governmental organisations abroad and student exchanges to promote people-to-people exchanges and boost the friendship between the two sides," it said.
World
ABMs are surface-to-air weapons designed to intercept and destroy missiles which use a ballistic flight trajectory to deliver nuclear, chemical, biological, or conventional warheads
India
Vietnam is an important player in India's Act East policy and also its Indo-Pacific vision
World
The outbreak in Anhui comes as the Chinese economy begins to rebound from a months-long lockdown in Shanghai and disruptive COVID-19 restrictions in the capital Beijing