Attacker with sword kills two, injures five in Quebec stabbings
By Kevin Dougherty QUEBEC CITY, Canada (Reuters) - Two people were killed and five wounded after being stabbed by a man dressed in medieval clothes and wielding a sword, Quebec police said on Sunday, noting the attack appeared to be driven by personal motives and not linked to any terror group. Police arrested a 24-year-old man from Montreal early on Sunday morning, Quebec Police Chief Robert Pigeon said at a news conference. 'Dressed in medieval costume and armed with a Japanese sword, everything leads us to believe he chose his victims at random,' Pigeon said, adding that preliminary information indicated the man was not affiliated with any terror group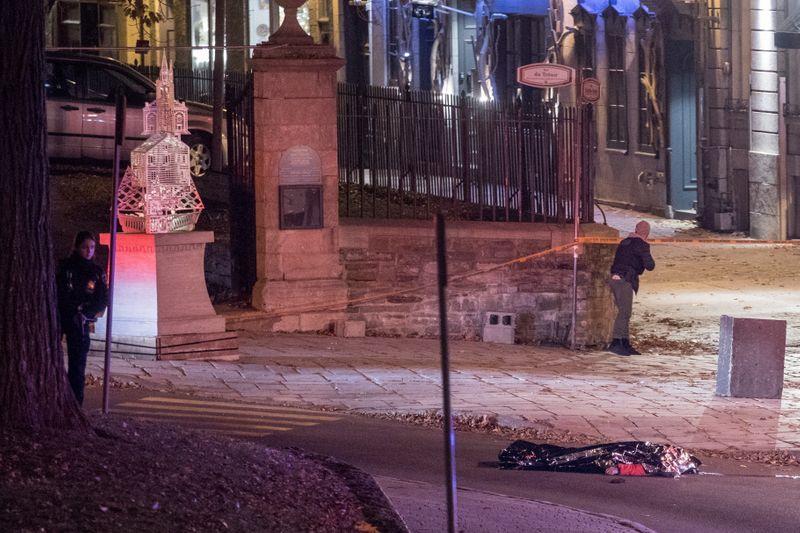 By Kevin Dougherty
QUEBEC CITY, Canada (Reuters) - Two people were killed and five wounded after being stabbed by a man dressed in medieval clothes and wielding a sword, Quebec police said on Sunday, noting the attack appeared to be driven by personal motives and not linked to any terror group.
Police arrested a 24-year-old man from Montreal early on Sunday morning, Quebec Police Chief Robert Pigeon said at a news conference.
"Dressed in medieval costume and armed with a Japanese sword, everything leads us to believe he chose his victims at random," Pigeon said, adding that preliminary information indicated the man was not affiliated with any terror group.
Pigeon said the suspect had come prepared to inflict as much damage as possible but did not elaborate. Quebec newspaper Le Soleil said the suspect had gasoline containers in his car. Pigeon declined to comment on the report.
The incident began late Saturday night, on Halloween, inside the city's famed walled center. Police told nearby residents to stay indoors and made an arrest after a three-hour manhunt.
"It is once again, and we believe, an isolated act," Quebec City Mayor Regis Labeaume told reporters. "We need to have a societal debate on the subject (of mental health) because it is becoming more and more difficult to manage."
In 2017, a Canadian man gunned down six members of a Quebec City mosque and was later sentenced to life in prison.
Quebec's police chief said on Sunday that the suspect had spoken of conducting an attack "in a medical context" five years ago but was not known to police and did not have a criminal record.
(Additional reporting by Bhargav Acharya in Bengaluru; Editing by Toby Chopra and Lisa Shumaker)
This story has not been edited by Firstpost staff and is generated by auto-feed.
Find latest and upcoming tech gadgets online on Tech2 Gadgets. Get technology news, gadgets reviews & ratings. Popular gadgets including laptop, tablet and mobile specifications, features, prices, comparison.
World
ADDIS ABABA/NAIROBI (Reuters) - Ethiopia's military is fighting battle-hardened troops in the northern Tigray region, threatening stability around the Horn of Africa. Here are some facts on the forces: THE NATIONAL MILITARY: THE ENDF The Ethiopian National Defence Force (ENDF) has around 140,000 active personnel, the vast majority of them in the army, according to the Janes security data group. Its troops have been tested by Islamist militants in Somalia and rebel groups in Ethiopia's border regions, as well as a two-year border war with Eritrea followed by an 18-year standoff that only ended in 2018.
World
ISTANBUL (Reuters) - Turkey's President Tayyip Erdogan said on Tuesday that the government will impose tighter measures to fight with the coronavirus and impose partial lockdowns on weekends across the country. Speaking after the cabinet meeting, Erdogan also said all schools will remain closed until the year-end and all restaurants will only work by delivery
World
BRASILIA (Reuters) - Brazilian President Jair Bolsonaro said on Tuesday his government in coming days will name countries that are importing wood illegally extracted from the Amazon. Addressing a BRICS summit of big developing economies, Bolsonaro said Brazilian police had developed a way of tracking wood exported from the Amazon using isotopes.