Pakistan has found itself in a snake pit after its abysmal failure to prevent an audacious terror attack on an airborne military helicopter in a disputed territory in the north on Friday in which several foreign diplomats and their wives were killed.
The downing of the Pakistani military helicopter in Gilgit and prompt claim of responsibility for the act by Tehreek-e-Taliban, Pakistan (TTP) is a rude dampener for the government of Prime Minister Nawaz Sharif which has of late been trying to attract foreign investment in the country.
The incident sends a curt message to China also. Chinese President Xi Jinping was on a maiden official visit to Pakistan recently and during the trip the two countries had signed 52 agreements and China had pledged to pour in $45 billion worth of investment in several infrastructure projects in Pakistan.
An embarrassed Pakistan tried to downplay the crash and their defence minister Khwaja Asif said the helicopter crashed in Naltar Valley after it developed a technical fault. However, TTP spokesman Muhammad Khorasani not only promptly claimed responsibility for the act but also  said that Nawaz Sharif was the actual target of the attack.
"A special group of Tehreek-e-Taliban Pakistan had prepared a special plan to target Nawaz Sharif during his visit but he survived because he was travelling in another helicopter," Khorasani said.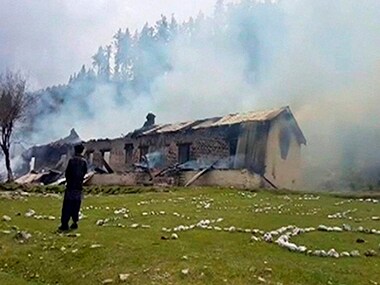 Pakistani PMO issued a statement contesting TTP's claim and said that Sharif was on a plane -- not helicopter -- en route to the Gilgit area at the time of the incident, but returned to Islamabad as soon as the news of the crash broke.
Incidentally, the Indian intelligence establishment, which is  keeping a close eye on the developments, told Firstpost  that they too had no inputs to prove that Sharif was the actual target of the TTP terrorists.
One loud and clear message from the incident is that Pakistan has become an extremely unsafe country and no region under its control is safe from the clutches of terrorists, many of whom are Pakistan's own creation.
Pakistan has been avoided by cricket playing countries ever since the Sri Lankan national team was ambushed and fired upon by terrorists in Lahore on 3 March, 2009. Luckily, no Sri Lankan cricketer was killed, though six of them were injured.
The six Sri Lankan cricketers who escaped with minor injuries were: Mahela Jayawardene (captain), Kumar Sangakkara (vice-captain), Thilan Samaraweera, Tharanga Paranavitana, Ajantha Mendis and Chaminda Vaas.
In May 2002, New Zealand abandoned their Test series in Pakistan after a suicide bomb attack outside their hotel.
But now even foreign diplomats will be thinking twice in venturing out of the sanitized and highly fortified VVIP zone of capital Islamabad.
The biggest strategic fallout of Friday's Gilgit attack is the growing footprint of the TTP. This is the second high-profile attack by TTP in Gilgit in less than two years, both aimed at foreigners.
If Pakistan had projected to the international community that jihadist forces had been contained in the lawless tribal region on Pakistan-Afghanistan border, today's attack has deflated Pakistan's civil and military establishments.
On 22 June, 2013 the TTP had killed ten foreign mountaineers in Nanga Parbat in Gilgit-Baltistan when 16 militants, dressed in Gilgit Scouts uniform had stormed the high-altitude mountaineering base. Three of the ten killed climbers were from Ukraine, two were from China, one Chinese-American, two others from Slovakia, one from Lithuania, and one from Nepal.
The kind of planning and preparation that went into the Nanga Parbat attack was demonstrated by the fact that the site of the attack is 4200 metres above sea-level (Nanga Parbat is the world's ninth highest mountain) and can be approached only by foot or on horseback.
The TTP has demonstrated that its reach is no longer limited to Af-Pak border regions and has infiltrated into other geographical territories, which are   under the administrative control of Pakistan.
China will be watching the rise of TTP anxiously. The downing of Pakistani military chopper in Gilgit will inevitably put a dampener on Chinese government's zeal to pour in billions of dollars in infrastructure projects in Pakistan.
Last, but not the least, the Gilgit incident once again proves that Pakistan's biggest enemy is not India but its own Frankenstein monsters. Today it may be TTP, tomorrow it will be Lashkar e Toiba and day after some other outfit.
Moral of the story: the ball is once again in the court of Pakistani military establishment to acknowledge this fact and take corrective actions rather than tying itself in knots over the 'good-terrorist, bad-terrorist' subterfuge.
------------
*The writer is FirstPost Consulting Editor and a strategic analyst who tweets @Kishkindha.
Your guide to the latest cricket World Cup stories, analysis, reports, opinions, live updates and scores on https://www.firstpost.com/firstcricket/series/icc-cricket-world-cup-2019.html. Follow us on Twitter and Instagram or like our Facebook page for updates throughout the ongoing event in England and Wales.
Updated Date: May 09, 2015 08:15:57 IST