At World Economic Forum, IMF meetings, future of jobs driving agenda and converge of leaders
Demographic dividend is a flashy word but with it comes the other dull sounding expression: dependancy ratio. The number of people who are dependant on the working age population - children and the elderly - is falling in India faster than it ever has.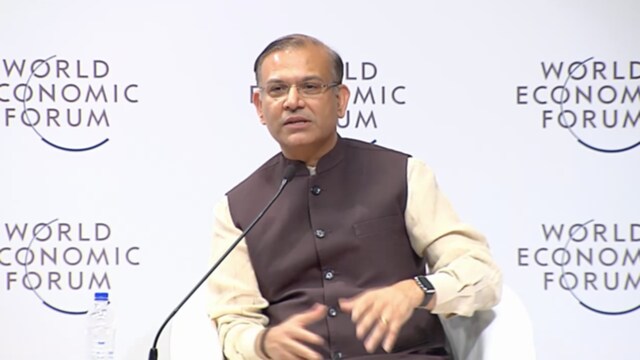 There's a clutch of back-to-back economy gab fests across continents this season and there's one India/Asia -related graph that's doing the rounds on multiple blogs, Twitter handles and 'scholarly' papers. Take a look, it's kind of cool.
This one's from India's chief economic adviser Arvind Subramanian's Twitter handle, the GIF is based on data by the US Census Bureau and visualised like a shape shifting, sometimes bulbous nib of a fountain pen.
The economist who visualised the data is an MSc in Economics from Lund University, he's looking for work, "Hire me" says his webpage. The Twitter account which sent it out into the ether is of a former Bridgewater employee, and where we found it is on Arvind Subramanian's Twitter timeline, right on top.
Soon enough, the GIF has also found its way into a paper on "8 things you need to know about India's economy" written by a "freelance writer" and is getting prime play on the World Economic Forum landing page.
Taken in isolation, and purely for its symptomatic value, the urgent questions in this elaborate flow of data, without frontiers, from an economist who's very much a part of the gig economy to the topmost economic adviser to the Indian government and then back into a freelance writer's paper are the shiny new objects in all speechifying worldwide - the future of jobs and shifting demographic patterns, taken together. The autumn meetings of the IMF are no exception, neither is the the WEF India Economic Forum that's on in India.
Jayant Sinha said it well in his opening remarks during the "India at 2022" session at WEF: "When I was running for election in 2014, the newspapers headlined my story 'Harvard to Hazaribagh'. If we start with this elite mindset, that we need to get people to go from Harvard to Hazaribagh, friends…that's not going to happen. We have to see how to get people from Amethi and Rae Bareilly to Harvard. That is the personal journey we have to focus on. We have to start at the grassroots and equip them at scale. That is the challenge before us. Not top down."
"The term inequality hides many meanings. Everybody in this audience probably has a job. 90% of Indians are worried about having a stable job. How is it that we are going to reduce the anxiety and fear of being a 'have not' and bringing them into secure stable employment? Looking at the nature of jobs in the future, we may very well have a future where there may be a small number of people having stable, secure jobs and a vast majority of people who may be in employments of various kinds - a driver at Ola, or an Amazon delivery person or you're running a beauty parlour. What does that mean for people's aspirations and expectations? What kind of jobs do people in rural areas want?"
"That is the existentialist angst that many societies are facing, not just India. To be able to be cognitively equipped for this, that is the real task in front of us."
Absolutely.
So, to come back to that GIF we started with - Arvind Subramanian brings refinement and erudition within the constraints of the Twitter top sheet, explaining the demographic pattern vis a vis the dependancy ratio eloquently and directs us to the Economic Survey's very first chapter:
"(This) demographic pattern will have two important growth consequences. First, it seems that the peak of the demographic dividend is approaching fast for India. Figure
28A shows that this peak will be reached in the early 2020s for India as a whole; (Figure 28B) shows that peninsular India will peak around 2020 while hinterland India will peak later (around 2040)."
"Table 3, based on the methodology in Mody and Aiyar (2011), calculates the estimated demographic dividend for India (the additional growth due to demographic factors alone) for the previous decade and for the next four. The magnitudes peak in 2011-20 at 2.6 percentage points and start declining thereafter. The incremental growth boost in the 2020s, for example, is estimated to be about 1.8 percentage points. In other words, India will approach, within four years, the peak of its demographic dividend. (Note: this does not mean that the demographic dividend will turn negative; rather, the positive impact will slow down.)"
The growth boost from the demographic dividend is likely to peak within the next ve years, as India's share of working age population plateaus. However, India may not see the sharp growth decelerations experienced by the East Asian countries because its working age ratio will fall much more gradually than those in other countries. In addition, the sharp demographic differences between peninsular India and hinterland India will generate wide differences in the timing of the peak, as well as opportunities to attenuate demographic imbalances via greater labour mobility (see Chapter 12). Even so, the urgency of reforms to maximise this soon-to-recede dividend cannot be overstated.
Even the reply thread on the exchange is instructive; it drills down to the same anxiety that Jayant Sinha speaks about.
And so on…
Demographic dividend is a flashy word but with it comes the other dull sounding expression: dependancy ratio. The number of people who are dependant on the working age population - children and the elderly - is falling fast.
The trajectory and the storyline is not unique, many have come before where income growth spiked alongwith similar population patterns.
But like Shergill says the job problem is now.
"If India can provide more high value services, where productivity is much higher and if it can educate workers to do these jobs, it will be able to generate higher incomes for a prolonged period of time simply through the movement of workers from low productiveity sectors to high productivity ones," former RBI governor Raghuram Rajan wrote.
Before he got a new job.
India
Prime Minister Narendra Modi addressed the Indian community in Tokyo on the first day of his two-day visit to Tokyo
World
Sharing the photo, BJP leaders and ministers have expressed their admiration for prime minister Modi and his leadership skills
India
QUAD is a key multilateral alliance consisting of India, Japan, Australia, and the US. It aims to ensure a free, open, and, secure Indo-Pacific