At U.N., U.S. accuses Russia of 'cheating' on North Korea sanctions
By Michelle Nichols UNITED NATIONS (Reuters) - U.S. Ambassador to the United Nations Nikki Haley accused Russia on Monday of 'cheating' on U.N.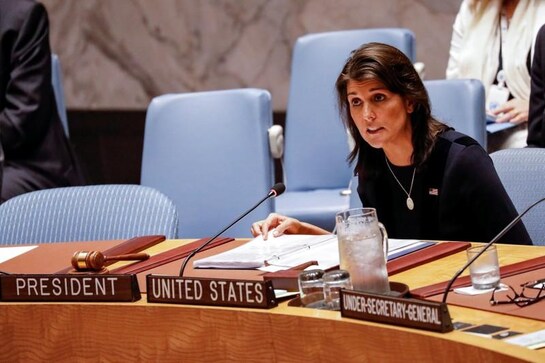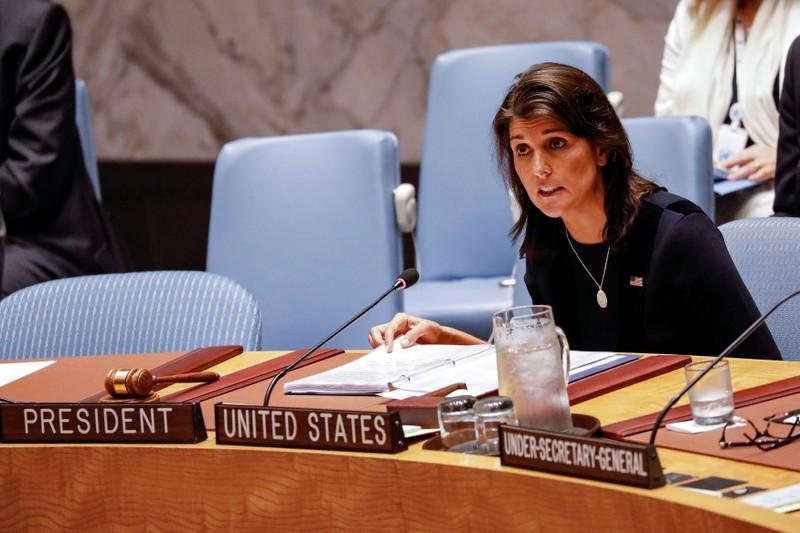 By Michelle Nichols
UNITED NATIONS (Reuters) - U.S. Ambassador to the United Nations Nikki Haley accused Russia on Monday of "cheating" on U.N. sanctions on North Korea and said Washington has "evidence of consistent and wide-ranging Russian violations."
The showdown between the United States and Russia over North Korea publicly showed cracks in the unity of the 15-member U.N. Security Council, which has unanimously boosted sanctions since 2006 in a bid to choke off funding for Pyongyang's nuclear and ballistic missile programs.
Haley told the U.N. Security Council that Russia was helping North Korea illegally obtain fuel through transfers at sea, had refused to expel a North Korean who the council blacklisted last year and had pushed for changes to an independent U.N. report on sanctions violations to cover up breaches by Russians.
Russian U.N. Ambassador Vassily Nebenzia said Moscow had not pressured the authors of the U.N. report and blamed Haley for heightening tensions. He also pointed out that the report had determined that a specific ship-to-ship transfer of fuel by a Russian ship, cited by Haley, was not a violation.
Haley said Washington has tracked some 148 cases this year of oil tankers delivering fuel to North Korea obtained through ship-to-ship transfers at sea in breach of a U.N. cap. She did not say how many transfers may have received Russian help.
"Russia must cease its violations of North Korea sanctions. It must end its concerted effort to cover up evidence of sanctions violations," she said. "Its violations are not one-offs. They are systematic."
Russia and China have suggested the Security Council discuss easing sanctions after U.S. President Donald Trump and North Korean leader Kim Jong Un met in June and Kim pledged to work toward denuclearization.
Haley said that while "difficult, sensitive talks" between the United States and North Korea are ongoing, it was the wrong time to start easing sanctions on Pyongyang.
"It is impossible to come to an agreement if you offer nothing in return for your demands," said Nebenzia, suggesting that a confidence-building measure could be for North and South Korea to sign a peace treaty.
Chinese U.N. Ambassador Ma Zhaoxu said Beijing implements sanctions on North Korea and warned that confronting Pyongyang would be a "dead end." He called for progress in negotiations and urged the Security Council to remain united on the issue.
"Resorting to force will bring nothing but disastrous consequences," Ma told the council.
U.N. political affairs chief Rosemary DiCarlo told the council that while there had been some recent positive developments, "there continue to be signs the DPRK (North Korea)is maintaining and developing its nuclear weapons and ballistic missile programs."
(Reporting by Michelle Nichols; Editing by Jeffrey Benkoe and James Dalgleish)
This story has not been edited by Firstpost staff and is generated by auto-feed.
Business
(Reuters) - Alphabet Inc's self-driving unit Waymo said on Thursday it had partnered with Google's Maps to let users book fully autonomous ride-hailing services through the app.
Business
FRANKFURT (Reuters) - Tesla on Thursday revised its application for a planned gigafactory in Europe to include details for plans to produce battery cells on site and an expansion of other production lines, German officials said. It also includes plans to reduce water consumption so that usage remains constant compared to earlier proposals despite the expansion. Tesla has sharply criticised the lengthy regulatory processes in Germany and has pushed back the factory's opening date.
Business
By Mathieu Rosemain PARIS (Reuters) - U.S. social media giant Facebook has offered to commit to providing its partners with clear and objective conditions of access to advertising inventories and ad campaign data, France's antitrust authority said on Thursday following an investigation.