At U.N., Trump pushes religious freedom at event that slams China over Uighurs
By Michelle Nichols UNITED NATIONS (Reuters) - U.S. President Donald Trump called for an end to religious persecution on Monday at a U.S.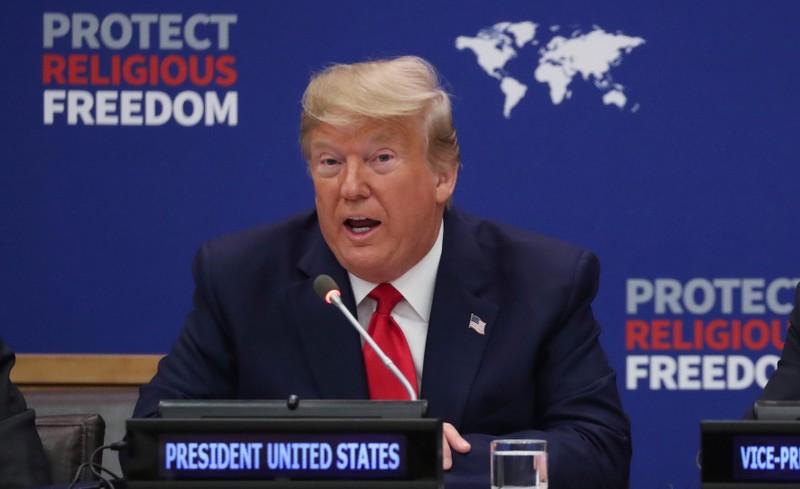 By Michelle Nichols
UNITED NATIONS (Reuters) - U.S. President Donald Trump called for an end to religious persecution on Monday at a U.S. event on the sidelines of the annual gathering of world leaders at the United Nations that featured a woman whose Uighur father has been imprisoned in China.
China has been widely condemned for setting up complexes in remote Xinjiang that it describes as "vocational training centres" to stamp out extremism and give people new skills. The United Nations says at least 1 million ethnic Uighurs and other Muslims have been detained.
Trump did not specifically mention Xinjiang and he left the meeting before the woman, Jewher Ilham, spoke, but Vice President Mike Pence and Secretary of State Mike Pompeo listened as she slammed the Chinese government. Pompeo said her father - a Uighur scholar - is serving a life sentence as a prisoner of conscience.
"Every day millions of Uighurs and other Muslim minorities in China are being abused, drugged and indoctrinated in the government's concentration camps," Ilham told the religious freedom event. "Beijing believes Islam is a sickness to be treated with an iron fist."
In his remarks, Pence briefly criticized China.
"The Communist Party in China has arrested Christian pastors, banned the sale of Bible, demolished churches and imprisoned more than a million Uighurs in the Muslim population," he said.
U.S. Deputy Secretary of State John Sullivan will host a separate event on Tuesday on the "human rights crisis in Xinjiang" in China. The State Department said Sullivan "welcomes global partners in joining the call for China to end the cruel, inhuman, and degrading treatment of the people of Xinjiang."
It was not immediately clear how many countries planned to risk Beijing's wrath by attending Tuesday's event.
China's U.N. Ambassador Zhang Jun said on Friday: "If they simply want to make the issue a political issue, definitely we have every right to defend ourselves and we are completely opposed to any such interference in China's internal affairs."
U.S. Ambassador at Large for International Religious Freedom Sam Brownback signalled the United States, which is already in a trade war with China, could take action.
"We don't preview sanctions or other actions that would take place, but if China continues to conduct this very war on faith, this will be something that will continue to attract a great deal of interest for the United States' concern and action," he said.
Trump announced at the event on Monday a U.S. pledge of $25 million to protect religious freedom sites and relics globally and the formation of a coalition of U.S. businesses for the protection of religious freedom.
"As president, protecting religious freedom is one of my highest priorities and always has been," Trump said. "The United States of America calls upon the nations of the world to end religious persecution."
(Additional reporting by Steve Holland and Humeyra Pamuk; editing by Jonathan Oatis)
This story has not been edited by Firstpost staff and is generated by auto-feed.
Find latest and upcoming tech gadgets online on Tech2 Gadgets. Get technology news, gadgets reviews & ratings. Popular gadgets including laptop, tablet and mobile specifications, features, prices, comparison.
World
(Reuters) -Moderna Inc said on Monday it would produce at least 600 million doses of its COVID-19 vaccine in 2021, up by 100 million doses from its previous forecast, as the United States continues to roll-out the vaccine. The company was working to invest and hire in order to deliver up to 1 billion doses this year, the higher end of its production forecast, it said
World
WARSAW (Reuters) - A skating rink owner in the Polish city of Szczecin believes he has found a way to keep his business open despite coronavirus restrictions - operate as a flower shop instead. His plan is simple - the customer has to purchase access to the flower "warehouse", then chooses from a box of flowers in the middle of the rink. "You can jump, crawl or go on all fours ..
World
By Reuters Staff SANAA (Reuters) - Paralysed and severely malnourished, seven-year-old Faid Samim lies curled up on a hospital bed in the Yemeni capital Sanaa, having barely survived the journey there.  "He was almost gone when he arrived but thank God we were able to do what was necessary and he started improving. He is suffering from CP (cerebral palsy) and severe malnutrition," said Rageh Mohammed, the supervising doctor of the Al-Sabeen hospital's malnutrition ward.