Assad meets Khamenei in first Iran visit since Syrian war began
AMMAN (Reuters) - Syrian President Bashar al Assad made his first public visit to his closest regional ally Iran since the start of Syria's war in 2011, meeting Supreme Leader Ayatollah Ali Khamenei in Tehran on Monday and championing their alliance, state media reported. Syrian and Iranian state television showed footage of Assad and Khamenei smiling and embracing, and Syrian TV said the two leaders agreed 'to continue cooperation at all levels for the interests of the two friendly nations'. Assad regained the upper hand in Syria's war with the help of Russian air power, Iranian and Lebanese Hezbollah forces, retaking all key population centres from rebels and militants backed variously by some Western powers and Gulf Arabs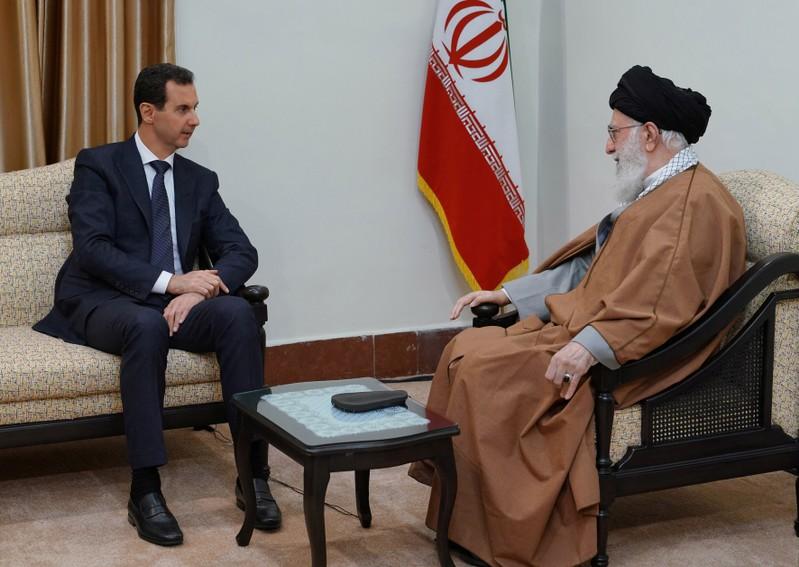 AMMAN (Reuters) - Syrian President Bashar al Assad made his first public visit to his closest regional ally Iran since the start of Syria's war in 2011, meeting Supreme Leader Ayatollah Ali Khamenei in Tehran on Monday and championing their alliance, state media reported.
Syrian and Iranian state television showed footage of Assad and Khamenei smiling and embracing, and Syrian TV said the two leaders agreed "to continue cooperation at all levels for the interests of the two friendly nations".
Assad regained the upper hand in Syria's war with the help of Russian air power, Iranian and Lebanese Hezbollah forces, retaking all key population centres from rebels and militants backed variously by some Western powers and Gulf Arabs. The insurgency against his rule is now seen to have collapsed.
It was Assad's first known foreign visit other than to Russia since the war began, and his first to Tehran since 2010.
Assad was quoted by Syrian state TV as saying he told Khamenei that regional countries should not heed the wishes of Western powers led by the United States to "sow chaos" against Syria and Iran.
"Western escalation will not steer (Iran and Syria) away from defending their own interests," a state television statement quoted Assad as saying.
Iranian state media said Khamenei praised Assad as a hero who had strengthened the alliance between Iran, Syria and Hezbollah.
"The Islamic Republic of Iran sees helping Syria's government and nation as support for the resistance movement (against Israel) and is deeply proud of doing it," Khamenei said, Iranian TV reported.
(Reporting by Suleiman Al-Khalidi, Additional reporting by Parisa Hafezi.; Editing by Mark Heinrich)
This story has not been edited by Firstpost staff and is generated by auto-feed.
World
BAGHDAD (Reuters) - Rockets hit near U.S. forces and contractors in Iraq on Wednesday, including an air base north of Baghdad and a military base at Baghdad International Airport, the Iraqi army and security officials said. The army reported at least three rockets hit Balad air base, where U.S
World
By Silvia Ognibene and Silvia Aloisi FLORENCE, Italy (Reuters) -Italian police have arrested a Chinese couple accused of running a leather goods business which exploited immigrant workers it employed to make handbags for a Burberry supplier, according to an arrest warrant seen by Reuters. Tax police in Florence said in a statement that the two Chinese nationals were arrested on Wednesday as part of an investigation into alleged labour exploitation and tax fraud and that restrictive measures had been imposed on two other family members, including a ban on them leaving Italy
World
WASHINGTON (Reuters) - The United States on Wednesday blacklisted four Nicaraguans, including a daughter of President Daniel Ortega, as Washington warned it would continue to use diplomatic and economic tools against members of the leftist government engaged in repression. The U.S. State Department called on Ortega to release detained presidential candidates as well as other civil society and opposition leaders arrested over the past week in what Washington called "an increasing wave of repression." "There are costs for those who are complicit in the regime's repression.