As war rages, Yemeni girls find strength in kickboxing
SANAA (Reuters) - At the centre of Yemen's capital Sanaa, a city battered by years of war and months of pandemic, a row of young girls in red, white and black white uniforms pummel punching bags and practice self defence. In the corner a mother looks on in pride as a female instructor shows her daughter how to thwart an assailant with a gun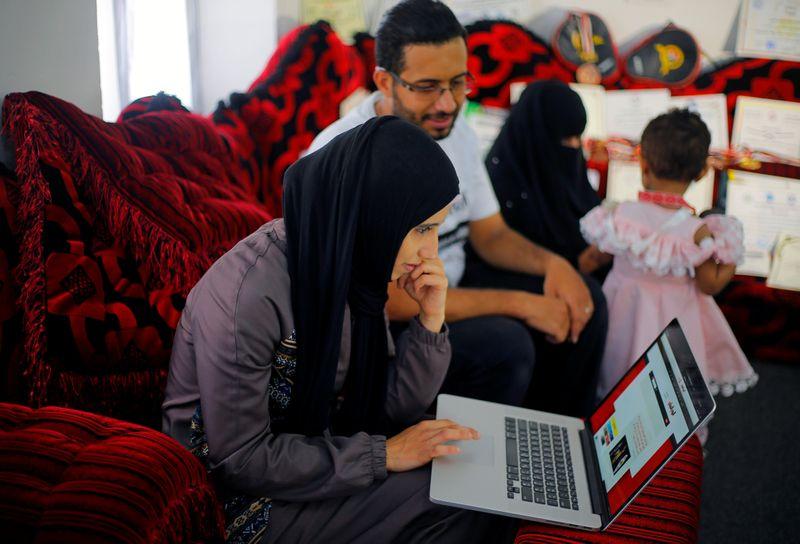 SANAA (Reuters) - At the centre of Yemen's capital Sanaa, a city battered by years of war and months of pandemic, a row of young girls in red, white and black white uniforms pummel punching bags and practice self defence.
In the corner a mother looks on in pride as a female instructor shows her daughter how to thwart an assailant with a gun.
The girls are all students at Academia gym, a project set up by champion Yemeni kickboxer Seham Amer.
"In Yemeni society, people fear for girls," she said. "Many come to train to learn self-defence, others train for fitness."
Amer set up the gym to empower women and girls in the city in 2015, a year after the Iran-aligned Houthi group took over Sanaa and most of north Yemen after ousting the Saudi-backed government of President Abd-Rabbu Mansour Hadi.
The Houthis are now engaged in a running battle with a Saudi-led coalition - a war that has killed more than 100,000 people across Yemen and reduced large parts of the capital to rubble.
But the classes have kept going through the fighting, and through the restrictions imposed to contain the spread of the coronavirus
.
Parts of the programme have even expanded, said Amer, who has won gold and silver medals in international kickboxing competitions, and prizes and certificates in other martial arts.
"Before we had a problem with little girls who stop their training by 12 to 14 years as they could not continue with male trainers," she said. "I feel that I have changed that now, older women come to train with me in my gym."
Around 50 women and girls have signed up for kickboxing, karate, kung fu and other programmes.
"The first thing that happened when I started training was that I lost weight, then my self-confidence had a boost and my personality got stronger," one of the students, Dhikra, said.
(Reporting by Abdulrahaman al-Ansi; Writing by Aziz El Yaakoubi; Editing by Andrew Heavens)
This story has not been edited by Firstpost staff and is generated by auto-feed.
World
ATHENS (Reuters) - Greek police used teargas and water cannon to disperse people who had gathered in central Athens on Saturday to protest against mandatory COVID-19 vaccinations. More than 4,000 people rallied outside the Greek parliament for a third time this month to oppose mandatory inoculations for some workers, such as healthcare and nursing staff.
World
ISTANBUL (Reuters) - Two Turkish soldiers were killed and two were wounded in an attack on their armoured vehicle in northern Syria, and Turkish forces immediately launched retaliatory fire, Turkey's defence ministry said on Saturday. "Our punitive fire against terrorist positions is continuing," the statement on Twitter on said. It did not specify where the attack occurred, but media reports said it was in the al-Bab area.
World
By Marcelo Rochabrun SAO PAULO (Reuters) - Protesters took to the streets in several Brazilian cities on Saturday to demand the impeachment of far-right President Jair Bolsonaro, whose popularity has fallen in recent weeks amid corruption scandals against the backdrop of the pandemic. This week, news broke that Brazil's defense ministry told congressional leadership that next year's elections would not take place without amending the country's electronic voting system to include a paper trail of each vote. Bolsonaro has suggested several times without evidence that the current system is prone to fraud, allegations that Brazil's government has denied